Use Our Content to Create a Digital Workshop or Ecourse or Go Offline with it and Host a Weekend Workshop in a Gorgeous Location Using Our Materials to Teach Your Tribe!
We know you're busy running your business and having a life, which is why you may still be struggling to package up your expertise into fabulous workshops, programs, classes, and ecourses that you can sell over and over again (and stop working so hard 1:1).
We've done all the hard work for you!
You don't have to invest hours and hours of your own time into developing a workshop program, and you don't have to pay thousands of dollars to hire people to help you. By investing in our low-cost coaching workshops you'll save a ton of time, energy and money! 
When you purchase a coaching workshop from us, you are buying the license that gives you permission to edit and customize the content in any way you like, put your business logo and name on it, and sell or give it away to your paying clients/customers/members.
Imagine How Fast Your Business Would Grow if You…
Host regular online workshops or classes (or make it exclusive by opening the doors for enrollment just few times a year)
Set up a year-long academy and use many of our workshops and content packages to deliver training to your clients
Package up your expertise + our content into ecourses that you sell over and over again
Develop a monthly group coaching program and then use our content + templates to create your curriculum
Host an in-person weekend workshop in a beautiful location using our materials to teach your tribe
Are you ready to save a ton of time + money and grow your business?
You'll Get an Entire Workshop with 4 Training Modules + 4 Fast Action Plan Worksheets & Exercises + 4 Program Accelerator Checklists + 4 Sets of PowerPoint Slides

Now you can finally stop procrastinating and launch the workshop or ecourse you've been dreaming about!
When you purchase the license to our workshop, you'll be able to develop and release a sparkly new ecourse or program in a matter of days (not months or years), and that means that you can start enrolling clients and accepting payments right away.
Our mission is to make it easy for coaches just like you to make an impact on the world and be of service to your tribe, in the most powerful and aligned way possible.
Here's What's Included in Your Premium Packages: How to Create and Sell $1k to $10k Packages: 

Module 1: 3 Simple Solutions for Repositioning Your Business to Get $10k Clients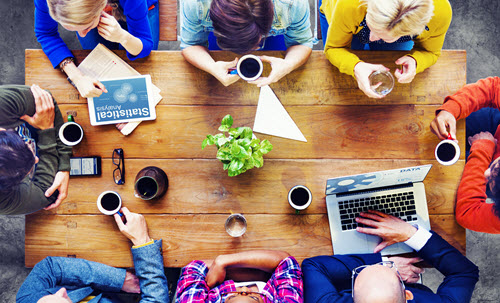 If you're feeling stuck serving low-paying clients, or you can't quite push through that income ceiling you've hit, chances are good that your mindset and language are to blame.
Module 1 is all about readjusting the words you use—both externally, to potential clients and others—and internally, to yourself.
In this module, your clients will quickly discover…
Top 3 mindset makeover goals that have the power to dramatically change your life and your business
3 proven strategies to increase your personal worth factor—this one change will automatically give your income a boost
Ninja tricks for discovering what other coaches in your niche are earning—the results might just shock you
How to kick your negative self-talk and secret saboteurs to the curb—doing this will instantly catapult you to top-level status
The easy (and oh-so-effective) way to break those habits that hold you back from success
4 ways to adjust your business plan to accommodate and attract top-tier clients—get this right and you'll build a foundation for future growth and increased income long term
How to get even your current clients excited about your new, higher prices
Take a Peek at all the Fabulous Content You'll Get in Module 1:
Module 1: Training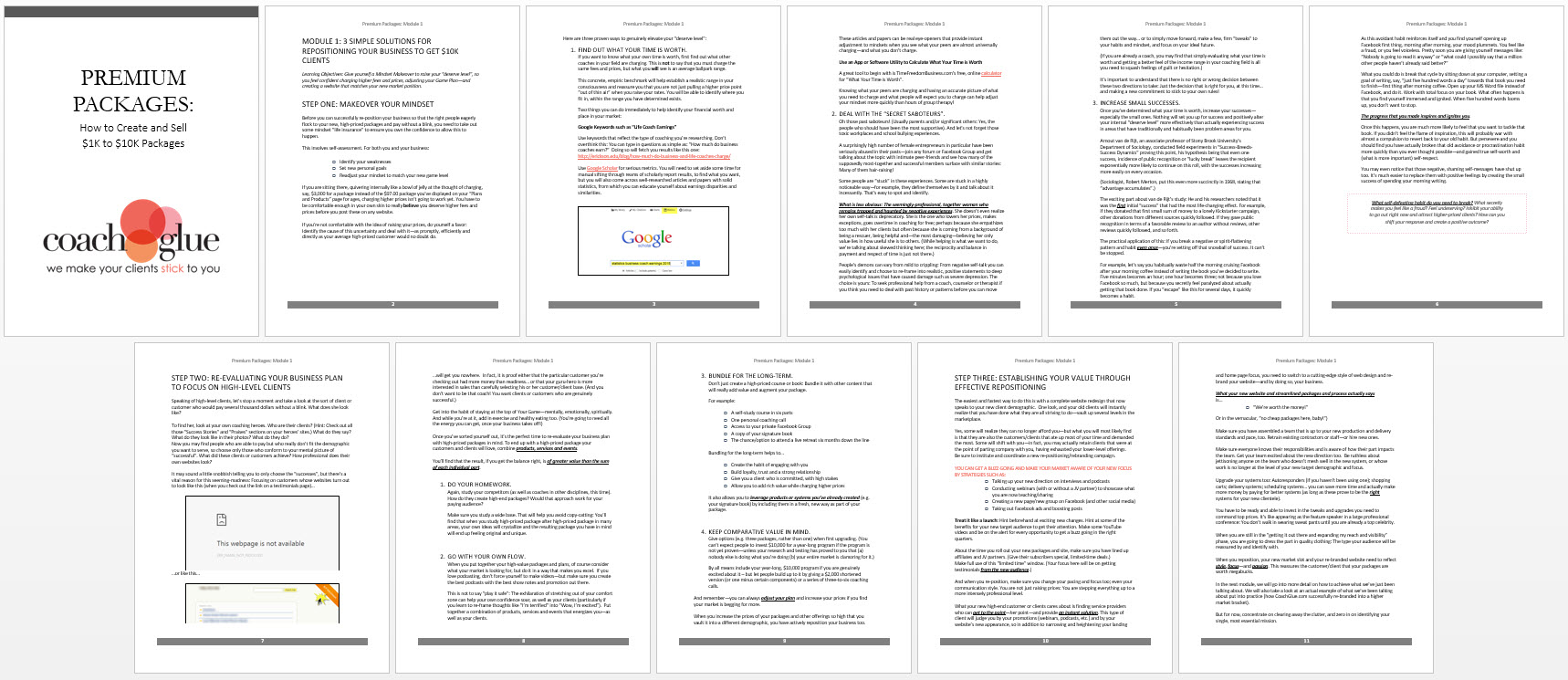 Module 1: Fast Action Plan Worksheet & Exercise

Module 1: Program Accelerator Checklist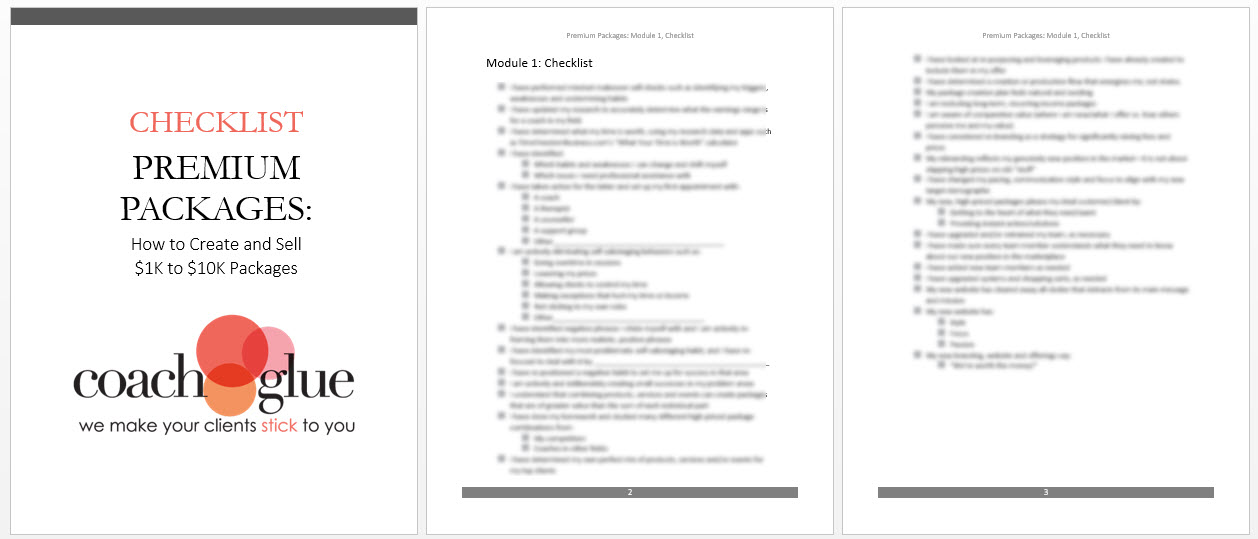 Module 1: PowerPoint Slides to Present Your Content Through Webinars, Classes, and Workshops

Module 2: Raise Your Profile to Add More Zeros to Your Income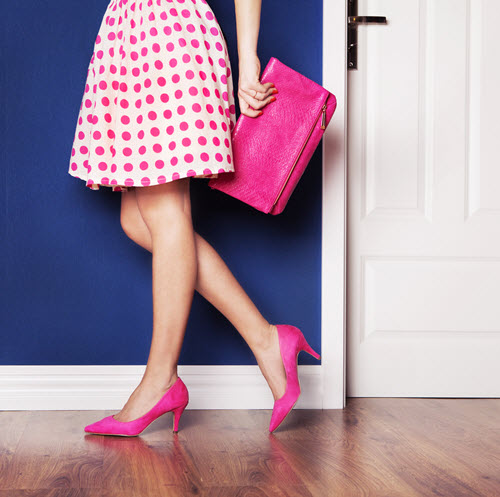 Module 2 is all about your image, because believing you're worth top-dollar is only part of the equation. You have to also present yourself and your business in a way that leaves no doubt as to your expertise and coaching skills.
In this module, your clients will quickly discover…
The ins and outs of rebranding—including one way to ensure you are still recognizable to your core client base.
Why it might make sense to jettison everything about your old business and start completely fresh—and how it will impact your current clients.
A real-life case study of one brand's makeover—and the spectacular results they achieved.
3 areas that deserve special attention—even if you do nothing else, updating these three things can uplevel your business.
The critical difference between so-so sales funnels and profit-pulling powerhouses that prove you're worth every penny you charge
Why it's imperative to take a hard look at your colleagues and professional connections—and 3 people you must seek out if you want to earn top dollars.
Why quality matters in all things—and the top infrastructure choices coaches at your level use and recommend.
How to build your dream team—without them, you'll be stuck doing everything yourself, and you'll never meet your income goals.
The secret weapon all high-caliber coaches have—and it's probably not what you're thinking.
Take a Peek at all the Fabulous Content You'll Get in Module 2:
Module 2: Training


Module 2: Fast Action Plan Worksheet & Exercise

Module 2: Program Accelerator Checklist

Module 2: PowerPoint Slides to Present Your Content Through Webinars, Classes, and Workshops

Module 3: Premium Package Positioning & Planning for a Big Payday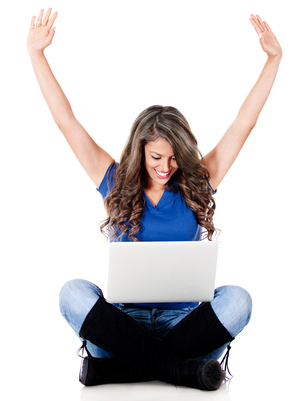 What do your coaching packages say about you? You might just be surprised. In Module 3, we'll work through the types of packages high-end clients expect—and that you can easily create.
In this module, your clients will quickly discover…
A 3-step plan for mapping out your packages and funnels.
The 2 most important positioning tactics every package must include—miss these, and you'll be right back where you started, with low-end offers and so-so clients.
3 ways to add necessary substance and staying power to your top products—with real life examples from some of today's highest earning coaches.
6 types of coaching packages—and the unique components of each that makes them a compelling addition to any top-tier coach's offerings.
Effective "extras" that will serve to get your prospective buyers off that metaphorical fence
How to get your newly refined offers in front of your target audience—without this last piece, all the work that went before is pointless.
Take a Peek at all the Fabulous Content You'll Get in Module 3:
Module 3: Training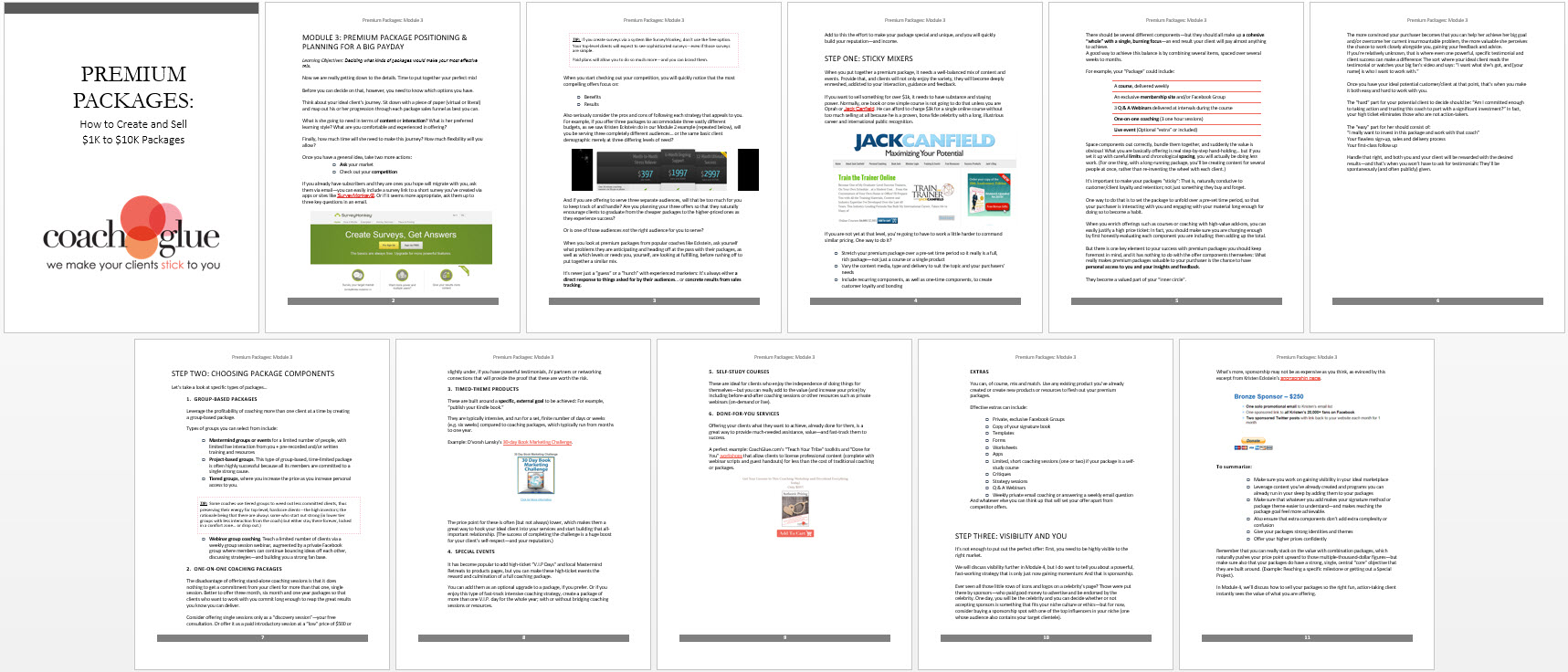 Module 3: Fast Action Plan Worksheet & Exercise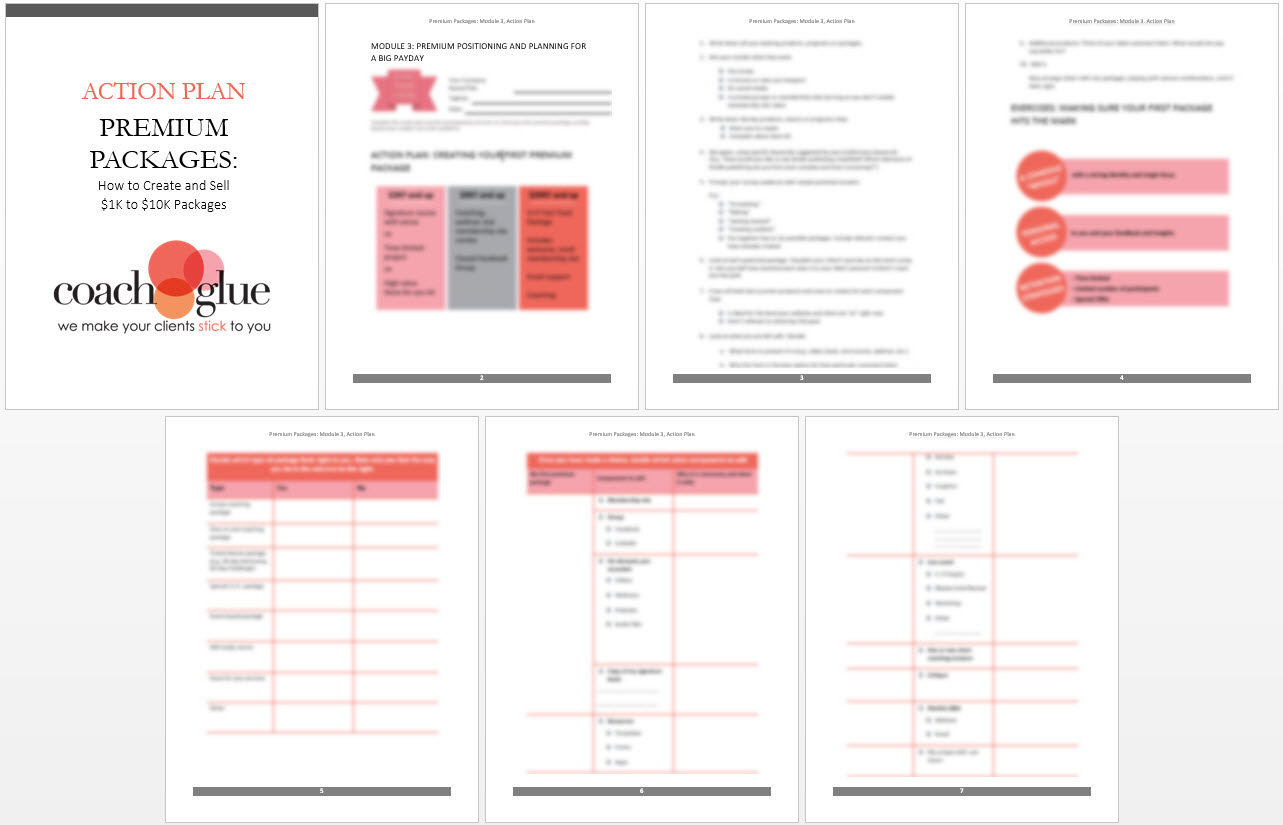 Module 3: Program Accelerator Checklist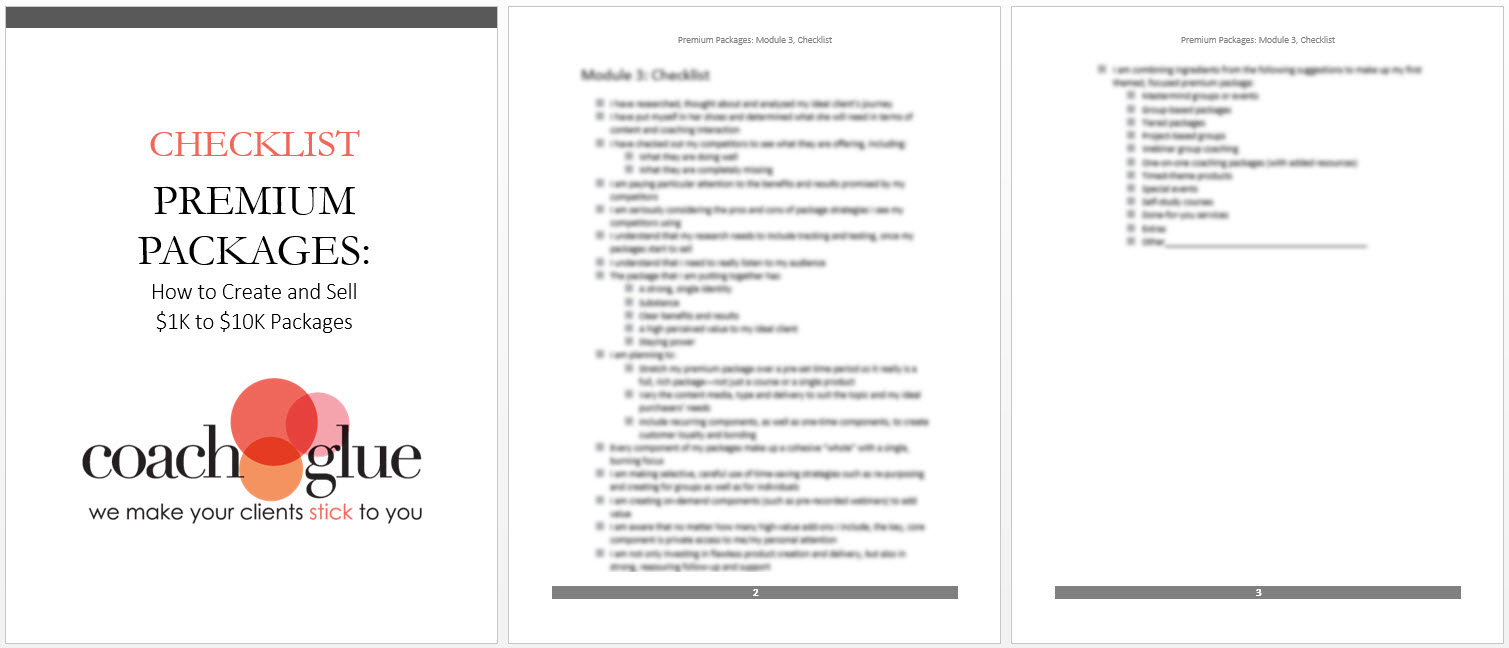 Module 3: PowerPoint Slides to Present Your Content Through Webinars, Classes, and Workshops
 

Module 4: How to Sell Your Packages and On-Board Fun, Excited Clients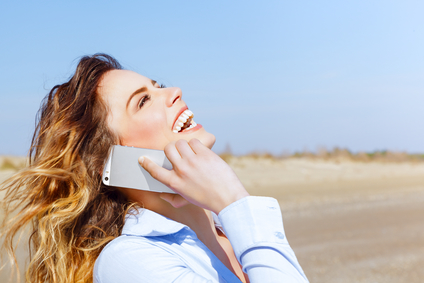 We love to say how much we hate sales, but here's the truth: you have to be able to sell yourself, or you'll never command top dollar. The good news? It's not so hard to do, especially if you believe in yourself and your coaching skills (see Module 1 if you need a refresher).
In this module, your clients will quickly discover…
Why "free consultations" are driving away your ideal client—and what to do instead.
5 elements your discovery session must have, or your clients (and potential clients) will never see the value in them.
Actionable tips for creating cohesive and instantly recognizable packages, including one that's so counterintuitive, you'll be amazed it works at all (but believe me, it does)!
4 ways graphic elements can work to make sales easier—or kill them all together (when you do it wrong).
How to re-think the well-worn (maybe worn out) "urgency factor" that seems to drive so many sales pages. When you get this right, clients will be breaking down your virtual doors to buy.
How to create a "taste test" that actually works, and will compel buyers to uplevel their experience with your higher-end products and services.
Inside secrets for the number one selling tool in your arsenal, including a 3-step, can't miss strategy that's so simple, you'll wonder why no one else is teaching it.
How to choose the perfect coaching package to promote, plus 4 types of offers that are proven to perform.
3 common mistakes to avoid in your promotions—simply being aware of these stumbling blocks will put you ahead of 90% of your competition.
Take a Peek at all the Fabulous Content You'll Get in Module 4:
Module 4: Training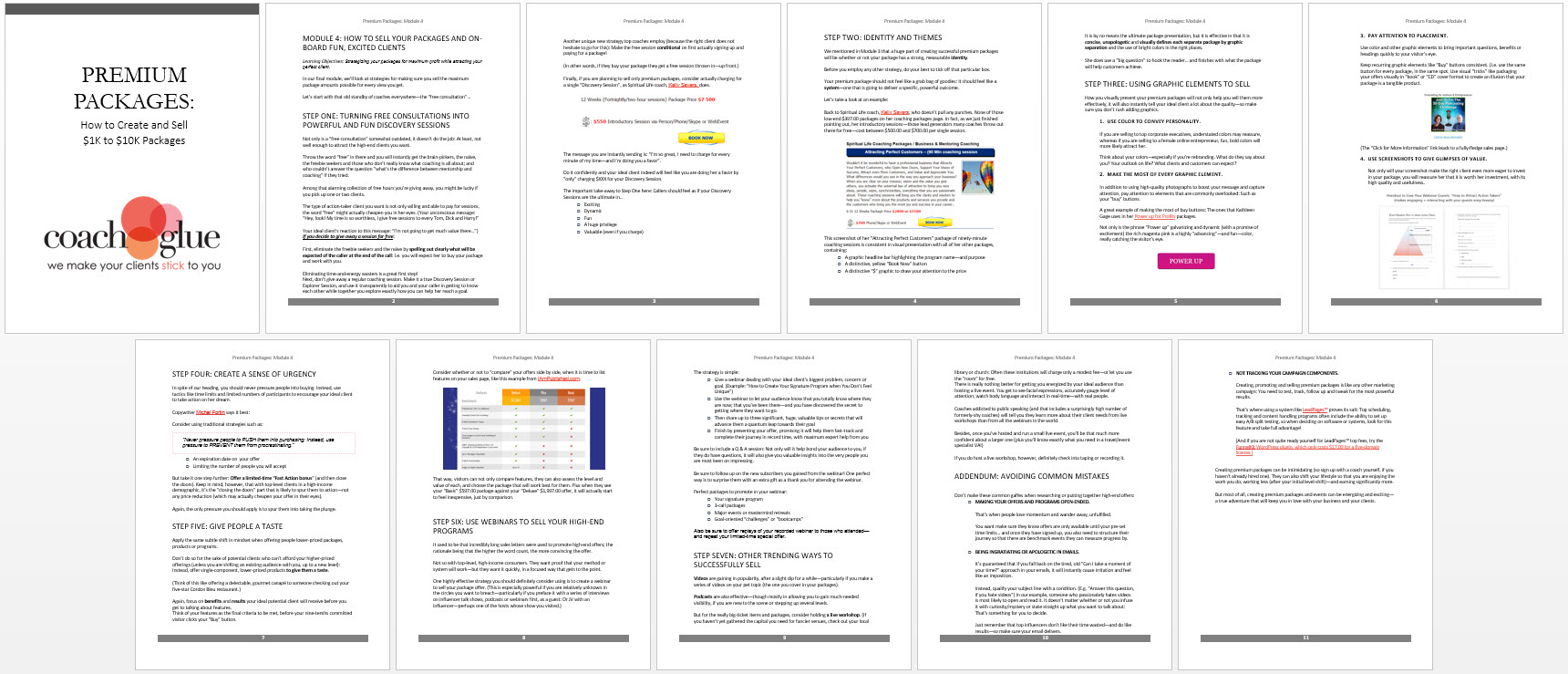 Module 4: Fast Action Worksheet & Exercise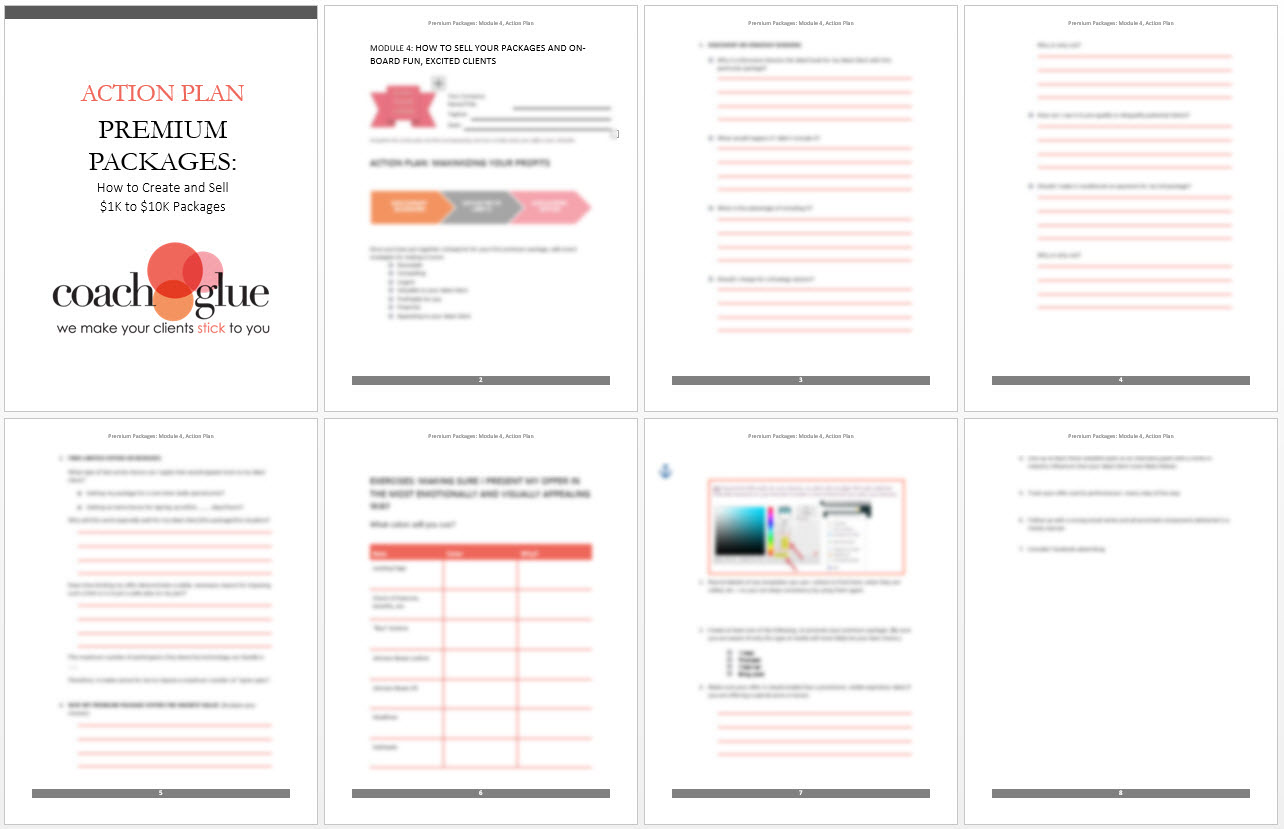 Module 4: Program Accelerator Checklist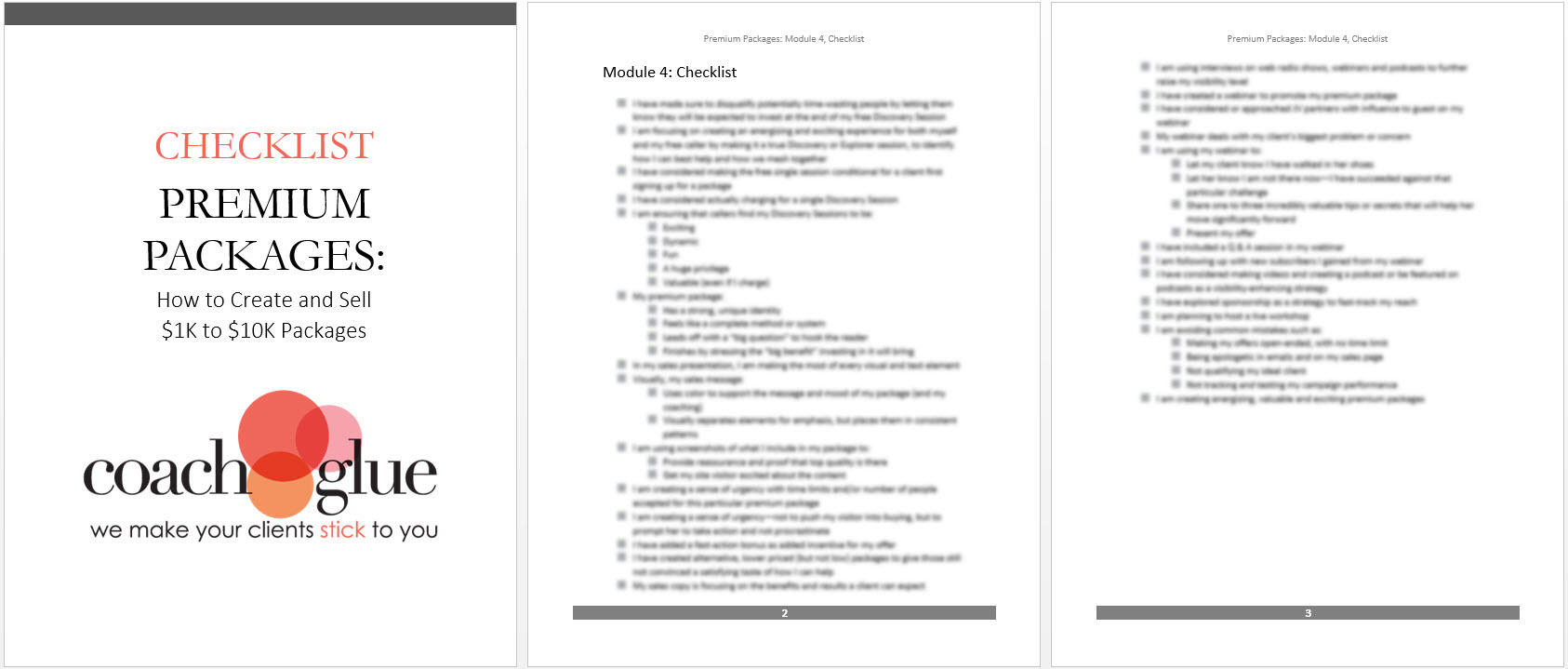 Module 4: PowerPoint Slides to Present Your Content Through Webinars, Classes, and Workshops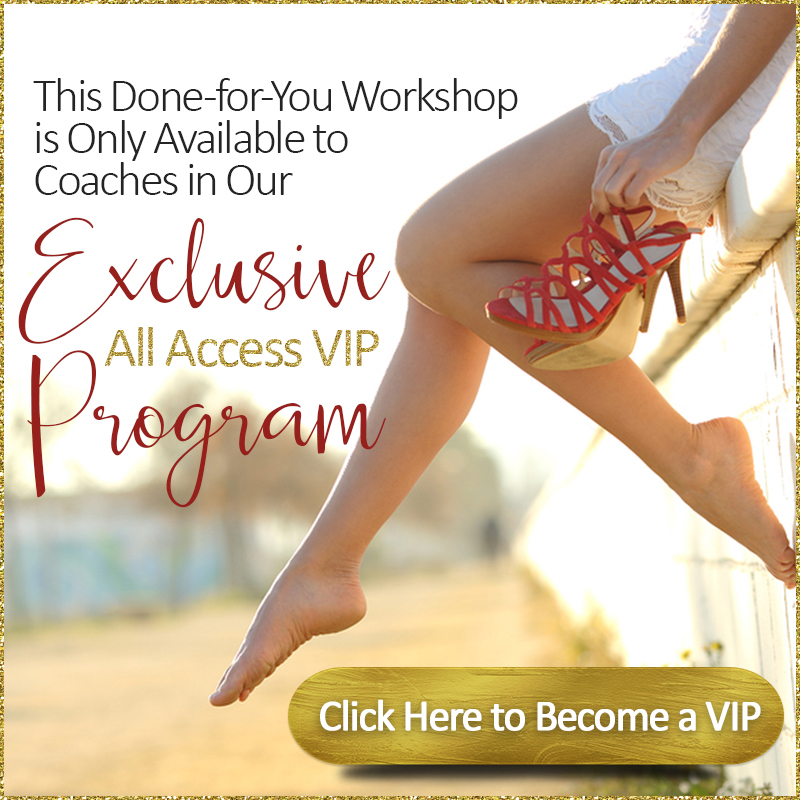 Plus, You'll Also Get a Sales + Marketing Materials Kit to Help You Sell Your Workshop and Start Collecting Payments:
We want to make it super easy for you to promote your workshop and start collecting payments, which is why we've included tons of fabulous sales and marketing materials for you and your JV partners.
That's right! You can share these sales materials with your JV partners so they can promote you too!
Here's What's Included in Your Sales + Marketing Materials Kit:
A great way to fill your workshop is by hosting a free webinar that sets the stage for you to show off your expertise, connect with your tribe, and be of service to them through amazing content – while also leading your clients to the conclusion that they want to work with you.
We've made it easy for you to host your own webinar that provides value and helps you enroll clients in your workshop.
Webinar Script: "The Secret to Getting $10,000 Clients"

7 Questions you must answer about yourself—and be truthful here, because unless you understand these, you're holding yourself back from success.
What a $10,000 coaching package really looks like—and why with a little planning it might be a lot less work than you think.
Why low-end clients might be damaging your ability to attract high-end (and high-paying) clients—and why quality really does trump quantity.
6 things top clients are looking at before they decide to work with you—and you have control over each and every one.
3 things you're doing that don't work—and what to do instead.

Webinar Registration Page Copy that you can copy and paste into your own lead page to get sign ups for your free webinar
PowerPoint Slides for Your Webinar so you don't have to start from scratch
Handout to Give Your Webinar Guests: "The Secret to Getting $10,000 Clients" (determine what your time is worth and where you want your income deserve-level to be)
And we've got you covered when it comes to promoting your live webinar, the replay of your webinar, AND your workshop.
Just copy, paste, and edit the emails, social media posts, and blog posts/newsletter articles and start spreading the word about your sparkly new workshop!
4 Emails to Promote Both Your Live Webinar and the Replay of Your Webinar

Free Webinar Email Promo #1: What's really stopping you?
Free Webinar Email Promo #2: Here's why you're not earning what you're worth…
Paid Webinar Email Promo #1: How much can you imagine?
Paid Webinar Email Promo #2: Do you have what it takes to charge these rates?

10 Social Media Posts to Promote Your Program on Facebook, Twitter, Google+, etc.
5 Blog Posts / Newsletter Articles to Promote Your Program

Mindset Matters: Getting Inside the Head of Top Dollar Coaches
Your First Live Event: Start Small, Think Big
5 Ways to Uplevel Your Credibility
Coaching Business Makeovers: It's Time for a Change
Simple Ways to Eliminate the Tire Kickers
But we don't stop there…we're also giving you sales page copy that you can copy, paste, and edit and use to sell your workshop (no more paying a copywriter thousands of dollars to do this for you!).
Take a Peek at all the Fabulous Sales and Marketing Materials Included in Your Kit:
Promotional Emails, Blog Posts, Social Media Posts

Webinar Script: "The Secret to Getting $10,000 Clients"


Webinar Registration Page Copy: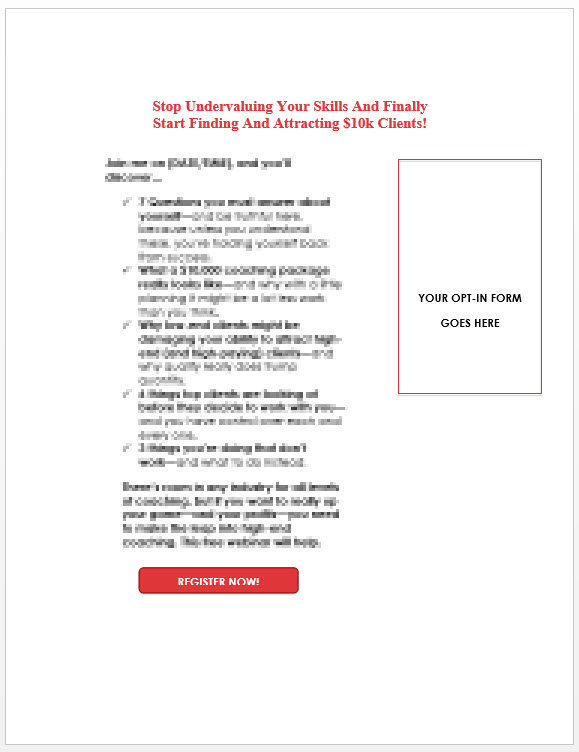 Webinar PowerPoint Slides

Handout to Give Your Webinar Guests: "The Secret to Getting $10,000 Clients"
(determine what your time is worth and where you want your income deserve-level to be)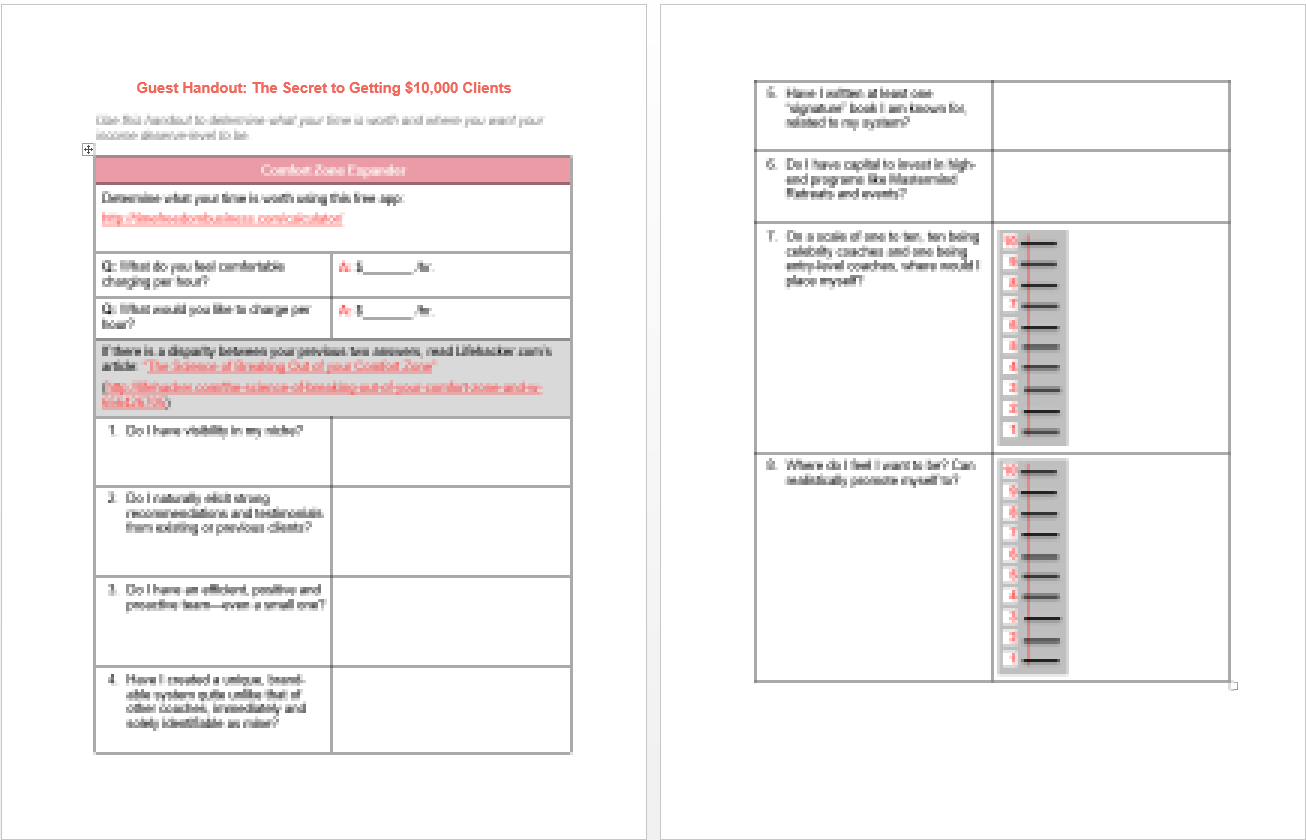 Sales Page Copy to Help You Sell Your Workshop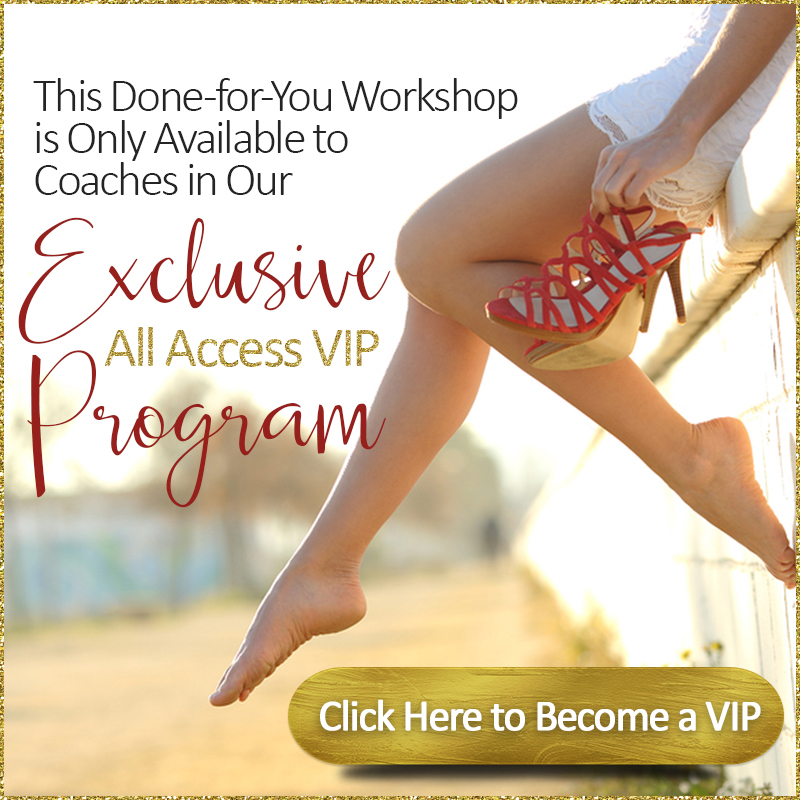 Get Your License to This Coaching Workshop and Get Instant Access to All This:
4 Training Modules (47 pages, 10,861 words)

Module 1: 3 Simple Solutions for Repositioning Your Business to Get $10k Clients
Module 2: Raise Your Profile to Add More Zeros to Your Income

Module 3: Premium Package Positioning & Planning for a Big Payday

Module 4: How to Sell Your Packages and On-Board Fun, Excited Clients

4 Fast Action Plan Worksheets & Exercises (28 pages)
4 Program Accelerator Checklists (15 pages)
4 Sets of PowerPoint Slides to Create Your Inspiring Webinars or Videos (117 slides)
4 Emails to Promote Both Your Live Webinar and the Replay of Your Webinar

Free Webinar Email Promo #1: What's really stopping you? (208 words)
Free Webinar Email Promo #2: Here's why you're not earning what you're worth…  (215 words)
Paid Webinar Email Promo #1: How much can you imagine? (334 words)
Paid Webinar Email Promo #2: Do you have what it takes to charge these rates? (246 words)

10 Social Media Posts to Promote Your Program on Facebook, Twitter, Google+, etc.
5 Blog Posts / Newsletter Articles to Promote Your Program

Mindset Matters: Getting Inside the Head of Top Dollar Coaches (504 words)
Your First Live Event: Start Small, Think Big (460 words)
5 Ways to Uplevel Your Credibility (530 words)
Coaching Business Makeovers: It's Time for a Change (434 words)
Simple Ways to Eliminate the Tire Kickers (504 words)
Webinar Registration Page and Copy 
Webinar Script: The Secret to Getting $10,000 Clients  (15 pages)
Webinar PowerPoint Slides (31 slides)
Handout to Give Your Webinar Guests: "The Secret to Getting $10,000 Clients" (determine what your time is worth and where you want your income deserve-level to be) (2 pages)
Sales Page Copy to Help You Sell Your Workshop