Get the "Close Sales with Facebook Messenger Bots Planner" for only $47 and You'll Get 10 Bonus Done-for-You Blog Posts and 30 Social Media Posts for (a $17 value) for FREE!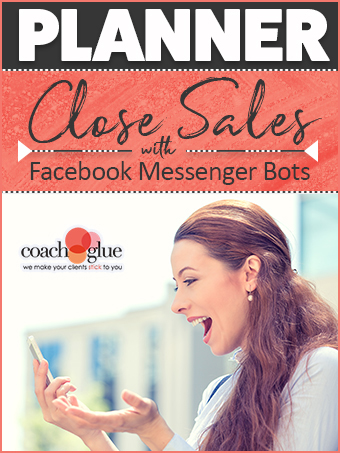 You'll get a step-by-step planner that you can sell to your clients, or add as a bonus to your existing coaching programs.
No more writing content from scratch or paying a ghostwriter hundreds or even thousands of dollars to help you develop your training content.
We've done all the hard work for you, and we've made it super affordable so it's easy on the wallet. Now all you have to do is use it!
The Step-by-Step Planner Covers (20 PAGES):
Step 1: Review Your Incoming Messages
Strategic planning will yield the best ROI when it comes to using your Facebook messenger bot and the first step in this planning is to analyze who is contacting you and why. 


Exercise: Review and categorize past messages from email, messenger + help desk

Step 2: Determine Your Ultimate Goal
In a perfect world, what do you want those who contact you to do? Will they book a discovery call, purchase a program, join your mailing list, or something else? With your end goal in mind, it will be easier to map out your sales funnel.


Exercise: Brainstorm your messenger bot goals

Step 3: Determine Your Messenger Flow
Once users agree to receive messages from you, you can send simple reminders or more proactive sales messages. The order in which these occur depends upon your main goals that you determined in Step Two.


Exercise: Map out your messenger funnel

Step 4: Choose Your Platform
As with any good tool, you have lots of vendors to choose from. The good news is that nearly all of them offer both paid and free levels, so go ahead and test a few out! 


Exercise: Do your due diligence + compare platforms

Step 5: Craft Your Welcome Message
First impressions count. You want your welcome message to be both inviting and also to inspire action. You'll enjoy a nearly 100% open rate on this message, so make the most of it!


Exercise: Brainstorm your welcome message

Step 6: Craft Your Follow-Up Message
Even if you'll only automate the first message, it's helpful to write your follow-ups ahead of time. 


Exercise: Map out your sales funnel + your offers from lead generation to sale
Exercise: Write your follow-up messages to coordinate with your marketing funnel; or outsource to a copywriter with chatbot experience
Your clients will LOVE having this planner they can download or print off.
When You Get this Planner You'll Also Get our 10 Bonus Done-for-You Blog Posts and 30 Social Media Posts for (a $17 value) for FREE!
Get the Planner + 10 Blog Posts + 30 Social Media Posts for Only $47!

These are the 10 Done-for-You Blog Posts and 30 Social Media Posts to Promote Them You'll Get as a Bonus if you Act Now:
You'll also receive 30 Social Media Posts (3 to promote each blog post) with this package. Use these done-for-you posts on Facebook, Twitter, LinkedIn and other networks to promote your blog posts. Add them to your Meet Edgar schedule for hands free promotion that works for you 24/7!
Need More Time in Your Day? Clone Yourself!
Now there's a way to work more efficiently while also putting parts of your business on autopilot.
Is a Facebook Messenger Bot Right for Your Business?
Before you sign up for a free chatbot account, determine if a chatbot is necessary for your business.
Reach Rock Star Status with Automated Customer Service!
One of the best and easiest tools to automate your customer service is by using a Facebook Messenger bot.
Create a Chatbot the DIY Way
Taking the do-it-yourself approach is acceptable to integrate this technology. This blog post shares how you can find a chatbot vendor.
Should Your Bot Take the Place of Your Email Marketing Efforts?
There is room for using both bots and email marketing. This blog post shares tips on how to determine if adding Facebook Messenger bots is the right approach or not, and how to effectively woo your audience.
Are Facebook Messenger Bots Cost Effective? 
First you need to determine your main goal in adding a bot to your business. This blog post shares tips on how you can determine costs for your bot project.
3 Tips for Integrating a Facebook Messenger Bot into Your Sales Funnel
Sales funnels are a visual representation of how you will attract prospects and what products you will offer them, ultimately leading to your highest price product or package.
Bring Your Chatbot to Life with These Writing Tips
Creating a chatbot may be easy with the various platforms available but creating the message sequence that will hold the customer's attention while guiding them to your final goal is a little trickier and takes some planning.
Improve Your Customer Service Process While Closing Sales with Facebook Messenger Bots 
Now it's easier to make those offers and really customize your prospect's shopping experience.
Improve Your Authority Status by Using a Facebook Messenger Bot in Your Business
The addition of new technology can bump you up some notches as an authority figure.
What is the value of getting new clients on autopilot from this package? At just $47, we know you'll thank us later. 
Get the Planner + 10 Blog Posts + 30 Social Media Posts for Only $47!