A sales page has the ability to capture, engage and leave people wanting more.
BUT! They're definitely not the easiest piece of content to write.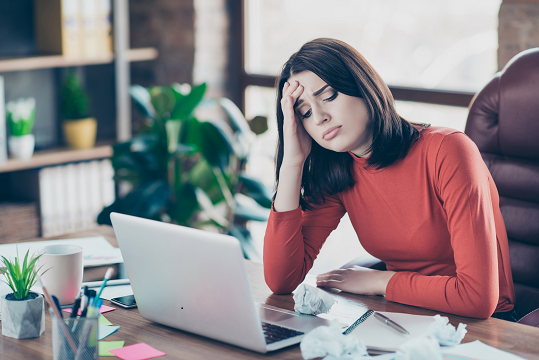 We've all been there before; staring at the blank page watching the cursor blink. Totally unsure of what to write first.
Writing a sales page can feel overwhelming. Whether you're a seasoned marketer or brand new to the online world, sales pages are one of the hardest pieces of content to write for your products or services.
Because sales pages have a lot riding on them. They have to be compelling and informative … but at the same time not overly salesy and pushy.
That's a lot of pressure for a piece of content.
As a coach, you want to help your clients build the perfect offer that will boost their business and rake in the big bucks. And a big part of actually making money lies with having a captivating and convincing sales page.
And while writing a full sales page may sounds like a massive undertaking, it doesn't have be painful.
Introducing Our Done-for-You "Write Your Money Making Sales Page in a Weekend! Planner" that You Can Sell as a Product or Challenge, Add to Your Membership Site, Or Create a VIP Day Around!
No more writing content from scratch or paying a ghostwriter hundreds or even thousands of dollars to help you develop your training content.
We've done all the hard work for you, and we've made it super affordable so it's easy on the wallet.
How Cool Would it Be if You Ran a Challenge in Your Facebook Group and Based Each Day's Training on One Step from this Planner…And Then Funneled People into Your Higher End Courses and Programs?
But you know what's really awesome?
You can charge people to join your challenge!
Not only will they get access to the private Facebook group and your daily trainings – but you can give everyone who signs up a copy of this planner!
And because YOU get this planner in doc format, you can completely customize it to your business. Brand it with your colors and logo, add in your website information and offers, tweak the content to add examples, additional information, and more. 
Then simply save it as a PDF and load it up to your shopping cart or members area!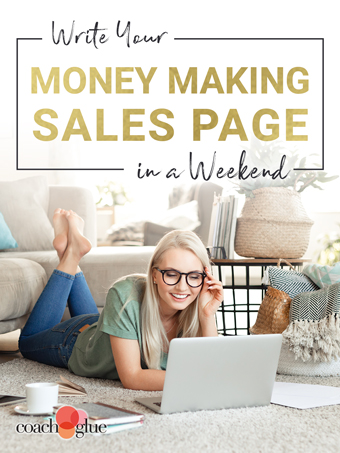 The Step-by-Step Planner Covers (23 PAGES):
Step 1: Write a Bold Headline They Simply Can't Ignore
Think about the last time you read a sales page online. Doesn't matter what the product was; just think back and remember what action you took after reading that headline: Did you read further down the page before buying or did you click away, never to go back again?

Exercise: Use the core value template to help you brainstorm your headline.
Exercise: Use this set of 10 Headline Formulas to write test headlines for your sales page.
Exercise: If you want to add a subhead, create one for each of your 10 headlines.

Step 2: Keep Them Enthralled With Kick-Ass Descriptive Copy
Now that you've grabbed their attention with your headline that makes a promise, you need to keep the readers engaged in your copy so they keep scrolling down the page, convinced that YOUR product is the answer to their prayers.

Exercise: Analyze how top influencers sell products or courses.
Exercise: Take your top 3 headlines and write copy that would follow each of them.

Step 3: Blow Their Minds With a Transformative Story
No matter how strong your sales copy is, nothing seals a sale more than a story showcasing how YOUR product changed someone's life. Your audience wants to know how your product will help them solve their problem.

Exercise: Write a transformative story about yourself that builds trust and rapport.
Exercise: Write your story using only 5 sentences.

Step 4: Use Glowing Testimonials to Eradicate Their Fears
What's the difference between a testimonial and transformational, narrative story?
Narratives focus on the end results of using your product while testimonials talk about the benefits of your product.

Exercise: Collect testimonials from past clients, but ask them to tailor their quote to one of the common client hang-ups from the list you send.
Exercise: Write testimonials for busy clients.

Step 5: Dazzle Them With a List of Phenomenal Benefits
Keep this thought at the back of your mind as your sales page comes into focus: Now is NOT the time for subtlety or veiled innuendo. Be proud and be bold. TELL the reader exactly what your product is, why they will benefit from buying your product, and tell them directly to buy.

Exercise: Create a list of 5-8 benefits that customers will get from purchasing your offer. Use gripping and active language.
Exercise: Refine your benefit list. Which ones make it clear that your offer is an amazing deal, worth far more than you're charging?

Step 6: Blast Through Buying Barriers With an Iron-Clad Guarantee
One of the best ways to convince people to buy your offer is to give them a solid money-back guarantee. A guarantee is simply a safety mechanism for the buyer and shows that you're a trusted business person, not a rip off artist.

Exercise: Look at your top influencers from Step Two and compare their money-back guarantees. Look for similarities and differences.
Exercise: Craft your own guarantee and implement a customer service/return procedure.
Exercise: Map out your customer service/money-back guarantee process.

Step 7: Seal the Deal With a Powerful Call-to-Action
Last but not least, it's time to create your Call to Action (CTA).

Exercise: Brainstorm some calls to action that incorporate strong, convincing language.
Your clients will LOVE having this planner they can download or print off.
Take a Peek at this Step-by-Step Planner:

Imagine! If you sold just 2 copies of this planner at $27 each – you'd cover the cost of buying this planner AND everything after that would be profit for you!
Do you think you could sell 2 copies? We know you can!
Download this Planner Now for Only $47!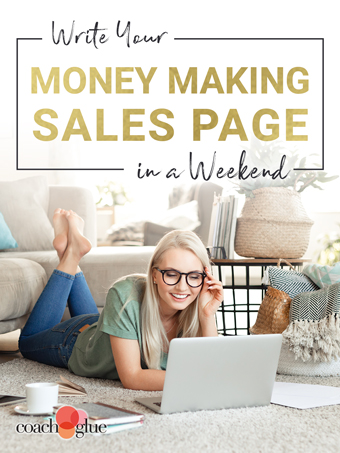 What can you do with this planner?
Here are 7 ideas to get you started…
Use it to plan your own Facebook live videos – you could do one livestream for each step the planner.
After you've used the planner, put together a case study based on your own results and sell your system as a workshop or course or webinar.
Create an opt-in from a portion of this planner to grow your lists.
Gather experts and host a webinar on this topic and use this planner as one of your upsells.
Offer this planner and a quick tutorial video as a bonus when people purchase your favorite online course platform or shopping cart software through your affiliate link.
Design a 7 day challenge around this planner walking your audience through each step with a video, audio, or guest expert interview.
Work through this planner with your clients to help them plan their own content for their sales page. Once it's planned offer them a package where you'll write it for them (or have your team write it).
Remember, you get this in .doc format and you can add to the planner, edit it, remove or replace portions, customize it, monetize it, feature your own programs or your favorite products, or just use it as it is.
We can't wait to see what YOU do with the material.