Use Our Content to Create a List Building Freebie, Mini Digital Product, or Create a Training Library for Your Members and Clients
We know you're busy running your business and having a life, so we've made it easy for you to grow your list, develop mini low-cost products, and create a training library for your members and clients (free or paid).
Each package includes a planner that you have permission to edit, put your business logo and name on, and sell or give away to your clients/customers/members.
Imagine How Fast Your Business Would Grow if You…
Use our content to develop a free gift that you can give away to grow your mailing list and get new clients
Create a mini, low-cost product by recording a video or webinar training and then include it with the workbook and checklist, and sell it to your clients
Boost the value of your monthly group coaching program by creating a training library for your members and clients
Set up a lead page giving away the content and promote your lead page through Facebook ads to grow your mailing list
Ready to save a ton of time + money and grow your business?
Here is What You Get with the "Social Media Posting Planner":
You'll get a step-by-step planner that you can sell to your clients, or add as a bonus to your existing coaching programs.
No more writing content from scratch or paying a ghostwriter hundreds or even thousands of dollars to help you develop your training content.
We've done all the hard work for you, and we've made it super affordable so it's easy on the wallet. Now all you have to do is use it!
The Step-by-Step Planner Covers (26 PAGES):
Step 1: Know Your Platforms
Talking to an empty room isn't productive, and neither is posting on social platforms your ideal client abandoned a year ago. Be smart about the platforms where you spend your time by comparing them in advance.

Exercise: Conduct some market research and determine the social media platforms your ideal audience uses.

Step 2: Create Your Editorial Calendar
Never again wonder "what should I post today?" An editorial calendar means you'll never waste time or miss opportunities, because you'll always know what's coming up next.

Exercise: Explore your editorial calendar options. Do the features and budget work for you?

Step 3: Create Your Branding Guidelines
Consistency is powerful when it comes to your branding online. Not only should you post regularly to your chosen platforms but if you use multiple platforms, your color scheme and profile name should be consistent across them.

Exercise: Create Branding Guidelines and share it with all your team members and service providers.

Step 4: Prioritize the Big Events
Make sure you have room for those immovable events by getting them in your calendar first.

Exercise: List your upcoming events for the next year and those dream events you hope to attend. Look at dates, fees, and locations; then prioritize.

Step 5: Include Important Marketing and Visibility Pieces
Now that you've got the big stuff scheduled, remember all the smaller marketing pieces that you should promote regularly.

Exercise: Take inventory of your content + reuse for social media posts.

Step 6: Social Media is Visual
Develop a plan for creating graphics you can share on all your preferred platforms.

Exercise: Weigh the pros/cons of different photo outlets.

Step 7: Embrace New Ways to be Seen
It's imperative that you stay up to date on the new features of your chosen platforms and that you embrace them enthusiastically.

Exercise: Step out of your comfort zone + experiment with new social media features.

Step 8: Don't Forget to Have Some Fun
Your social accounts will have a lot more traction if they're not all business, all the time.

Exercise: Take note of all the fun stuff in your life that you can share on social media.

Step 9: Automate Where You Can
Automation is a wonderful part of technology and with hundreds of platforms to choose from, every budget can afford some level of automation.

Exercise: Compare social media management platforms.

Step 10: Get More Mileage Out of Every Post
Always look for ways you can repurpose the work you're already doing and social media posts are no exception.

Exercise: Organize your past social media posts along with past photos, videos + blog posts. Think of ways to mix/match to make new posts. And if your files are not organized, delegate to your VA to organize your files with clear titles for easy access.
Your clients will LOVE having this planner they can download or print off.
Get a Copy of this Planner to Use  for Yourself, or to
Grow Your Mailing List, or to Sell to Your Clients!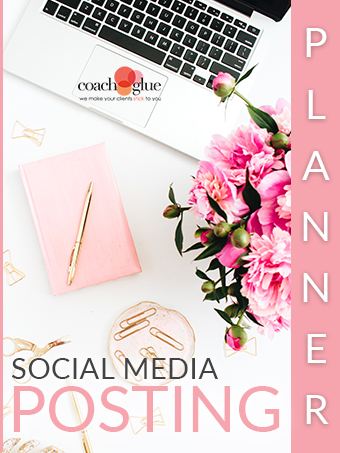 Only $47!

Take a Peek at the Fabulous Content You'll Get in this Step-by-Step Planner:

What can you do with this planner?
Here are 7 ideas to get you started…
Use it to plan your own social media posts.
After you've used the planner, put together a case study based on your own results and sell your system as a workshop or e-course or webinar.
Create an opt-in from a portion of this planner to grow your lists.
Gather experts and host a telesummit about social media marketing and use this planner as one of your upsells.
Offer this planner and a quick tutorial video as a bonus when people purchase your favorite social media scheduler through your affiliate link.
Design a 7 day challenge around this planner (or an 8 week e-course) walking your audience through each step with a video, audio, or guest expert interview.
Work through this planner with your clients to help them plan their own social media posts. Once it's planned offer them a package where you'll implement it for them (or have your team implement it).
Remember, you get this in .doc format and you can add to the planner, edit it, remove or replace portions, customize it, monetize it, feature your own programs or your favorite products, or just use it as it is.
We can't wait to see what YOU do with the material.
Get a Copy of this Planner to Use  for Yourself, or to
Grow Your Mailing List, or to Sell to Your Clients!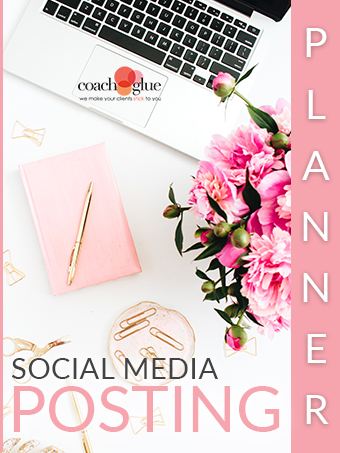 Only $47!