The Hottest New Social Network…
The Most Talked About Marketing Trend…
These Things are a MUST DO.
Or Are They?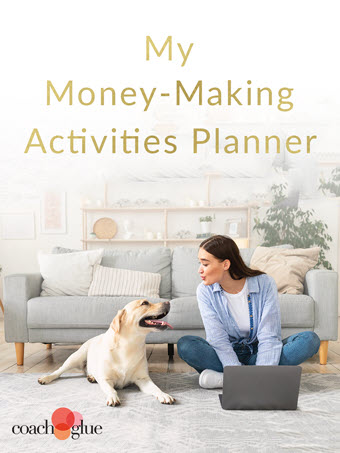 Trends come and go.
New tactics, new social platforms, new strategies.
Unfortunately, it's easy to get stuck in the cycle of trying them all out… especially when you're just trying to get ahead.
Let me ask you, do your clients coming to you, acting like chickens without their heads, or throwing spaghetti at the wall, or some other idiom that means they're just not focusing their efforts?
It's not uncommon, but the sad truth is, chasing all these different things is what is keeping your clients stuck, overwhelmed and struggling to figure it all out.
Luckily, if they were to just hone in on the tasks that really matter FOR THEM, and focus on those things daily, they would make so much progress in their business, grow so much faster, and let's be honest, increase their income.
With our done-for you "My Money-Making Activities" planner you can help your clients determine exactly what they need to be focusing on daily to start seeing the results they've been striving for.
Whether you want to use this planner with your 1:1 coaching clients during a VIP day or sell it as a low-end digital product on your website – we've done all the hard work for you.
This Step-by-Step Planner Covers (47-pages):
Step 1: Decide Which Activities Make Your Unique Business Boom
Step 2: Map Out Your Next (Major) Money-making Offer
Step 3: Craft Memorable, Must-Click Emails
Step 4: Create Compelling Content that Draws People Into Your Programs
Step 5: Create or Tweak an Existing Sales Page to Skyrocket Conversions
Step 6: Follow Up Frequently & Consistently Land New Clients (& Cash!)
This planner  has been designed in Canva ready for you to easily add your brand colors and images!
Just open the template in your free canva account, change the colors, design, text, whatever your heart desires. Then export it as a PDF and it's ready for you to sell! 
You can sell this planner on your website, give it as a bonus to your coaching clients, include it as part of your paid courses and programs, or even build a VIP day around the content of the planner.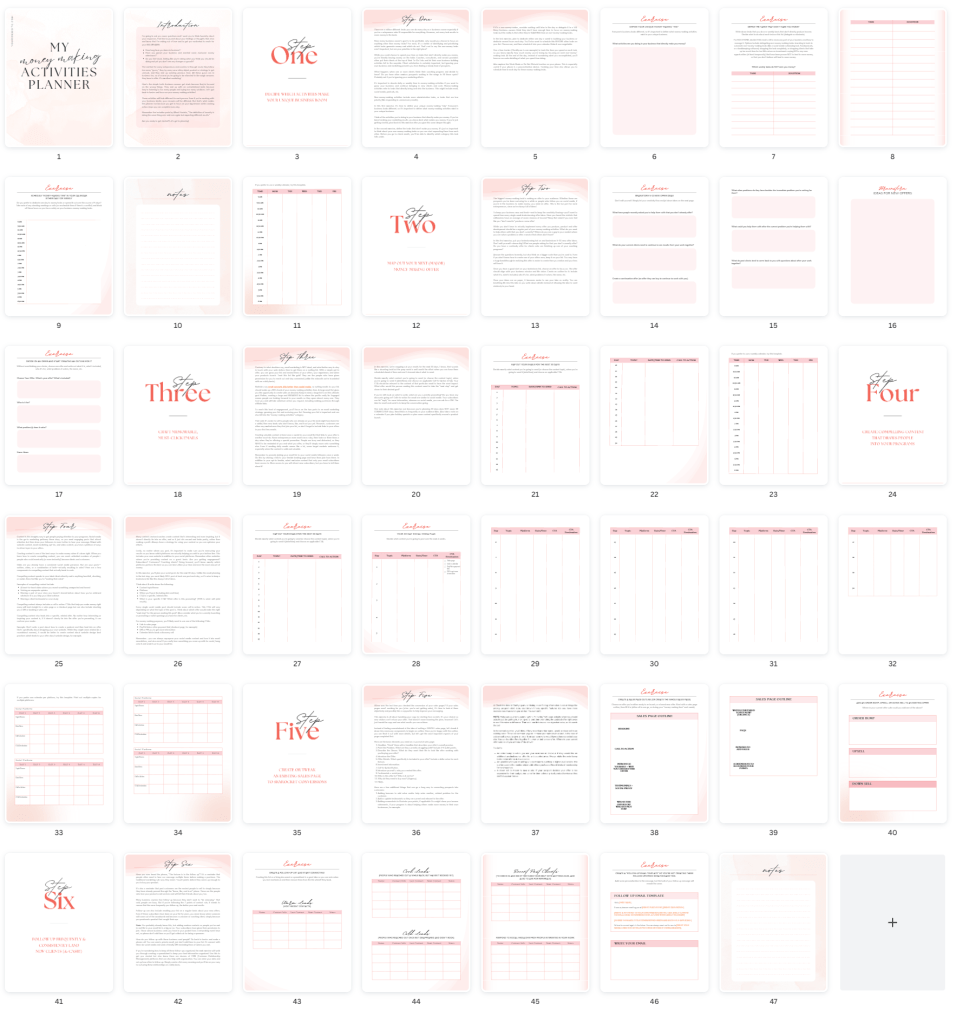 Canva not for you? No problem! We include the plain word document in this package so you can take the content and design it however you like.
You'll get the word document so that you can design it any way and with any software you want (in your favorite design program).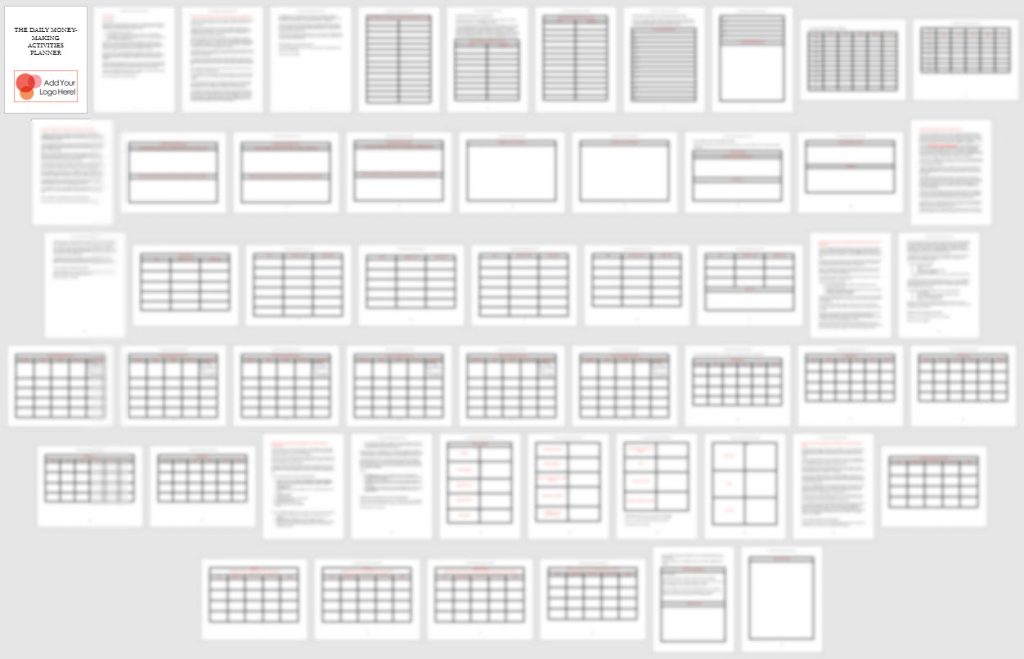 Imagine! If you sold just 2 copies of this planner at $27 each – you'd cover the cost of buying this planner AND everything after that would be profit for you!
Do you think you could sell 2 copies? We know you can!
Download this Planner Now for Only $47!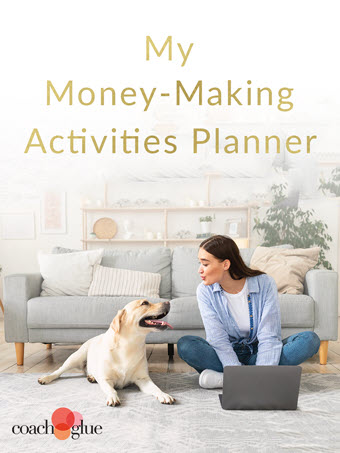 What can you do with this planner?
Here are 9 ideas to get you started…
Personal Use (Grow Your Own Business!)
Use this planner to grow your own business- plan out your own money-making activities and watch your business (and income!) grow. Once you do, not only will you have a way to share your expertise and attract new clients, you'll also have stories and intimate experience to share with your clients on a personal level so you can teach THEM the secret to multiplying their income.
Case Study & Grow Your Expert Status.
After you've used the planner, put together a case study based on your own results and do a Facebook live or Zoom call sharing your experience and selling your new planner.
Grow Your Lists.
Create an opt-in from sections of this planner to grow your lists. Sell a digital or even print version of this planner on the backend to people who opt-in to your lists.
Virtual Event to Connect with Other Successful Business Owners. 
Gather other experts who are passionate about planning, streamlining and growing their business (or helping others grow theirs), and host a virtual event on this topic and use this planner as one of your upsells. You can interview them about how they plan out their most important money-making activities, decide what they're doing each day, or they can offer their best tips and tricks on growing and expanding their income!
Bonus for Existing Programs.
Offer this planner and a quick tutorial video as a bonus when people purchase your coaching or implementation package.
Bonus for Affiliate Offers.
Do you promote something already related to making money online? If so, use this as a bonus when people take action and buy your suggested course. 
Host a Facebook Challenge.
Design a challenge around this planner guiding your audience through each step with a video, audio, or guest expert interview.
Grow Your Own Community.
Start a separate FB group of entrepreneurs who are interested in focusing their daily activities and making more money, and offer the community to those who purchase this planner. Offer your coaching program to them too!
Get Them Interested in Your Services.
Work through this planner with your clients to help them grow their business by focusing on what makes the most impact. Offer a done-for-them service after they see what's involved, if they don't want to implement themselves.
Remember, you get this in .doc format and you can add to the planner, edit it, remove or replace portions, customize it, monetize it, feature your own programs or your favorite products, or just use it as it is.
We can't wait to see what YOU do with the material.