What it is:
The New Client Kit contains 17 Done-for-You Coaching Forms to start or streamline a coaching program and it's FREE.
You can see the optin page here.
Which link to use?
Your affiliate link will look like this:
https://in234.isrefer.com/go/newclient/YOUR-AFF-ID-HERE
Be sure to replace YOUR-AFF-ID-HERE with your actual affiliate ID in our system.
Graphics: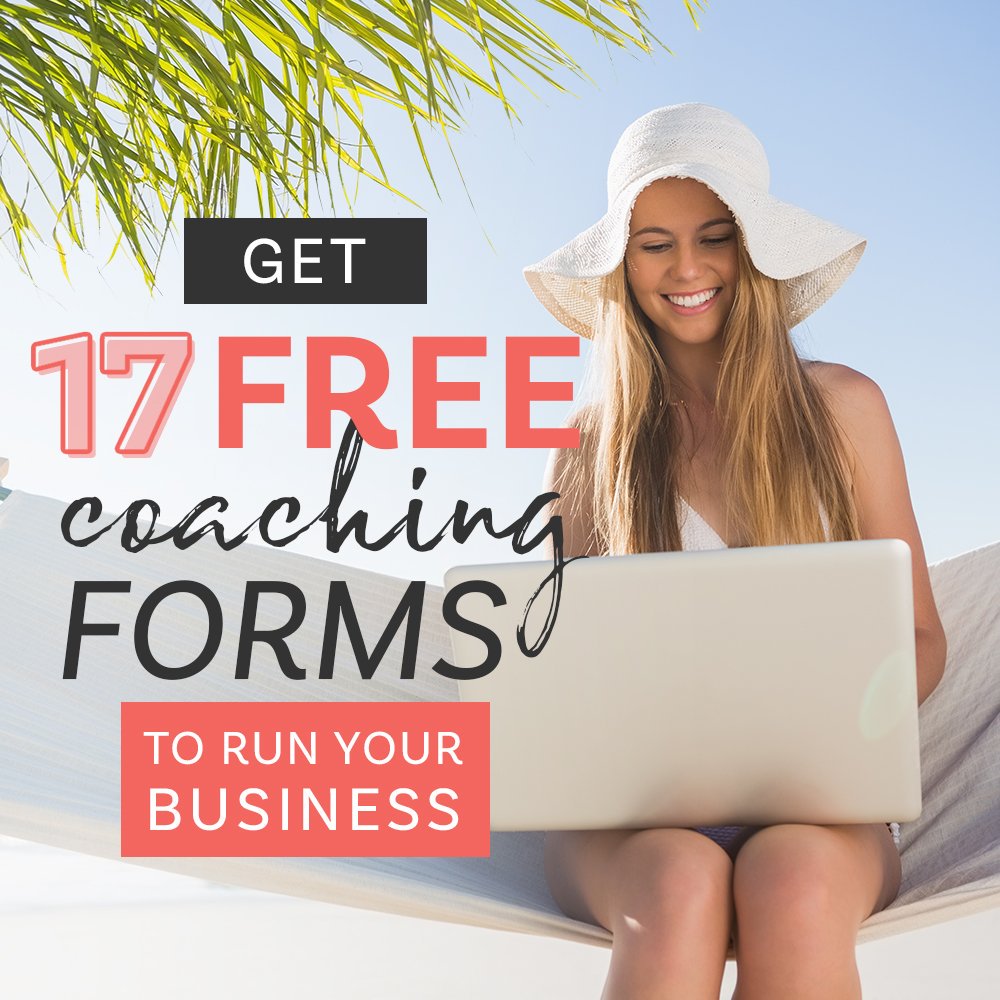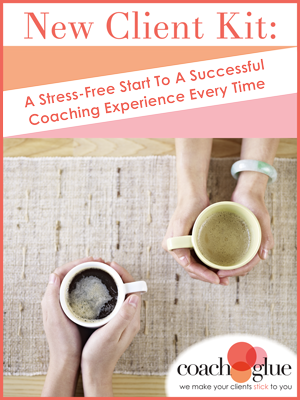 Brand Colors:
If you're creating your own graphics and want to match our colors, they are:
Coral – f3675b
Pink – f6a5ae
Tangerine – f69460
Social Post & PS ideas:
Use these in your social media posts with your affiliate link to the New Client Kit page.
These also make an excellent "PS" file for when you're sending your emails and don't know what to PS in them. (HINT: PS's make sales!)
Over 50,000 Business Coaches have downloaded this to grow their businesses. Have you?
Want to add coaching to your business? Here's help:
Do you want to have an instant high-ticket item on your website? Add coaching. Here's what you need:
Business Coaches, instantly streamline your new clients with these free forms:
Free Gift! 17 Done-for-You Forms to start your coaching business.
Free gift for the Business Coaches out there. This will make your life so much easier. You're welcome. 😉
How to add an extra few thousand dollars to your bottom line each month. Add coaching. (This will help.)
What if it was easy to get $500 or $1000/month recurring? Here's how to start:
[Free Gift!] 17 Done-for-You Forms to help you to start or streamline your coaching business.
What you do when a new coaching client signs up with you can either reassure them or scare them away. Here's help:
Free gift for Business Coaches. This will make your life easier and your business more profitable. You're welcome. 😉
[Start Your Coaching Business Free] From Intake Forms to a Code of Ethics, you'll be ready for everything. Grab it here:
Need an Intake Form for your Coaching Clients? Here you go:
Want more referrals from your Coaching Clients? Here's a referral request letter:
[Free!] Coaches: Use this form to gain an overview picture of your client before the first meeting, so you come prepared to discuss where they're currently at and where they wish to be.
Download this Free New Client Kit with 17 Forms to Onboard Your Clients
Click Here for 17 Done-for-You Forms to Use in Your Coaching Business
Download this Free Coaching Agreement to Use with Your Clients (and 16 other forms too!)
Tired of dealing with paperwork when all you want to do is be of service to your clients? Click Here
Get Your Free New Client Intake Form and 16 Other Forms to Use in Your Business Here:
Email Ideas: 
Email #1: Start this Business in an Hour
Email #2: New Businesses (Become a Coach)  –  For Newish business audience
Email #3: Leave your Job – For new-to-business audience
Email #4: Take that Business and Grow It by Streamlining – For established business audiences
Email #5: Automate and Systematize
Email #1: Start this Business in an Hour
Subject Ideas for this Email:
[FREE] Start this business in an hour
[FREE] Add this income stream to your business in an hour with this free kit.
[Done for You and Free?] Grab this kit to add recurring income to your bottom line
Email Body:
Think about this… (it's free so read the whole email)
If you've been around the online business world for a while, you've probably learned more than you think.
And if you've been DOING the things you've been learning about, then you definitely know quite a bit.
After all, experience is the best teacher, right?
So you probably know there are hundreds of ways to earn money online (membership sites, email marketing, writing books, webinars, software, etc.)…
…And most of them work IF you do the work.
However… One of the simplest (and also most profitable) is adding a coaching program to your funnel. We're talking $300 to $1500/month per client — just for talking with them.
Why would you want to add coaching to your business?
Easy…
1. It's a high-ticket item. You can charge hundreds or thousands of dollars, depending on how much time you want to invest and your level of credibility.
2. It's high-impact. You can change lives very quickly with coaching. It's very rewarding.
3. It's flexible (that's a big one for me).
You can create the coaching program that works for you when you want to work. Design your coaching program however you want. Maybe you love Skype calls, or you just want to do phone calls while you're driving or in the car while you're in car line waiting to pick up your kids.
Perhaps you don't want to get on the phone at all so you just offer email coaching.
Or maybe you want to do face to face coaching.
You choose – it's one of the most flexible online businesses out there.
4. You don't need much to get started. In fact, if you have your brain (and you do), and a paypal account, you could have EVERYTHING you need to get started with the link below.
~INSERT LINK HERE~
(Nicole Dean and Melissa Ingold are the brains behind this – 'nuff said.)
Now coaching might sound a bit scary at the moment, but just think about these numbers…
Even if you only get 5 clients at $500/month, that's 5 clients x $500 x 12 months = $30,000 a year
Not a bad side income eh?
Could you quit your job off that?
Even if you've never considered coaching before just grab the free coaching kit – it'll give you an idea of what you could do.
(Sign off)
P.S. Over 50,000 people have downloaded this already… there's a reason for that.
~YOUR LINK HERE~
Email #2: New Businesses (Become a Coach)  – For Newish business audience
Subject Ideas for this Email:
You can start this business today.
Download These 17 Free Forms and Become a Coach!
Email Body:
Is your business still fairly new or hasn't quite brought in enough jack to allow you to bask in the glory of success yet? But you're trying really hard… like way too many nights up late, HARD.
Those late nights on Facebook, those sleepless nights brainstorming ideas for how to get more clients- I know. I've been there too.
Here's the good news: my friends Nicole Dean and Melissa Ingold (business geniuses, If I do say so myself) have a free kit that will absolutely help you no matter where you are in the process of your business!
All by becoming a coach.
I know… you're thinking "I can't be a coach, I don't know that much", but here's the deal, NAME: you don't have to know everything, just more than the people you're helping. Ah… lightbulb moment.
Listen, if you're dedicated to putting in the work (uh, hello… that's what you've been doing!), I know that you can absolutely make a great income faster than you might think by coaching!
How exciting is that?
This free kit will:
• Give you massive ideas and inspiration on how to bring in as much as $30k yearly (would that be helpful to leaving your jobby behind?)
• Save you thousands of dollars in "set up" fees (in fact, you can start coaching tomorrow with little to no investment)
• Give you a fast track to helping people quickly and effectively and get paid well to do it
Does that sound like something that would be helpful to you (NAME)?
If the answer is yes (trust me… it is), then you can sign up for the free New Client Kit HERE.
This kit is so valuable, NAME! I know a lot of people who have paid for what Nicole and Melissa are giving you for free. Those people have spent hundreds, or even thousands of dollars so don't miss your chance to get it for nadda, zip, zero…
SIGN UP NOW.
P.S. Over 50,000 people have downloaded this already… there's a reason for that.
Email #3: Leave your Job – For new-to-business audience
Subject Ideas for this Email:
Get in on this Billion Dollar Industry
Free Coaching Business Startup Kit
Email Body:
How's that cubicle treating you today? Or maybe that office? Restaurant or bar? I know, I know… you want out. And you've been looking for ways to make your final escape for awhile now, right?
You want to be your own boss, start your own thing, control your own schedule… and you absolutely can for less investment than you might think… in fact, you can start tomorrow.
I hear you, you're thinking this is some scammy, envelope stuffing, sell these magical lotions and place these Craigslist ads B.S., right? Well here's the kicker, I'm not selling anything. In fact, what I'm offering you today is absolutely free. Boom! The business I'm suggesting you set up is coaching.
What is coaching? I'm so glad you asked, NAME. Coaching, simply put, means that you offer guidance and support to another human being in need of guidance and support. That's it! In this case, business coaching. You name something you're awesome at and I'll bet you can help guide someone else through it.
The coaching industry is a super hot, here to stay, billion dollar industry that you can start right now for little or no investment.
My biz buddies Nicole and Melissa (who are two super smart biz ladies) are giving away a free kit designed for new or existing coaches. The kit is worth hundreds (or maybe even thousands) of dollars to get you started in your new business.
Ready to get your New Client Kit? Of course you are!
Sign up here
P.S. The faster you get started, the faster you can turn in that letter of resignation so hop to it!
Email #4: Take that Business and Grow It by Streamlining – For established business audiences
Subject Ideas for this Email:
Stop Reinventing the Wheel. This will help.
Stop for a sec. Let me help you to be more productive.
Free Gift: How to streamline to be more productive.
Email Body:
Look at you go! Your business is rockin' and you're doing quite well for yourself. That is fabulous and I'm proud of your accomplishments! You should be too!
You don't look that happy though. Why not?
Ah, because you feel like you're on the verge of crazy and about to yank your hair out, huh?
I get it. Do you feel like:
• Every millisecond of your day is swallowed by something and you have no time to yourself
• You worry about the details 24/7… or 25/8, if there was such a thing
• Your business could grow bigger but it scares the crap out of you because bigger, to you, means more "stuff" you have to cram into your schedule, and…no
Hear me out now (**moves out of striking distance**), what if I told you that you could grow your business income without totally losing your head? What if I said it was actually quite simple and that it could be done with two little words?
Those words? Streamlined processes.
I know you've heard of it already but truly, my friends Nicole and Melissa have mastered the game and have grown multiple 6-figure empires while still:
• Going on family vacations without laptops
• Having plenty of quality time with family, friends and self
• Sleeping and bathing
• Having time to pee at their leisure
If you want those things too, be sure to sign up for their New Client Kit here so they can show you how to streamline your processes so that you can focus on growing your business in a way that doesn't hurt so much.
P.S. Impossible you say? Let them prove you wrong (trust me, this is one time that you want to be wrong!). LINK
Email #5: Automate and Systematize
Subject Ideas for this Email:
Nearly every new coach struggles with this.
Why create it from scratch? Free gift inside.
Email Body:
Hey ~NAME~,
When you're just starting out as a coach, the business stuff can be pretty overwhelming. Payment agreements, contracts, coaching plans, notes and other details can make you feel like you're reinventing the wheel every time you land a new client. That's way more stressful than it should be.
The best way to avoid all that hassle is to automate and systematize as soon as possible, and that starts with a copy and paste new client template you can simply tweak and send. You'll want to include (at a minimum):
• A welcome letter
• Your payment agreement
• An intake form
• A confidentiality agreement
• Your invoice
Then, as your relationship continues, you'll have other documents to add, such as your call notes, goals, reviews, and other information. It's a lot to develop from scratch, so my friends Nicole Dean and Melissa Ingold of Coach Glue have stepped up and created a complete done-for-you resource. It includes 17 rebrandable forms and documents you can put to work in your business right now, and they're giving it away for FREE.
Click here to check it out: ~LINK~
And the best part? Because it's fully customizable, you're encouraged to edit every piece to fit your unique business.
Stop struggling (and looking like an amateur) and get your new client kit developed today. Start right here: ~LINK~
~YOUR SIGNATURE~