What it is:
Tell your audience to join our challenge and they'll discover how to transform a single blog post into 6 brand new pieces of content to reach a much wider audience… without writing another word!
You can see the optin page here.
Which link to use?
Your affiliate link will look like this:
https://in234.isrefer.com/go/5partemailseries/YOUR-AFF-ID-HERE
Be sure to replace YOUR-AFF-ID-HERE with your actual affiliate ID in our system.
Brand Colors:
If you're creating your own graphics and want to match our colors, they are:
Coral – f3675b
Pink – f6a5ae
Tangerine – f69460
Graphics: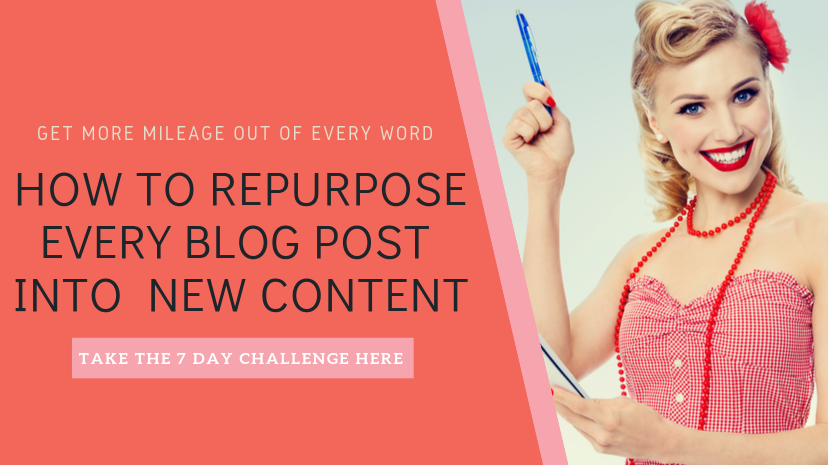 Social Post & PS ideas:
Use these in your social media posts with your affiliate link.
These also make an excellent "PS" file for when you're sending your emails and don't know what to PS in them. (HINT: PS's make sales!)
What if I told you that in just 7 days, you could reach more fans… With a few simple tweaks to the format of a post you've already written. This is so fast and easy, you'll be kicking yourself for not doing it sooner! Learn more for free right here: (LINK)
What if I told you that in just 7 days, you could create share-worthy infographics… Even if your design skills are non-existent and you don't know your jpegs from your gifs. It's easy. I promise! You'll learn the secrets here: (LINK)
What if I told you that in just 7 days, you could get in front of 70 million viewers…  Just by transforming your post into a shareable file and uploading it to a free website you've probably never even considered. Learn more for free here: (LINK)
What if I told you that in just 7 days, you could Stake Your Claim in the 2nd Largest Search Engine… Because if you're not creating this type of content on a regular basis, you're going to start losing ground fast. (Yes, it really is that important.) Learn how in this free challenge: (LINK)
What if I told you that in just 7 days, you could Be Heard By Millions… With one of the fastest-growing, easiest to break into, and most fun marketing vehicles available to you today.

  Learn more here: (LINK)