Here is What You Get with the "Map Out Your Client Getting Website Pages Planner":
The 25 Page Step-by-Step Planner Covers:
Step 1: Know Your Website Goals & Audience
Step 2: Design Your User Flow
Step 3: Envision Your Ideal Home Page
Step 4: Create Your Compelling About Page
Step 5: Encourage Trust in Potential Clients
Step 6: Show Off Your Expertise
Step 7: Welcome the Press
Step 8: All Roads Lead to the Opt-In

What can you do with this planner?
Here are 7 ideas to get you started…
Use it to map out your own client getting website pages.
After you've used the planner, put together a case study based on your own results and sell your system as a workshop or e-course or webinar.
Create an opt-in from a portion of this planner to grow your lists.
Gather experts and host a telesummit about client attraction and use this planner as one of your upsells.
Offer this planner and a quick tutorial video as a bonus when people purchase your favorite drag and drop web page builder through your affiliate link.
Design a 7 day challenge around this planner (or an 8 week e-course) walking your audience through each step with a video, audio, or guest expert interview.
Work through this planner with your clients to help them map out their own client getting website pages. Once it's planned offer them a package where you'll implement it for them (or have your team implement it).
You'll get this in .doc format and you can add to the planner, edit it, remove or replace portions, customize it, monetize it, feature your own programs or your favorite products, or just use it as it is.
We can't wait to see what YOU do with the material.
Take a Peek at the Fabulous Content You'll Get in this Step-by-Step Planner: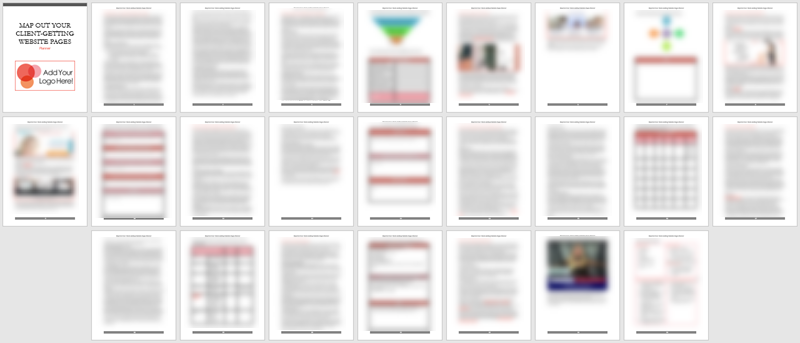 Get this Package and Download it Today for
Only $47 FREE for VA Virtuosos!