Use Our Done-for-You Content to Create a Digital Course or Workshop or Go Offline with it and Host a Weekend Workshop or Mastermind in a Gorgeous Location!
We know you're busy running your business and having a life, which is why you may still be struggling to package up your expertise into fabulous workshops, programs, classes, and ecourses that you can sell over and over again (and stop working so hard 1:1).
We've done all the hard work for you!
You don't have to invest hours and hours of your own time into developing a workshop program, and you don't have to pay thousands of dollars to hire people to help you. By investing in our low-cost coaching workshops you'll save a ton of time, energy and money!
When you purchase a coaching workshop from us, you are buying the license that gives you permission to edit and customize the content in any way you like, put your business logo and name on it, and sell or give it away to your clients/customers/members.
Imagine How Fast Your Business Would Grow if You…
Host regular online workshops or classes (or make it exclusive by opening the doors for enrollment just few times a year)
Set up a year-long academy and use many of our workshops and content packages to deliver training to your clients
Package up your expertise + our content into ecourses that you sell over and over again
Develop a monthly group coaching program and then use our content + templates to create your curriculum
Host an in-person weekend workshop in a beautiful location using our materials to teach your tribe
Are you ready to save a ton of time + money and grow your business?
You'll Get an Entire Workshop with 4 Training Modules + 4 Fast Action Plan Worksheets & Exercises + 4 Program Accelerator Checklists + 4 Sets of PowerPoint Slides

Now you can finally stop procrastinating and launch the workshop or ecourse you've been dreaming about!
When you purchase the license to our workshop, you'll be able to develop and release a sparkly new ecourse or program in a matter of days (not months or years), and that means that you can start enrolling clients and accepting payments right away.
Our mission is to make it easy for coaches just like you to make an impact on the world and be of service to your tribe, in the most powerful and aligned way possible.
Here's What's Included in the 4 Week Six-Figure Coaching Bootcamp:
Module 1: How to Magnetically Attract Your Perfect Clients without Chasing Them Down

For struggling (or even somewhat successful) coaches, this is huge. You simply cannot help people if you're constantly chasing after new clients. It's not good for your income, it's not good for your ego, and it's certainly not good for your business.
In this module we'll cover exactly what you're doing wrong, and how to fix it, including…
Why finding your unique brand is critical to your success – the cookie-cutter approach might work for fast-food franchises, but when it comes to coaching, your clients crave your unique qualities.
The single most important aspect of your brand – get this wrong and you'll confuse your potential clients, or worse, drive them away.
3 questions you must answer if you want to build a solid, personal brand that attracts rather than alienates the very audience you want to serve.
How to quickly create a website – don't let the technical details trip you up. Once this is done, you can move on to more important matters!
3 important website elements to consider – keeping these in mind with everything you do helps create a cohesive branding message.
Why content is a critical part of your overall brand – and how it can work for you by pre-qualifying clients long before you meet with them.
The one thing to keep in mind every time you create a new piece of content – get this right, and your clients will be naturally drawn to you.
How to establish credibility and become known as the "go to" person in your niche – it's not as difficult as it sounds, but it is absolutely vital to your success.
How to associate your name and brand with the biggest names in your niche. Do this right and you'll be on the path to stardom. Do it badly, and you'll be forever labeled a spammer – or worse!
What your competitors can teach you about branding, marketing and more – and why paying attention to them might just be the most important thing you do.
How to keep your name in front of your audience with a good mix of tactics – when you're building a coaching business, out of sight really is out of mind, so don't skip this step!
Take a Peek at all the Fabulous Content You'll Get in Module 1:
Module 1: Training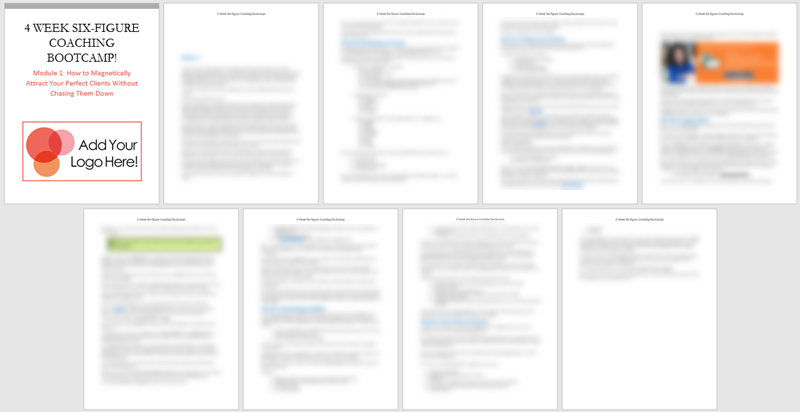 Module 1: Fast Action Plan Worksheet & Exercise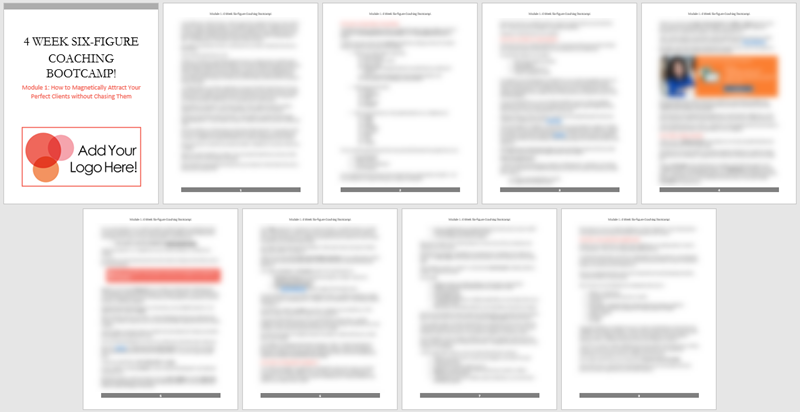 Module 1: Program Accelerator Checklist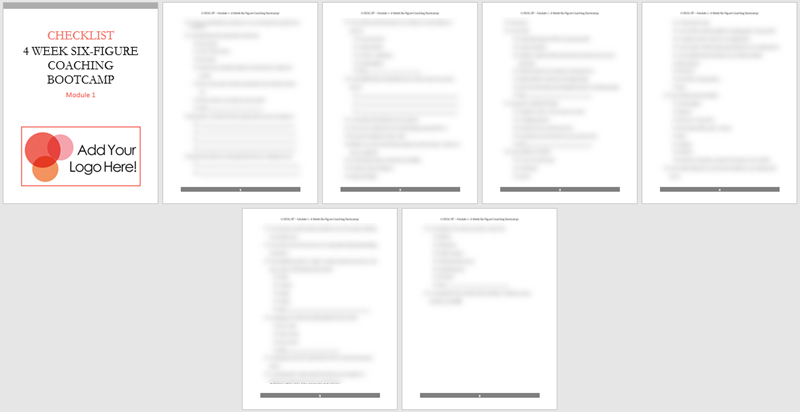 Module 1: PowerPoint Slides to Present Your Content Through Webinars, Classes, and Workshops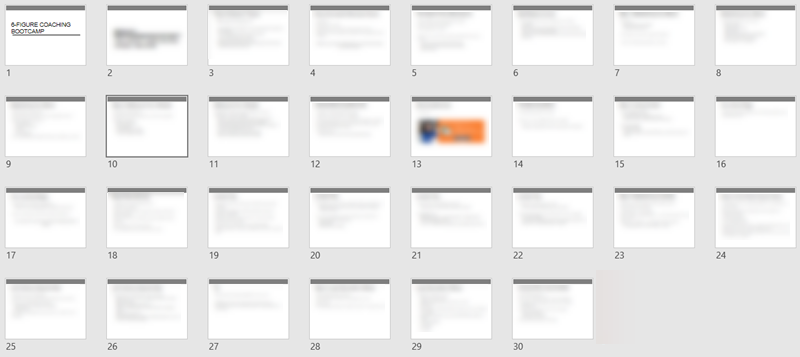 Module 2: The Secret to Creating & Packaging Your Irresistible Coaching Offers

You already know that one-on-one coaching alone does not make for a successful coaching business. There has to be a funnel in place that encompasses everything from your lowest priced products and services right on up to your elite mastermind program – and which naturally leads buyers from one to the next.
In this module we'll examine your funnel, identify the leaks, and create an auto-pilot system that keeps the cash-flow on the positive side. We'll start with…
Setting the correct pricing – and the two questions you must ask yourself before you begin.
How to determine the proper focus for your offer based on what you know about your ideal client
One surprising way to add extra income streams to your offer funnel – and how one super-successful coach uses this method to earn big bucks AND build an expert reputation!
How to develop offers that not only bring in cash, but that you enjoy – miss this and you might earn that six-figure income you want, but you'll be miserable doing it.
How to team up with other coaches to offer big value (pro tip: this is a fantastic way to get your foot in the door of a new niche or market)
Why your local area might just be the best place to "test the waters" – and two methods that can deliver huge successes.
How to master the art of over-delivering – get this right, and you'll never have to chase after clients again.
What's missing from your sales funnel – if you've got leaks, you won't want to miss this part.
How to put an end to the objections – this one trick will virtually eliminate any uncertainty your ideal client might have about hiring you.
Take a Peek at all the Fabulous Content You'll Get in Module 2:
Module 2: Training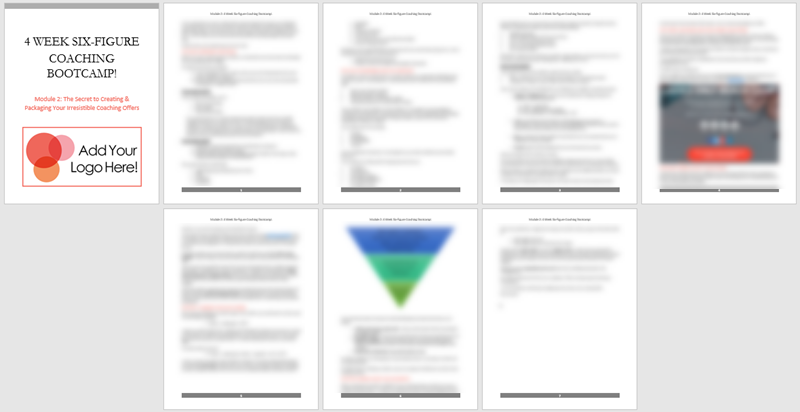 Module 2: Fast Action Plan Worksheet & Exercise

Module 2: Program Accelerator Checklist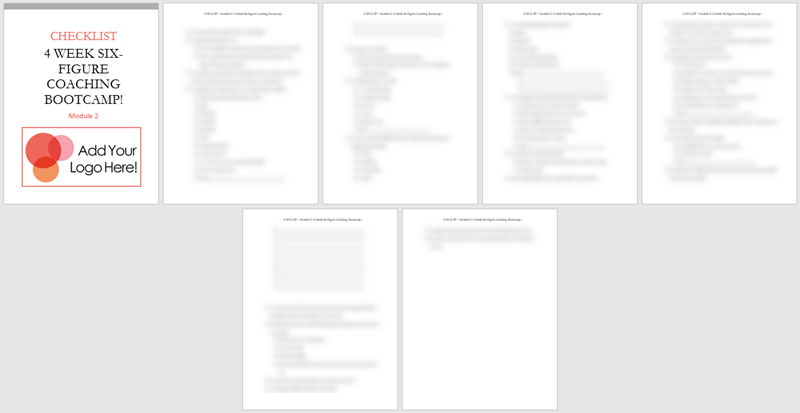 Module 2: PowerPoint Slides to Present Your Content Through Webinars, Classes, and Workshops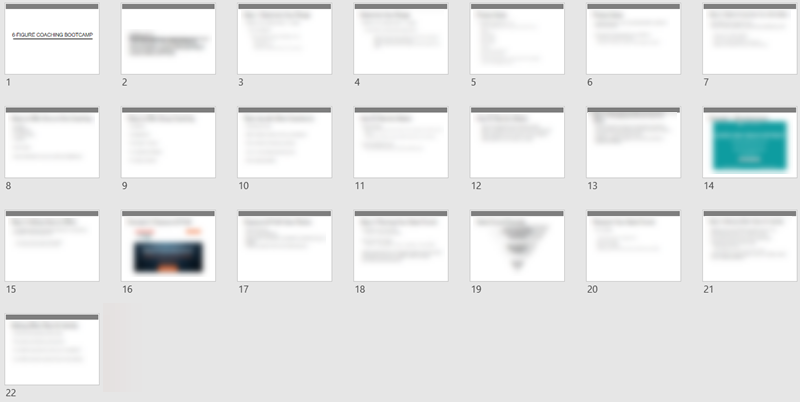 Module 3: How to Double Your Profits While Spending Less Time at Your Desk

What if I were to tell you that it's easy to build that six-figure business you dream about? The only think you have to do? Work your tail off.
It's true – many solopreneurs achieve high-earning power doing just that. But there is a better way.
In module 3 we're going to tackle the dream of many small business owners: passive income. It's not as easy as some would have you believe, but it is possible. Let's start with…
The single most powerful tool you have in your passive income arsenal – if you're not already working on this, then you must start now!
Why Amazon is a coaches best friend – and how to get even more leverage with one simple trick.
Why "one hit wonders" never achieve the success they want – and what to do to avoid falling into this trap!
12 types of products your market is desperately searching for – if you're not providing them, then someone else will.
2 ways to put the power of affiliate marketing to work for you – either one is a nice boost to your income, but if you do both, you'll watch your profits soar!
3 ways to license your products for even bigger profits – some of the biggest names in business do this, and you can, too.
The number one way to get more mileage out of every single product you create – skip this step and you're literally throwing money away.
The easy way to build community AND recurring income – get this right, and your earning power will quickly snowball.
How to create a successful joint venture partnership – without adding any extra work for either of you.
Take a Peek at all the Fabulous Content You'll Get in Module 3:
Module 3: Training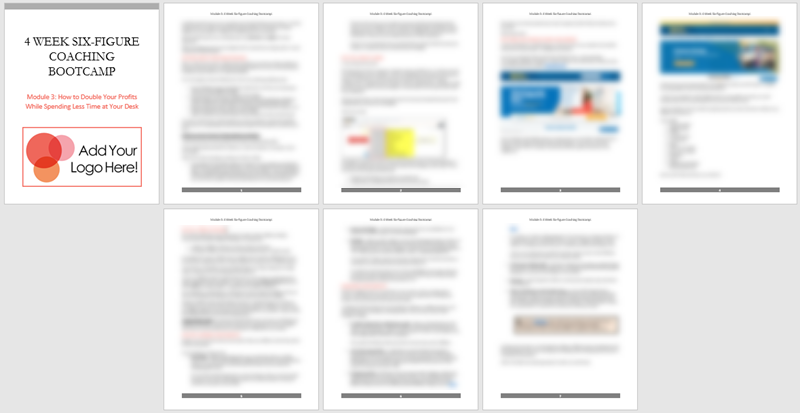 Module 3: Fast Action Plan Worksheet & Exercise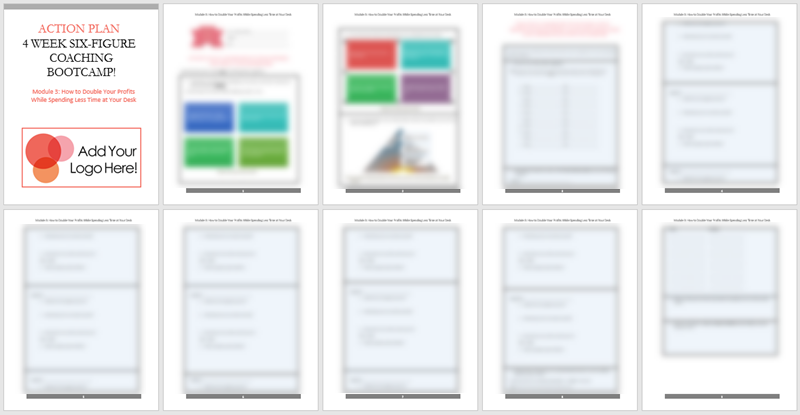 Module 3: Program Accelerator Checklist

Module 3: PowerPoint Slides to Present Your Content Through Webinars, Classes, and Workshops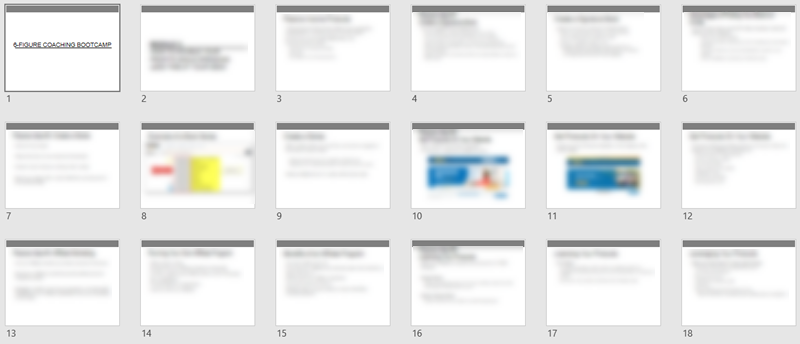 Module 4: How to Get Your Clients to Love Paying You Over and Over Again

Ever wonder why so many stores offer loyalty rewards and other perks for customers? It's because getting a current customer to spend money is much easier than attracting a new customer. Not only that, but it costs a lot less in terms of advertising, product development and relationship building.
That's why module 4 is all about keeping your clients happily buying everything you offer. We'll cover…
4 ways to create regular, recurring income – and why they work so well in every niche.
How to get clients to buy the same product again and again – master this and you'll practically be able to print your own money.
Why a lifetime membership option can actually grow your income even after members stop paying.
How (and where) to build an online community that will serve as your remote sales army – do this right, and you'll never have to "sell" again.
How to put the spotlight right on your clients – and make more sales of your services when you do!
Why social proof is critical to your success – plus some unusual ways you can use it to your advantage.
How to incorporate various payment options into your overall funnel – do this and your cash flow will never again be an issue.
The number one way to create a "waiting list" of potential clients – and you can do this in conjunction with raising your prices for even higher profits.
Take a Peek at all the Fabulous Content You'll Get in Module 4:
Module 4: Training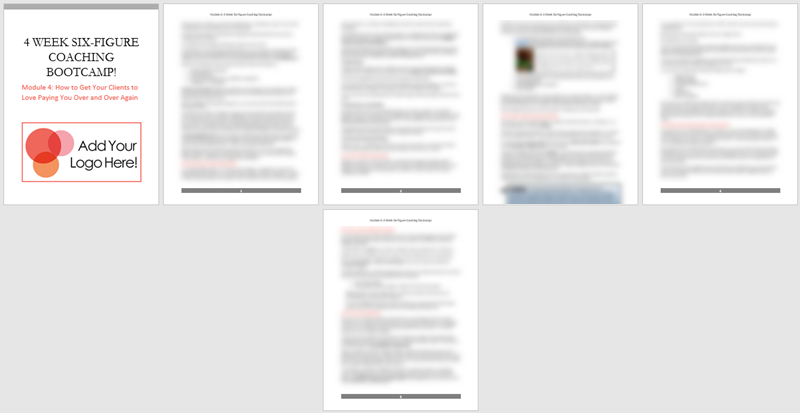 Module 4: Fast Action Worksheet & Exercise

Module 4: Program Accelerator Checklist

Module 4: PowerPoint Slides to Present Your Content Through Webinars, Classes, and Workshops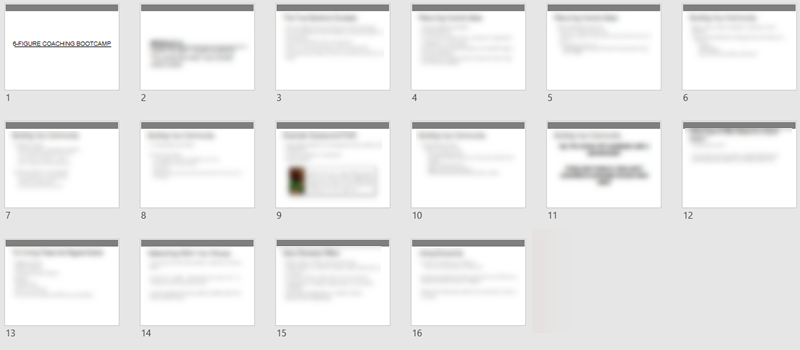 Plus, You'll Also Get a Sales + Marketing Materials Kit to Help You Sell Your Workshop and Start Collecting Payments: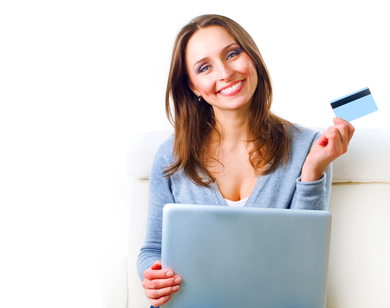 We want to make it super easy for you to promote your workshop and start collecting payments, which is why we've included tons of fabulous sales and marketing materials for you and your JV partners.
That's right! You can share these sales materials with your JV partners so they can promote you too!
Here's What's Included in Your Sales + Marketing Materials Kit:
A great way to fill your workshop is by hosting a free webinar that sets the stage for you to show off your expertise, connect with your tribe, and be of service to them through amazing content – while also leading your clients to the conclusion that they want to work with you.
We've made it easy for you to host your own webinar that provides value and helps you enroll clients in your workshop.
Webinar Script: "5 Reasons Why Most Coaches are Broke"
Webinar Registration Copy that includes a description and bullet points for your webinar you can copy + paste to your own sign up page.
PowerPoint Slides for Your Webinar so you don't have to start from scratch
Handout to Give Your Webinar Guests: "5 Reasons Why Most Coaches are Broke"
And we've got you covered when it comes to promoting your live webinar, the replay of your webinar, AND your workshop.
Just copy, paste, and edit the emails, social media posts, and blog posts/newsletter articles and start spreading the word about your sparkly new workshop!
4 Emails to Promote Both Your Live Webinar and the Upsell to Your Program

Live Webinar Email Promo #1: It's not as easy as it looks

 

(289 words)
Live Webinar Email Promo #2: Attention Coaches: Are you making these mistakes? (267 words)
Program Email Promo #1: Before you hang out your virtual shingle… (377 words)
Program Email Promo #2: Are you working too hard?

 

(295 words)

10 Social Media Posts to Promote Your Program on Facebook, Twitter, Google+, etc.
5 Blog Posts / Newsletter Articles to Promote Your Program

Attracting Your Dream Client (466 words)
Developing Your Coaching Funnel (462 words)
Today's Most In-Demand Coaching Program Formats (434 words)
Creating High-Value, Big-Profit VIP Days (538 words)
You Don't Have to be an Expert in Everything to be a Great Coach (451 words)
But we don't stop there…we're also giving you sales page copy that you can copy, paste, and edit and use to sell your workshop (no more paying a copywriter thousands of dollars to do this for you!).
Take a Peek at all the Fabulous Sales and Marketing Materials Included in Your Kit:
Promotional Emails, Blog Posts, Social Media Posts


Webinar Script: "5 Reasons Why Most Coaches are Broke"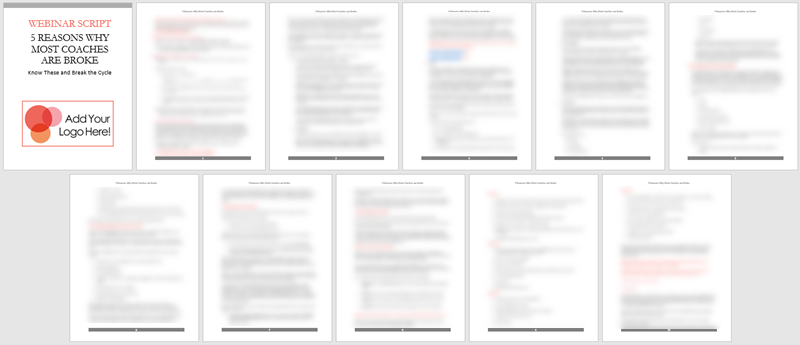 Webinar Registration Copy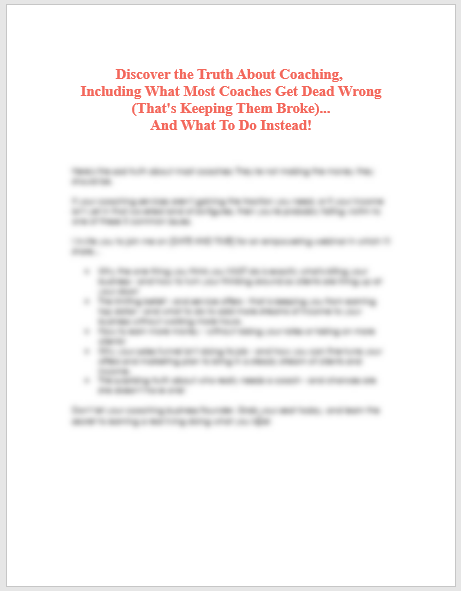 Webinar PowerPoint Slides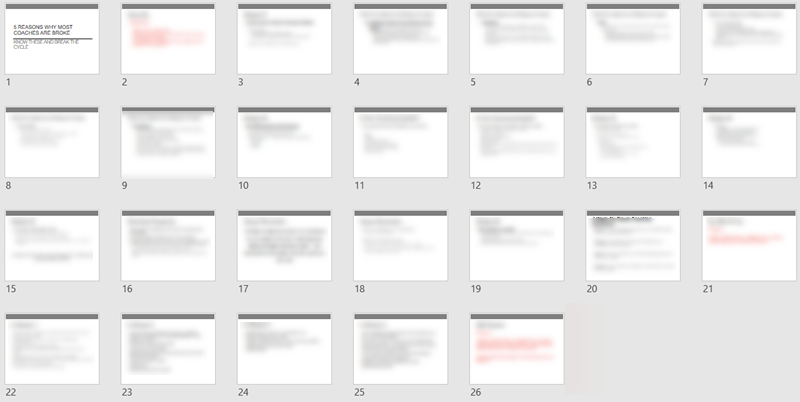 Handout to Give Your Webinar Guests: "5 Reasons Why Most Coaches are Broke"


Sales Page Copy to Help You Sell Your Workshop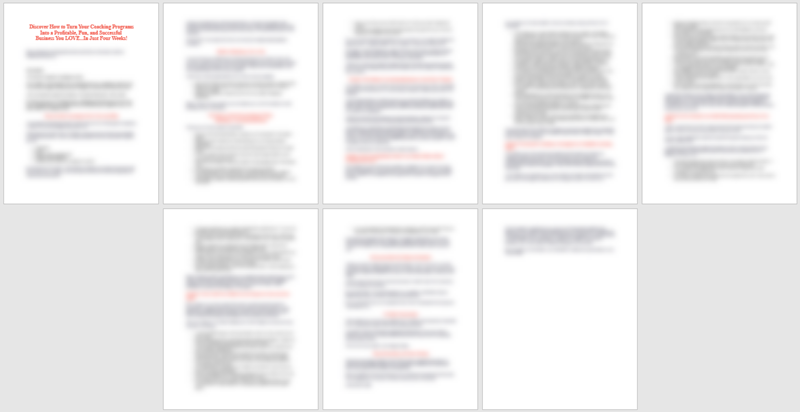 Get This Coaching Workshop and Get Instant Access to All This: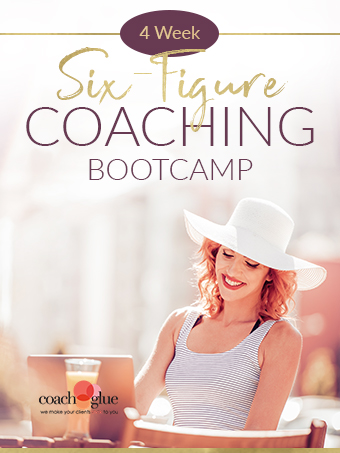 4 Training Modules (31 pages, 8507 words)

Module 1: How to Magnetically Attract Your Perfect Clients without Chasing Them Down
Module 2: The Secret to Creating & Packaging Your Irresistible Coaching Offers
Module 3: How to Double Your Profits While Spending Less Time at Your Desk
Module 4: How to Get Your Clients to Love Paying You Over and Over Again

4 Fast Action Plan Worksheets & Exercises (31 pages)
4 Program Accelerator Checklists (23 pages)
4 Sets of PowerPoint Slides to Create Your Inspiring Webinars or Videos (86 slides)
4 Emails to Promote Both Your Live Webinar and the Replay of Your Webinar

Live Webinar Email Promo #1: It's not as easy as it looks (289 words)
Live Webinar Email Promo #2: Attention Coaches: Are you making these mistakes? (267 words)
Program Email Promo #1: Before you hang out your virtual shingle… (377 words)
Program Email Promo #2: Are you working too hard? (295 words)

10 Social Media Posts to Promote Your Program on Facebook, Twitter, Google+, etc.
5 Blog Posts / Newsletter Articles to Promote Your Program

Attracting Your Dream Client (466 words)
Developing Your Coaching Funnel (462 words)
Today's Most In-Demand Coaching Program Formats (434 words)
Creating High-Value, Big-Profit VIP Days (538 words)
You Don't Have to be an Expert in Everything to be a Great Coach (451 words)

Webinar Registration Copy that includes a description and bullet points for your webinar you can copy + paste to your own sign up page.
Webinar Script: 5 Reasons Why Most Coaches are Broke

 

(11 pages)
Webinar PowerPoint Slides (26 slides)
Handout to Give Your Webinar Guests: "5 Reasons Why Most Coaches are Broke" (4 pages)
Sales Page Copy to Help You Sell Your Workshop