Are Your Clients Overworked and Overwhelmed? What If You Could Give Them The Secret "Sauce" for Cultivating a Work/Life Balance That Will Help Them Thrive?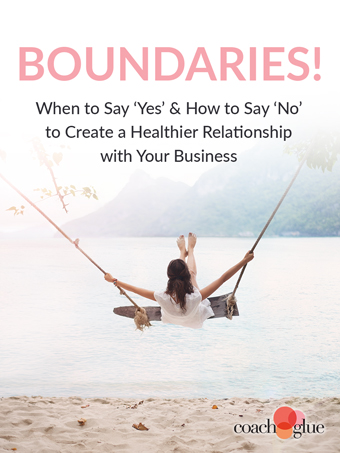 Let's start with what you know…
You know that your clients can't just wish their way to a less stressful business and a more fulfilling life…
Something needs to change.
Does any of this sound woefully familiar to you, fellow coach?
Your clients say they started a business to help people–as many people as possible, to be exact–but they're saying yes to pretty much anyone who reaches out for coaching, consulting or even just a "quick coffee chat" (face palm)
They're always-on for their people, and they often wake up to "emergency" emails (and late night texts) from clients–even on weekends and vaycay?
They tell you that their families are growing increasingly annoyed by their business eating up all their personal time, and their self care has taken a complete backseat to everything business.
They show up to every single meeting (even if it's outside their preferred business hours), say yes to every last minute request and drop everything for their client's "emergencies" (which–let's be honest–hardly ever turn out to be actual emergencies).
They work at all hours, respond at all hours and they're never off social media for more than a few hours, just in case.
If so, it's time for your clients to set some serious boundaries. 
Real talk? If they don't start putting actual parameters in place–with themselves and their clients–they're doing everybody (and everything) in your life a disservice.
Because how can they do good work when they're exhausted, existing on lattes and pints of Ben & Jerry's to get stuff done? 
How can they show up and coach or teach clients when they haven't taken a shower, eaten a proper meal (read: something not out of a plastic carton, or delivered by UberEats) or put on real pants in days?

You know they can't!
But what they can do is start putting themselves and their own business first, with rock-solid business boundaries. And you're going to be the one to show them how!
Using Our Done-for-You Video Script You'll Be Able to Help Your Clients Know When to Say Yes and How to Say No to Create a Healthier Relationship with Their Business!

 
Whether you want to record a video training as your new product, or host a livestream or webinar for your clients – this video script has been completely done-for-you!
Or, if video really isn't your thing, just use the script to record an audio!
This 17 Page (6,320 word) Step-by-Step Video Script Covers:
Step 1: Why Business Boundaries Will Keep You Sane & Stacked with Cash
Step 2: Claim Your Core Values So You Can Say Yes to Your Priorities with Ease
Step 3: The Top Must-Have Boundaries for Successful Business Owners
Step 4: Get Over Boundary-Setting Guilt to Grow Your Business and Your Confidence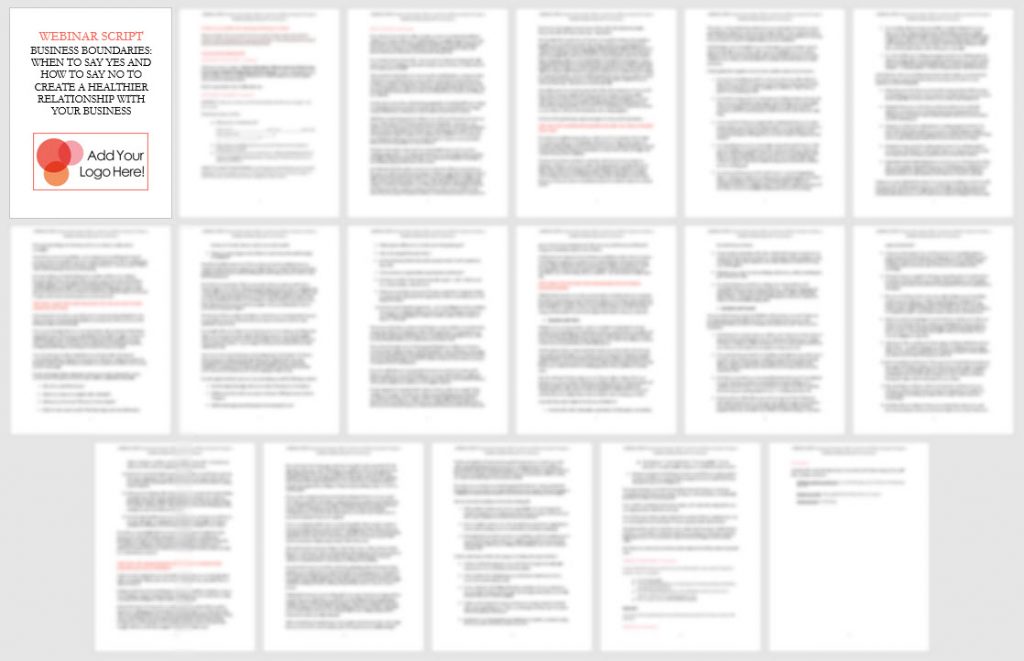 Who Wants to Over-Deliver to their Clients? You Do!
Which is Why You'll Get this Juicy Workbook that You Can Include with Your Video Training (Or Sell on its Own if Video isn't Your Jam)!
Because who doesn't love a good workbook?
Your clients are totally going to crush on this workbook filled with all the goodies that will help them take action.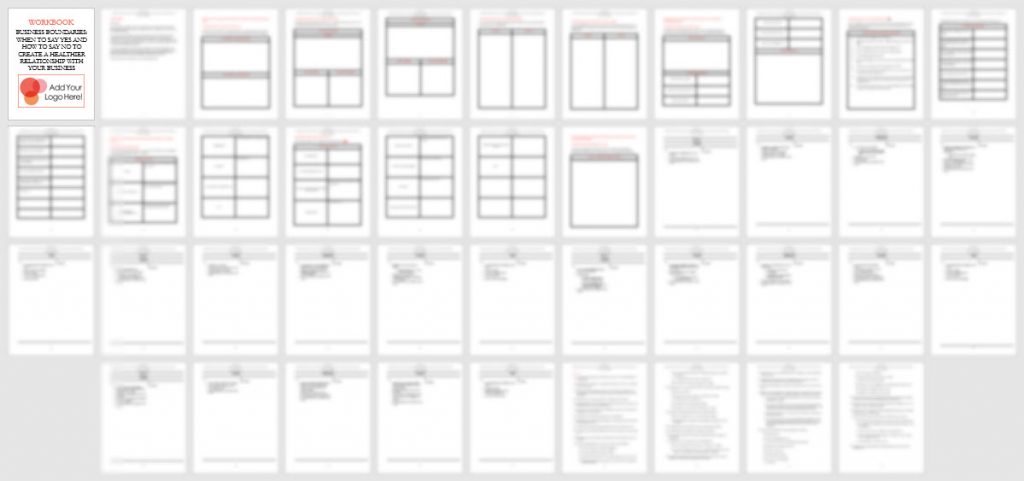 Creating Buzz for Your Offer is a Breeze with these 21 Done-for-You Facebook Posts
No more wondering what to post on social, just copy and paste these Facebook posts to help you promote your new product.

Professionally Written Sales Copy to Help You Sell Your Offer
Because who wants to spend weeks writing sales copy instead of making money. Just copy and paste this professionally written copy into your sales page template, add your buy buttons, and CHA-CHING! You're ready to sell your product.

Get this Package for Only $97!
What Can You Do with This Content?
Record a video or host a livestream/webinar using the script and then package up your training with the workbook and sell it on your website.
Sell the workbook by itself without video.
Record an audio using the script and package it up with the workbook.
Create new a product and include it as a bonus for one of your other courses.
Use the content to create new trainings for your membership program.
Create a new product and use it as an upsell or cart bump offer.
Been invited to teach at an online summit or event? Use the content to create your new training.
Use the video script as the outline for a new book.
Add the workbook to one of your other products or courses as a bonus.
Use the content to create a VIP day around the topic of this package, and give your clients a copy of the workbook.
Want to create a product or course on a similar topic from scratch? Use the sales copy from this package to help you sell your offer.