Imagine waking up each morning to emails and notifications shouting out "Congrats! You got paid!"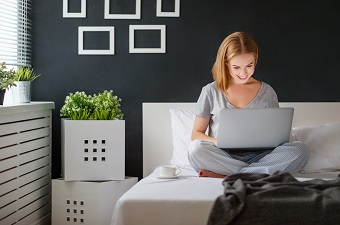 Make even more money online.
That is the goal isn't it? But what's even better than making more money? Making that extra money without having to do any more work.
How would it feel to know your clients are earning more and more each month, without having to take on extra clients of their own or work tons of extra hours?
With passive income, they can!
But not just any passive income will do. By creating an automated webinar that leads attendees into a paid offer, we're talking about a set up that attracts, teaches and converts!
This simple, but oh-so-effective funnel will allow your clients to create it once, and make money on autopilot!
Introducing Our Done-for-You "Plan Your Money-Making Automated Webinar in a Weekend

!"

 Planner that You Can Sell as a Product or Challenge, Add to Your Membership Site, Or Create a VIP Day Around!
No more writing content from scratch or paying a ghostwriter hundreds or even thousands of dollars to help you develop your training content.
We've done all the hard work for you, and we've made it super affordable so it's easy on the wallet.
How Cool Would it Be if You Ran a Challenge in Your Facebook Group and Based Each Day's Training on One Step from this Planner…And Then Funneled People into Your Higher End Courses and Programs?
But you know what's really awesome?
You can charge people to join your challenge!
Not only will they get access to the private Facebook group and your daily trainings – but you can give everyone who signs up a copy of this planner!
And because YOU get this planner in doc format, you can completely customize it to your business. Brand it with your colors and logo, add in your website information and offers, tweak the content to add examples, additional information, and more. 
Then simply save it as a PDF and load it up to your shopping cart or members area!
The Step-by-Step Planner Covers (27 PAGES):
Step 1: What Irresistible Paid Offer Will Your Webinar Preview?


A webinar is a doorway to a premium paid offering. It's the first step in your sales funnel and it needs to attract a wide number of people. While many webinars are held in real time, we're talking here about automated webinars, aka on-demand or pre-recorded webinars, in which the information presented is evergreen.

 

Exercise: Take an inventory of your current products and services. Choose one of these products to promote in your webinar.
Exercise: Brainstorm your webinar topic ideas. The topic should relate to your paid product.

Step 2: Price That Powerful Paid Offer Strategically!


Some solopreneurs struggle with setting prices on their products and services. The common fear is if you set a price too high, you'll scare people away. If you set it too low, some buyers will expect low prices all the time. Other buyers may think that your product isn't valuable because you've set the price too low.

 

Exercise: Estimate your production costs for the webinar. Set a price for your product.

Step 3: Forge a Clear Connection Between Your Free Webinar and Paid Offer


We've already mentioned how important it is to link the topic of your free webinar to the topic of the paid product. But creating that connection isn't quite enough. You need to also encourage attendees to BUY the product. Afterall, you ARE in the business of making a profit so don't let those attendees leave the webinar without a strategy for closing the sale.

Exercise: Create a per-webinar plan for connecting with your registrants.
Exercise: Decide which strategies you'll use to encourage fast action purchases. Choose as many as you want so long as they don't confuse your attendees.
Exercise: Plan a strategy for staying in touch with prospects who don't make a same-day purchase

Step 4: Do Some Pre-Webinar Sleuthing


A primary part of building your business is knowing and understanding your target market. They are the ones who need your help and who will come to you for advice and learning opportunities. These are the people with whom your message resonates the most.

Exercise: Describe your target market demographics using as much detail as possible.
Exercise: Create your landing page/sales page for your product purchase. Plan the copywriting, using strong action words as well as your keywords.
Exercise: Create your application for admittance into your coaching and/or mastermind programs.

Step 5: Create an Email Funnel That Excites and Enthralls


Emailing after your webinar is vital to growing your community, reminding those who didn't purchase what they're missing, and convincing those new purchasers that your other products and programs are just as awesome as this one.   

Exercise: Map out your pre-webinar email funnel.
Exercise: Map out your post-webinar email funnel.

Step 6: Give Your Webinar a Title They Can't Ignore 


Choosing a webinar topic and name is an important step that deserves much brainstorming. Not only do you need to attract the attention of your prospects, but you need them to follow through and actually register for your webinar. This topic and title also need to correlate seamlessly with your paid product.

Exercise: Map out the topic of your webinar. What are the action steps you'll include? Does this relate to the paid product?
Exercise: Brainstorm strong, engaging, and intriguing titles for your webinar.

Step 7: Make a Foolproof Plan For Your Webinar Content   


Benjamin Franklin is credited with saying this quote: "If you fail to plan, you are planning to fail." Nothing could be more true when it comes to planning what to say in your webinar

. 

Exercise: Map out the bullet points of your entire webinar.

Step 8: Pair Perfect Words With Gorgeous Visuals


As important as your words are to engage your attendees, so are the visuals you display throughout the webinar. Let's face it, having your face plastered on the webinar screen for an hour, watching you speak, isn't very interesting. Even if you have model-like beauty, you need to keep your audience awake and on their toes with visual slides and photos while also finding a balance for how much facetime you want.

 

Exercise: Hire a VA to create your PowerPoint slides. Search for stock photo images. Incorporate your branding into your slide template.

Step 9: Cook Up a Killer Promo Plan for Your Webinar!


Now that you've got your awesome webinar recorded and ready to go, it's time to develop an equally awesome promotion plan to draw prospects to your webinar.

 

Exercise: Map out your promotion strategy. Include your budget for ads and for hiring a VA or social media manager.
Your clients will LOVE having this planner they can download or print off.
Take a Peek at this Step-by-Step Planner:

Imagine! If you sold just 2 copies of this planner at $27 each – you'd cover the cost of buying this planner AND everything after that would be profit for you!
Do you think you could sell 2 copies? We know you can!
Download this Planner Now for Only $47!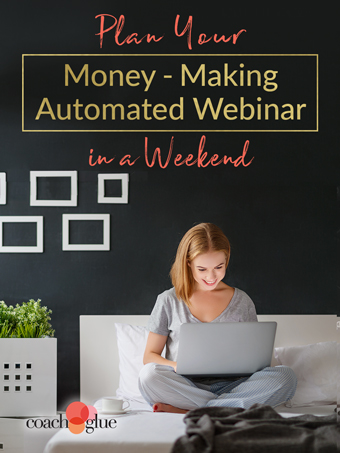 What can you do with this planner?
Here are 7 ideas to get you started…
Use it to plan your own Facebook live videos – you could do one livestream for each step the planner.
After you've used the planner, put together a case study based on your own results and sell your system as a workshop or course or webinar.
Create an opt-in from a portion of this planner to grow your lists.
Gather experts and host a webinar on this topic and use this planner as one of your upsells.
Offer this planner and a quick tutorial video as a bonus when people purchase your coaching package.
Design a 7-day challenge around this planner walking your audience through each step with a video, audio, or guest expert interview.
Work through this planner with your clients to help them plan their own mastermind program. Once it's planned offer them a package where you'll implement it for them (or have your team implement it).
Remember, you get this in .doc format and you can add to the planner, edit it, remove or replace portions, customize it, monetize it, feature your own programs or your favorite products, or just use it as it is.
We can't wait to see what YOU do with the material.