Do you dream of an email list that truly is a money maker?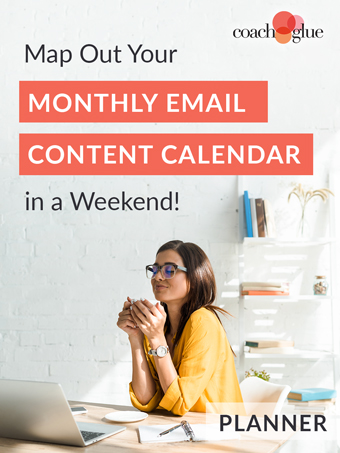 You've heard it before … the money is in the list.
You know how essential having an email is for your business. And it's something you encourage your clients to have as well.
But email lists … or rather, GOOD quality email lists, the kind that make you money on the regular … don't happen on their own. 
They take a strong desire to want to help the people on your list.
Plus some planning, strategizing, and massive value creating.
Luckily, all that planning doesn't have to take a long time. In fact, it can done in as little as a weekend!
What if you could guide your clients through finding their ideal email marketing schedule and then creating content that naturally takes their subscribers on a journey from free to buy all the things … in just one weekend?
With our done-for you "Map Out Your Monthly Email Content Calendar in a Weekend" planner you can help your clients leverage email marketing in their business.
Whether you want to use this planner with your 1:1 coaching clients during a VIP day or sell it as a low-end digital product on your website – we've done all the hard work for you.
The Step-by-Step Planner Covers (37-pages):
Step 1: Creating an Efficient and Aligned Email Schedule That Fills Your Soul
Step 2: Identify Your Money-Making Potential With Promotions
Step 3: Establish Expertise & Credibility with Value-Packed Free Content
Step 4: Generate Buzz with Tantalizing Content
Step 5: Create a Juicy Outline that Compels Sales Naturally
Step 6: The Powerful and Under-Utilized Strategy to Always Cash-In
Step 7: Ditch the ISH: Make it Easy to Sell Everyday
Your clients will LOVE having this planner they can download or print off.
You'll get this planner as a word document so you can take the content and design it however you like.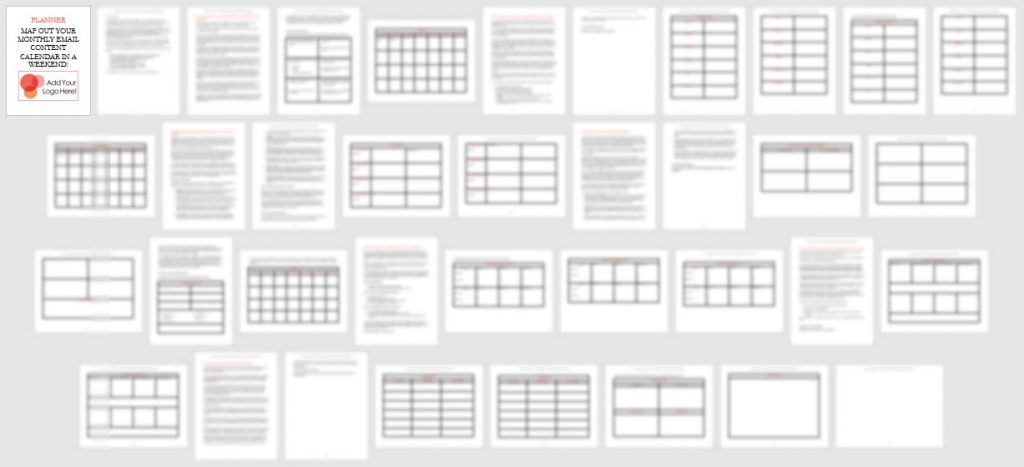 Imagine! If you sold just 2 copies of this planner at $27 each – you'd cover the cost of buying this planner AND everything after that would be profit for you!
Do you think you could sell 2 copies? We know you can!
Download this Planner Now for Only $47!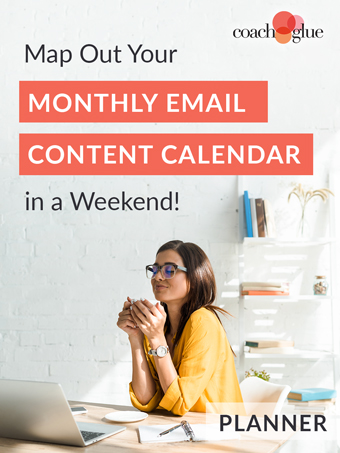 What can you do with this planner?
Here are 7 ideas to get you started…
Use it to plan your own email content.
After you've used the planner, put together a case study based on your own results and sell your system as a workshop or course or webinar.
Create an opt-in from a portion of this planner to grow your lists.
Gather experts and host a webinar on this topic and use this planner as one of your upsells.
Offer this planner and a quick tutorial video as a bonus when people purchase your coaching package.
Design a 7-day challenge around this planner walking your audience through each step with a video, audio, or guest expert interview.
Work through this planner with your clients to help them plan their own email content. Once it's planned offer them a package where you'll implement it for them (or have your team implement it).
Remember, you get this in .doc format and you can add to the planner, edit it, remove or replace portions, customize it, monetize it, feature your own programs or your favorite products, or just use it as it is.
We can't wait to see what YOU do with the material.