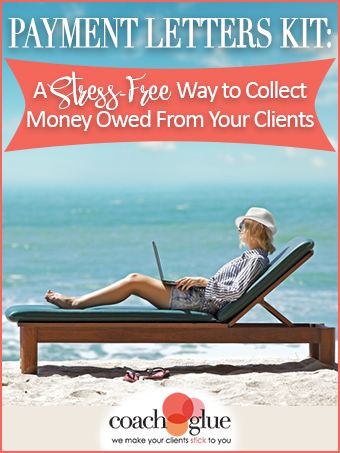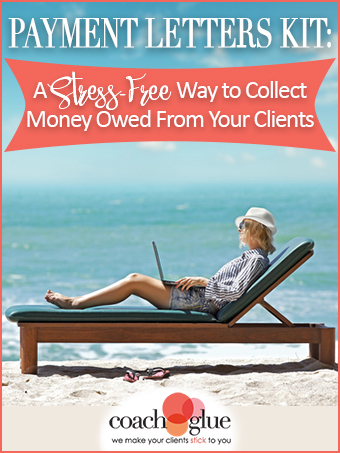 In all business relationships there comes a time when your clients will have to have stressful payment talks with their buyers…
Sometimes running a business is easy and fun, and they have the best clients in the world!
But then there are times when they have to put on their CEO hat and deal with difficult client situations – like getting paid…
How do they talk to their clients about their failed/declined payments without embarrassing them?
How do they respond to a payment arrangement request from their client?
How do they request payment when a client cancels their payment plan subscription before all agreed upon payments have been processed?
The first step is to reach out to them with an email letter to open up the conversation and get the ball rolling to a peaceful + happy resolution that works for both them and their client.
And we've created an amazing package of done-for-you payment letters that you can sell to your clients to help them with all of this! (And heck, go ahead and use them yourself too).
How Can You Make Money with These?
We're glad you asked!
First off, you can create a brand new training about how you personally handle these kinds of money situations in your business.
For instance, you could put together a few slides, and then record a video walking them through 9 sticky payment situations (based on each letter in the package).
For example, one of the letters in the package is for past due payments, so your first slide could cover:
An overview of when & why this situation might come up
Share a quick story where you learned a valuable lesson around this kind of situation
What your process is for managing it (or how your team handles it)
Your exact response to a client who has a past due payment (it's all in the letter)
What kind of results you've had by having a process in place (recovered income, etc.)
And then you can sell the training with the payment letters package for $97.
Or, if you have a course or program on a money related topic (how to price your offers, how to charge what you're worth, money mindset – you name it, these will be a great fit!), you can:
Give them as an early-bird bonus to people who sign up for your program within the first 48 hours
Give them as a bonus to your fast-action buyers (like the first 20 people to buy)
Add them as a bonus to your program to increase the value
Sell the payment letters on your "thank you" page and make more money every time someone signs up for your program
Create a bump offer in your shopping cart for people to add the payment letters to their order
Create a one-time upsell offer that people see during the checkout process for your program
Sell them as low-cost trip wire offer that people see after they sign up for the free webinar for your program launch
Here are the 9 Letters You'll Get in this Kit:
Past Due Letter/Email. Letter to send to your client when their payment is past due.
Declined Payment Letter/Email. Letter to send to your client when their payment has been declined.
Upcoming Membership Renewal Letter/Email. Letter to inform clients of upcoming renewal payment for high priced programs or annual programs.
Upcoming Membership Renewal Reminder Letter/Email. This is a letter to remind clients of upcoming renewal payments for high priced or annual programs.
Payment Plan Arrangement Letter/Email (Response to Client Request). Letter to send to clients who have fallen behind on payments and have a balance owing on their account. This letter will break down two payment plan options that you can offer to your clients to settle their account.
Payment Plan Contract Collection Letter/Email. Letter to send to your clients who cancel their payment plan subscription before all the agreed upon payments have been processed.
Expired Credit Card Letter/Email. Letter to send to your client when their credit card has expired.
Insufficient Funds Letter/Email (PayPal). Letter to send to your client when their payment comes back showing a lack of funds.
Failed Payment Follow Up Letter/Email. Letter to send to your client when their past due payment has not yet been submitted.
Get this Kit Now for Only $47!
Here's a Few Examples of What You'll Get: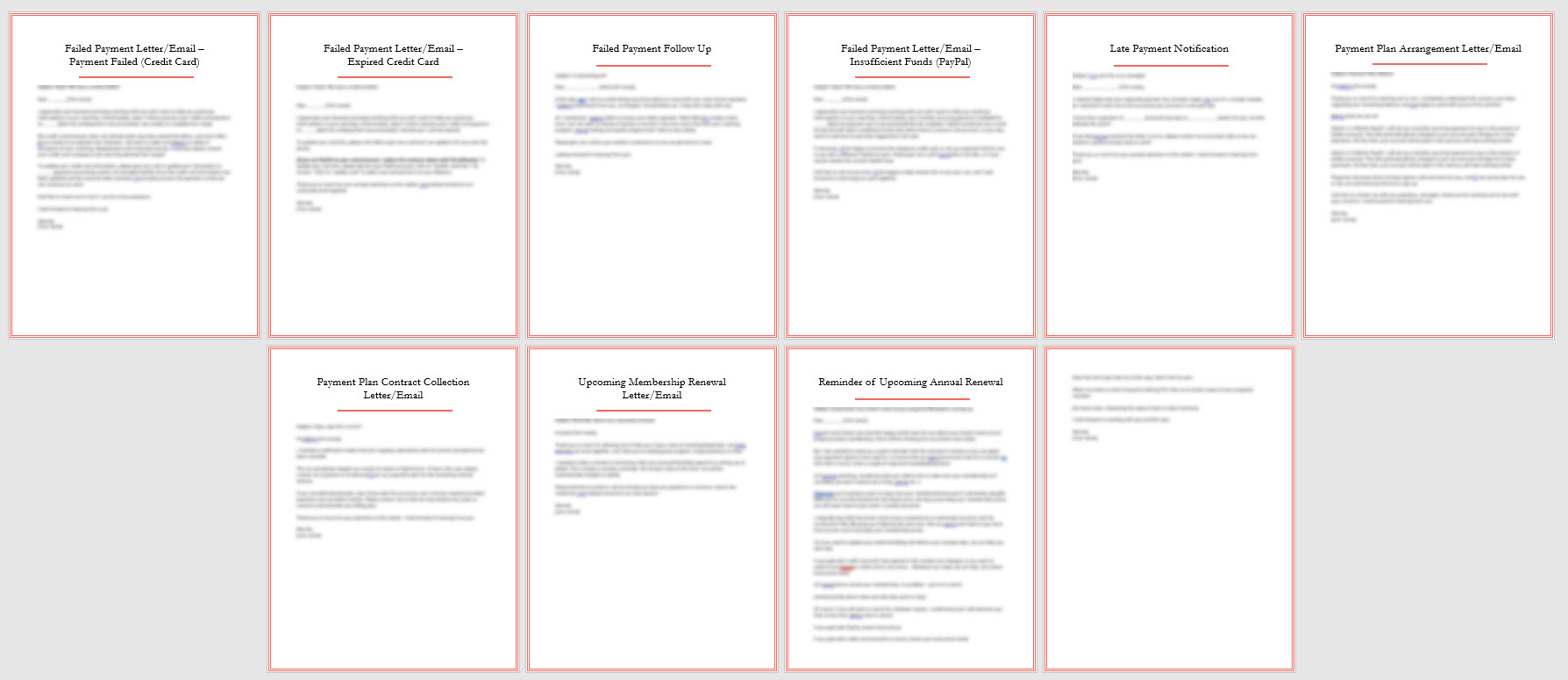 Get this Kit Now for Only $47!
What can you do with the forms in this kit?
Use them in your own coaching business to help you deal with those difficult conversations professionally.
If you teach business owners how to become coaches, then include some of these in a bundle with your own program. It's ok. We don't mind.
Create some training about how to become a better, happier coach and bundle these forms as an upsell to your program.