Use Our Content to Create a Digital Workshop + or Bootcamp + or Ecourse or Go Offline with it and Host a Weekend Workshop in a Gorgeous Location Using Our Materials to Teach Your Tribe!
We know you're busy running your business and having a life, which is why you may still be struggling to package up your expertise into fabulous workshops, programs, classes, and ecourses that you can sell over and over again (and stop working so hard 1:1).
We've done all the hard work for you!
You don't have to invest hours and hours of your own time into developing a workshop program, and you don't have to pay thousands of dollars to hire people to help you. By investing in our low-cost coaching workshops you'll save a ton of time, energy and money!
When you purchase a coaching workshop from us, you are buying the license that gives you permission to edit and customize the content in any way you like, put your business logo and name on it, and sell or give it away to your clients/customers/members.
Imagine How Fast Your Business Would Grow if You…
Host regular online workshops or classes (or make it exclusive by opening the doors for enrollment just few times a year)
Set up a year-long academy and use many of our workshops and content packages to deliver training to your clients
Package up your expertise + our content into ecourses that you sell over and over again
Develop a monthly group coaching program and then use our content + templates to create your curriculum
Host an in-person weekend workshop in a beautiful location using our materials to teach your tribe
Are you ready to save a ton of time + money and grow your business?
You'll Get an Entire Workshop with 4 Training Modules + 4 Fast Action Plan Worksheets & Exercises + 4 Program Accelerator Checklists + 4 Sets of PowerPoint Slides

Now you can finally stop procrastinating and launch the workshop or ecourse you've been dreaming about!
When you purchase the license to our workshop, you'll be able to develop and release a sparkly new ecourse or program in a matter of days (not months or years), and that means that you can start enrolling clients and accepting payments right away.
Our mission is to make it easy for coaches just like you to make an impact on the world and be of service to your tribe, in the most powerful and aligned way possible.
Here's What's Included in How to Host a Transformative Private Retreat for Your Elite Clients:
Module 1: Your Irresistible, Essential Retreat

Are retreats right for your business, right now? What makes your retreat unique? Why should your clients travel halfway across the globe to spend time with you? Module 1 will help you answer all these questions and so much more!
In module 1, we're going to dig into…
Is your business ready for retreats? (Answer this one question honestly and you'll learn how to plan a retreat that's right for your clients and your business!)
The super-simple way to position and promote your retreat so it speaks right to your elite client–and sell it out with incredible ease!
How to shape your retreat so it easily meets–and exceeds–your clients' expectations (I'll even teach you the quick and easy way to find out what those expectations are!)
What you MUST do before your retreat to garner glowing, reputation-boosting testimonials from attendees after
Why retreats are a PERFECT for coaches–and why getting your clients "out of town" (and their own element) is critical to hosting a retreat that actually delivers
The must-know techniques to get clients breakthroughs in the middle of sheer relaxation (Yep, it's possible!)
What NOT to do during your retreat if you want your clients look back on it as a wonderful, enriching experience
Smart ways to use Facebook to create a strong group of network partners who boost each other's morale and businesses–as well as your own!
Create a killer landing page and other marketing materials for your retreat–and overcome objections fast
Take a Peek at all the Fabulous Content You'll Get in Module 1:
Module 1: Training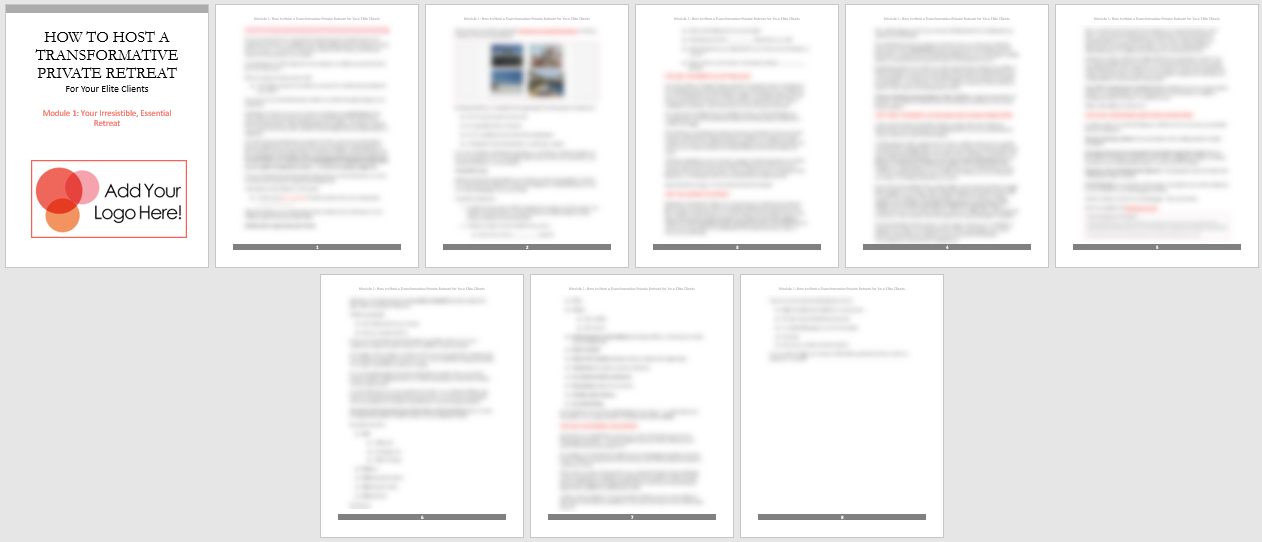 Module 1: Fast Action Plan Worksheet & Exercise

Module 1: Program Accelerator Checklist

Module 1: PowerPoint Slides to Present Your Content Through Webinars, Classes, and Workshops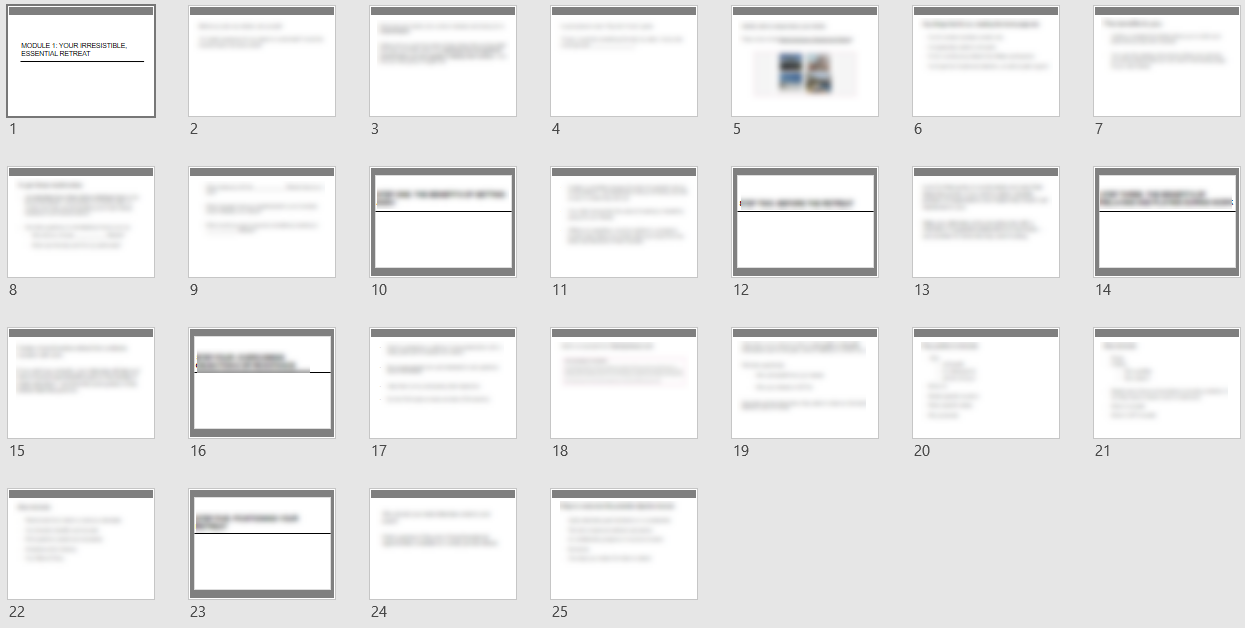 Module 2: Location, Location, Location!

Ask any successful retreat hostess and she'll tell you: Location is everything. And I don't just mean sourcing a luxurious venue for your glam getaway: You also need to make sure you find the 'right' spot on the globe. Module 2 will walk you through all the things you need to do to find the perfect location for your transformative retreat, including:
How to decide whether to host a domestic retreat or take it global–and 3 ways to scout the perfect location (whether it's down the street or halfway around the world!)
What you really need to look for in a location–plus the one thing you MUST do before your retreat to make sure you've really found "the one"
How to pick a location that perfectly fits your retreat's theme–and how overlooking this "insignificant" detail can set you up for small (or not-so-small) disasters
5 ways to leverage the uniqueness of your location to ensure it lives up to it's promise–including when to book your location for the best experience for your clients
5 seasoned-traveler tips for making any location a positive memorable experience
How to create a top-shelf experience for your clients that caters to each individual's needs, schedules and preferences–even if they're all vastly different!
Everything you could ever want to know about traveler's insurance (Yes, it's a real thing–and you probably need it!)
The easiest way to pre-qualify attendees–and how to make sure you're creating a solid community of getaway guests who mesh well
PLUS: How to brainstorm catchy names for your retreat that you love–using keywords that will attract your client!
Take a Peek at all the Fabulous Content You'll Get in Module 2:
Module 2: Training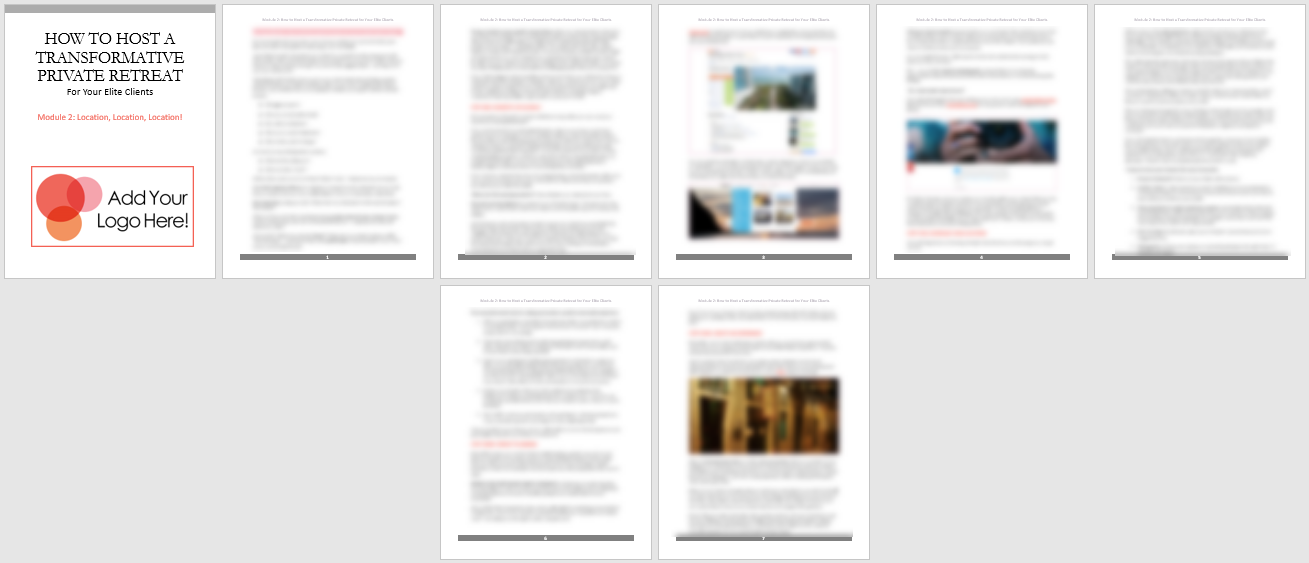 Module 2: Fast Action Plan Worksheet & Exercise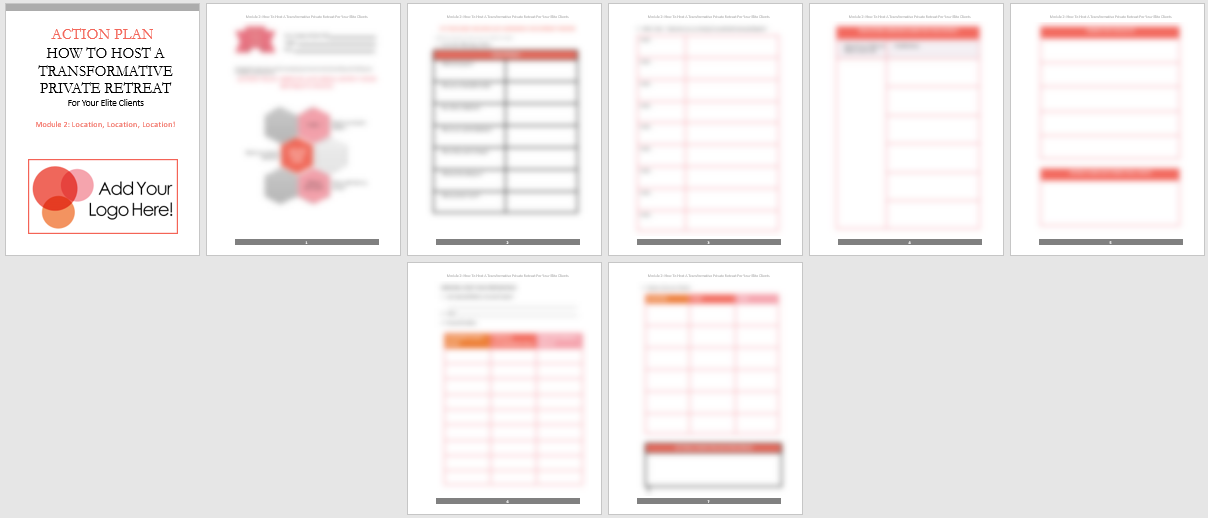 Module 2: Program Accelerator Checklist

Module 2: PowerPoint Slides to Present Your Content Through Webinars, Classes, and Workshops


Module 3: Work Hard, Play Hard

So, you know where your retreat is. But now the question becomes: What are you going to do once you get there? Module 3 will walk you through the 5 steps necessary to plan a retreat that strikes the perfect balance between working hard and playing hard.
You'll learn:
How to pick one major, concrete, tangible goal for your retreat–and why this is EVERYTHING to your attendees
The 3 questions that will help you create world-class retreat content that's new and fresh for your audience–and what cliched and overdone content and exercises to avoid at all costs
How to secure guest experts to go above, beyond and deeper into the subjects that matter–and create even more lasting change in your attendees!
How to properly plan, pace and present your content, exercises and trainings so there's plenty of time for learning as well as meals, rest, bonding, revelation, sharing and fun!
Why creating 'a nice experience' for your clients isn't enough–and how to finish off your retreat with absolute pièce de resistance your clients will love!
How to start creating buzz for your retreat long before it starts–and why this critical piece can mean the difference between a retreat that's sold-out and one that makes you wanna throw the towel in!
Take a Peek at all the Fabulous Content You'll Get in Module 3:
Module 3: Training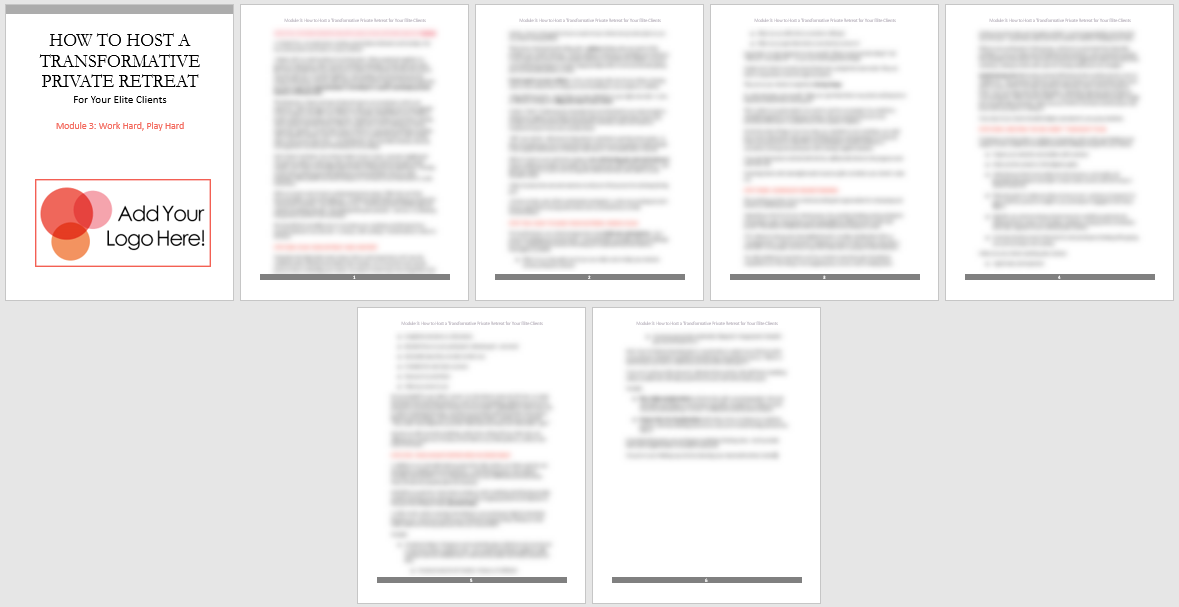 Module 3: Fast Action Plan Worksheet & Exercise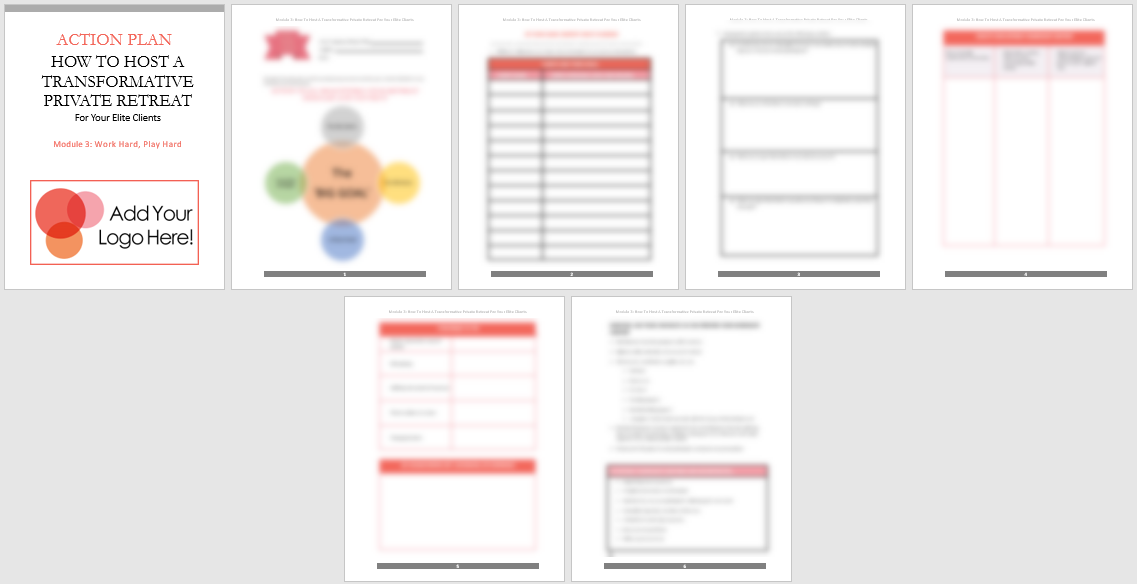 Module 3: Program Accelerator Checklist

Module 3: PowerPoint Slides to Present Your Content Through Webinars, Classes, and Workshops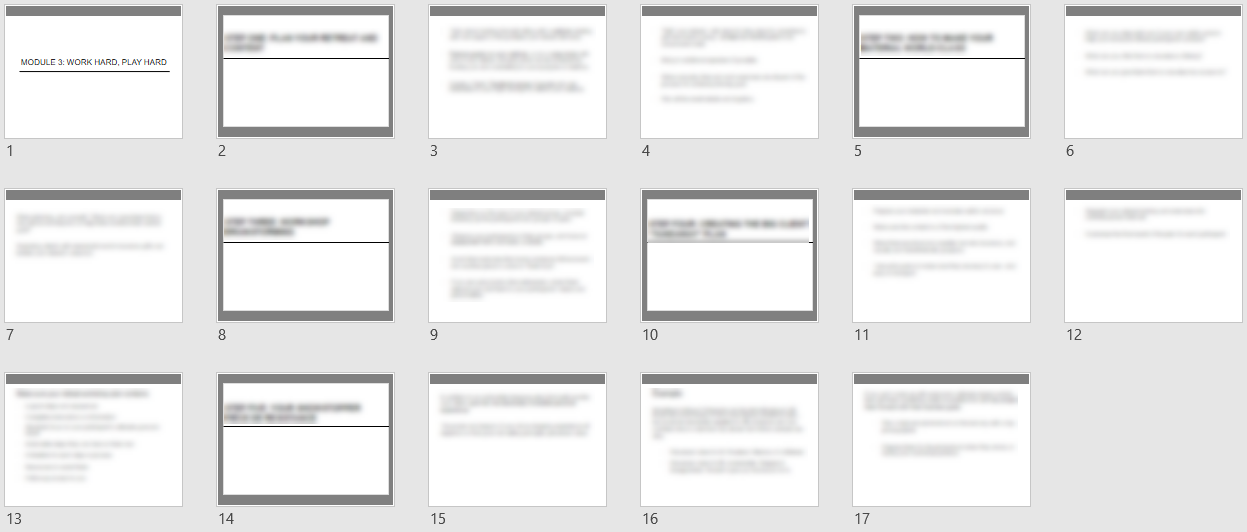 Module 4: Treat Your Clients Like the VIPs They Are!

You've got the theme, the location and even the world-class content all teed up. Now, it's time to really add a few finishing touches to amp up the transformation. Module 4 is all about special, unique ways you can make doubly sure each and every participant has an experience that truly transforms–and they return home a different person than when they came.
You'll learn:
The one thing to 'give away' to make 100% sure your attendees hop on their return flight feeling accomplished, transformed and refreshed (Do this and they'll leave feeling you fulfilled your promise–and then some!)
How to keep your guests well-fed and well-hydrated no matter where you are in the world–and why it's so important you keep a close eye on every individual's well-being
How to uncover hidden costs or other potential issues before they happen–and what to do if disaster does strike during your getaway
The top "luxury buzz-killers"–and how to avoid them like the plague!
The odds and ends every retreat needs to run smoothly (Pack these bad boys and you'll never feel unprepared!)
The art of the flawless follow-up–I'll teach you exactly what to do after your event to make sure you don't let the camaraderie and momentum you and your group have built slip away!
How to spend less without lessening the luxury–and what to do if you find yourself spending more than you're bringing in (and why sometimes that's actually okay!)
PLUS: 7 creative ways to add an extra touch of luxury to your retreat–and create repeat, elite clients for life!
Take a Peek at all the Fabulous Content You'll Get in Module 4:
Module 4: Training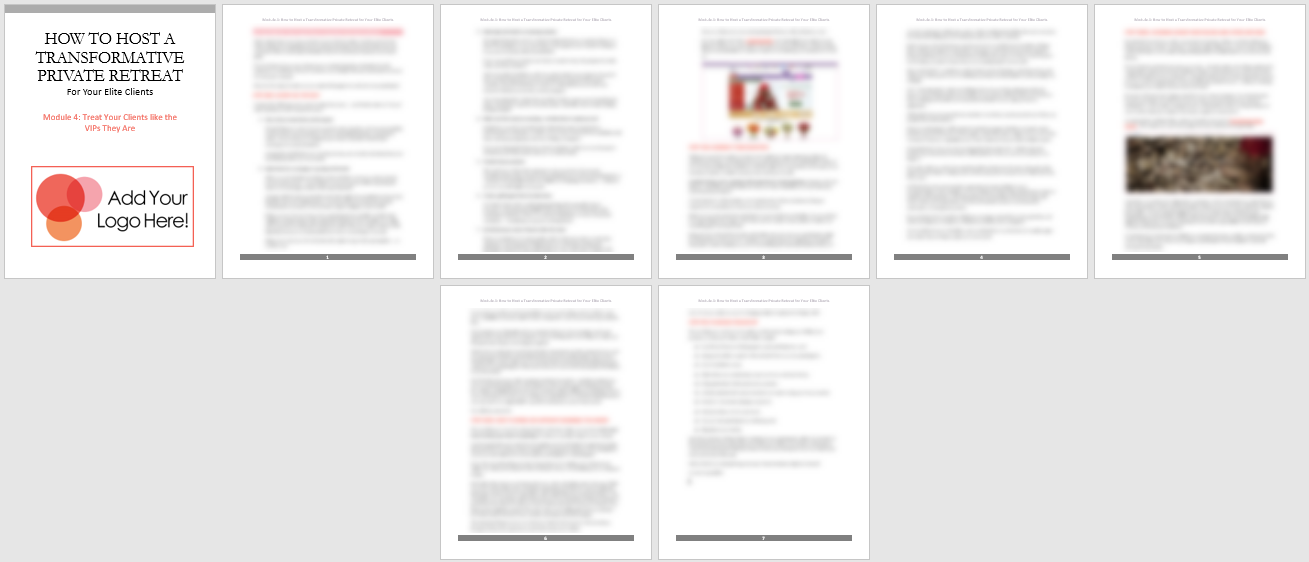 Module 4: Fast Action Worksheet & Exercise

Module 4: Program Accelerator Checklist

Module 4: PowerPoint Slides to Present Your Content Through Webinars, Classes, and Workshops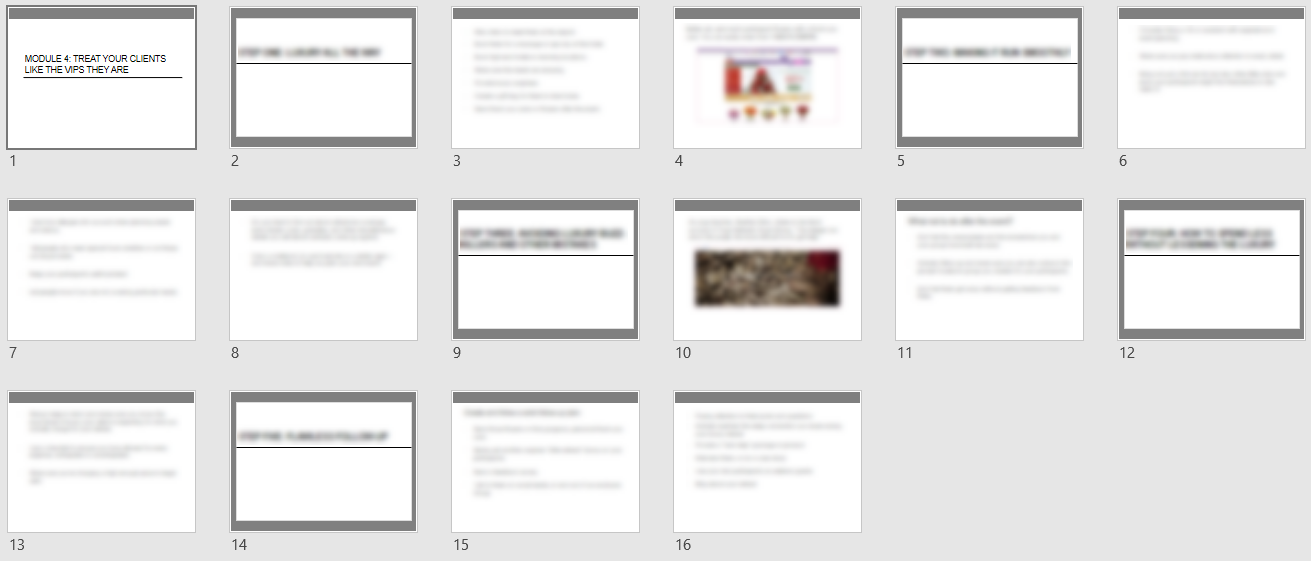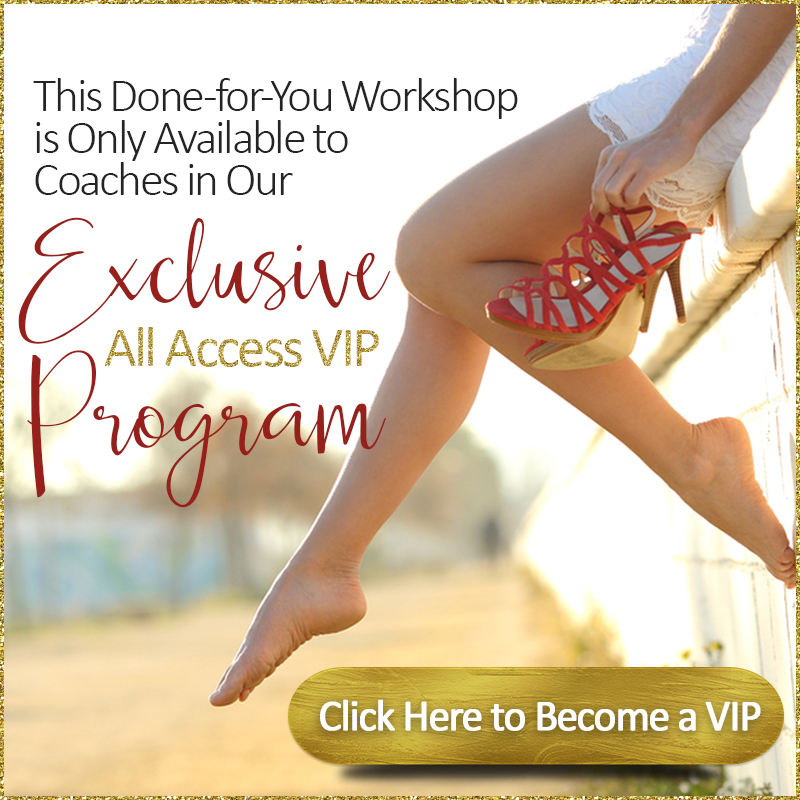 Plus, You'll Also Get a Sales + Marketing Materials Kit to Help You Sell Your Workshop and Start Collecting Payments: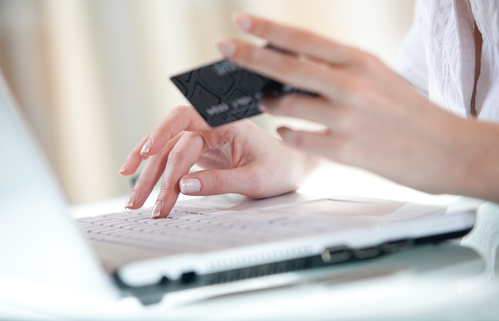 We want to make it super easy for you to promote your workshop and start collecting payments, which is why we've included tons of fabulous sales and marketing materials for you and your JV partners.
That's right! You can share these sales materials with your JV partners so they can promote you too!
Here's What's Included in Your Sales + Marketing Materials Kit:
A great way to fill your workshop is by hosting a free webinar that sets the stage for you to show off your expertise, connect with your tribe, and be of service to them through amazing content – while also leading your clients to the conclusion that they want to work with you.
We've made it easy for you to host your own webinar that provides value and helps you enroll clients in your workshop.
Webinar Script: "5 Ways to Attract and Serve High-End Clients Who Will Happily Pay Premium Rates"
Webinar Registration Copy that includes a description and bullet points for your webinar you can copy + paste to your own sign up page.
PowerPoint Slides for Your Webinar so you don't have to start from scratch
Handout to Give Your Webinar Guests: "5 Ways to Attract and Serve High-End Clients Who Will Happily Pay Premium Rates"
And we've got you covered when it comes to promoting your live webinar, the replay of your webinar, AND your workshop.
Just copy, paste, and edit the emails, social media posts, and blog posts/newsletter articles and start spreading the word about your sparkly new workshop!
4 Emails to Promote Both Your Live Webinar and the Upsell to Your Program

Live Webinar Email Promo #1: It's Time to Raise Your Rates…are you ready? (330 words)
Live Webinar Email Promo #2: What Does Your Online Image Say About You? (308 words)
Program Email Promo #1: Attract Premium Clients with Private Retreats (274 words)
Program Email Promo #2: Are You Ready to Cater to High-End Clients? (331 words)

10 Social Media Posts to Promote Your Program on Facebook, Twitter, Google+, etc.
5 Blog Posts / Newsletter Articles to Promote Your Program

3 Ways a Professional Photographer Can Improve Your Branding (523 words)
3 Questions to Ask Before You Hire a Ghostwriter (579 words)
Create Your Ideal Client Avatar in 3 Easy Steps (558 words)
5 Ways to Find the Perfect Speakers for Your Live Event (596 words)
Words of Advice for First Time Event Planners (596 words)
But we don't stop there…we're also giving you sales page copy that you can copy, paste, and edit and use to sell your workshop (no more paying a copywriter thousands of dollars to do this for you!).
Take a Peek at all the Fabulous Sales and Marketing Materials Included in Your Kit:
Promotional Emails, Blog Posts, Social Media Posts


Webinar Script: "5 Ways to Attract and Serve High-End Clients Who Will Happily Pay Premium Rates"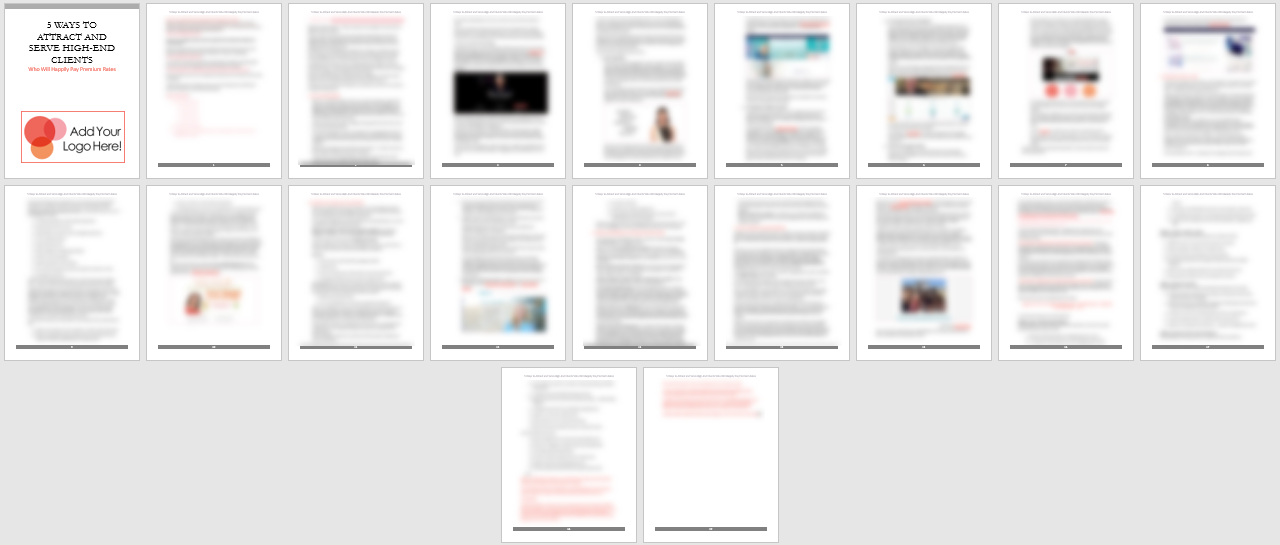 Webinar Registration Copy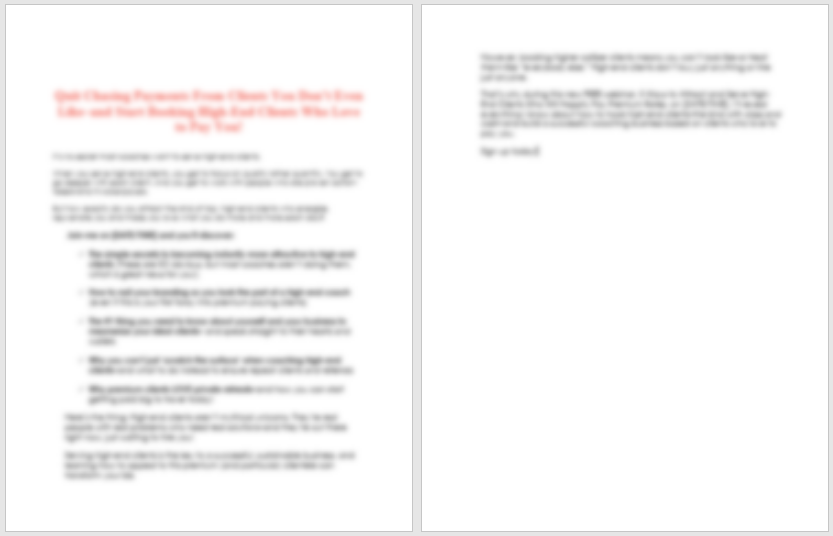 Webinar PowerPoint Slides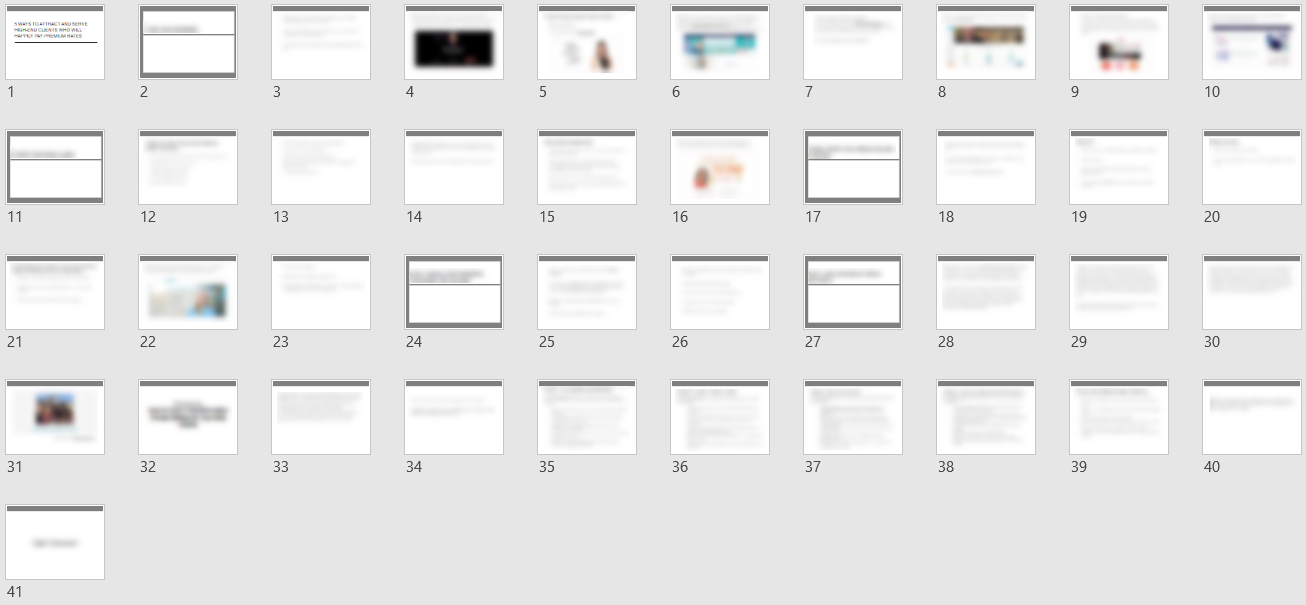 Handout to Give Your Webinar Guests: "5 Ways to Attract and Serve High-End Clients Who Will Happily Pay Premium Rates"


Sales Page Copy to Help You Sell Your Workshop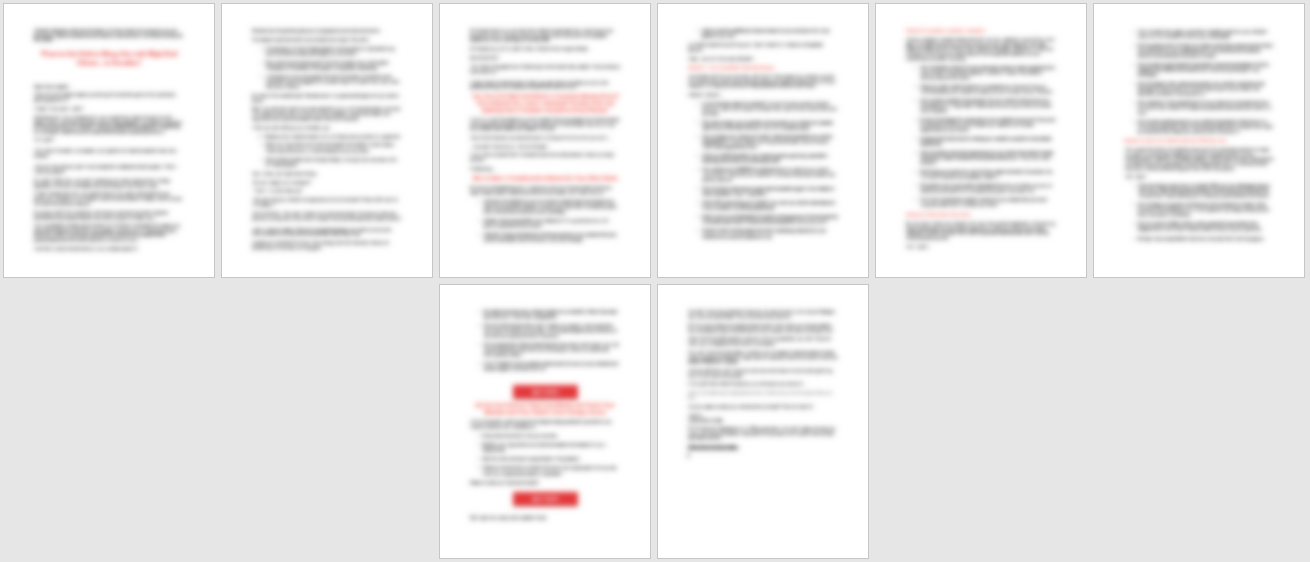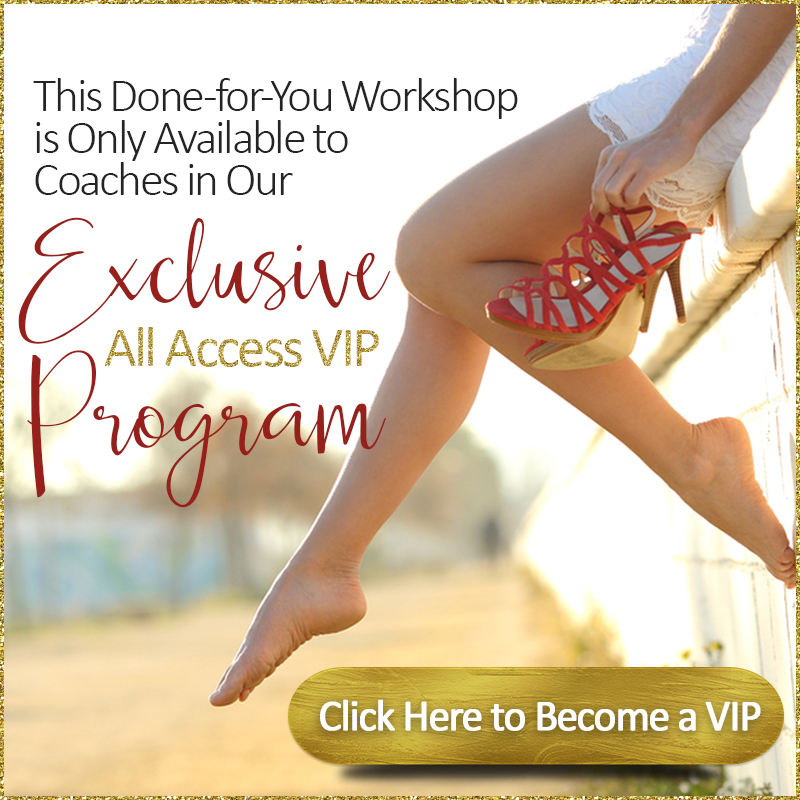 Get This Coaching Workshop and Get Instant Access to All This: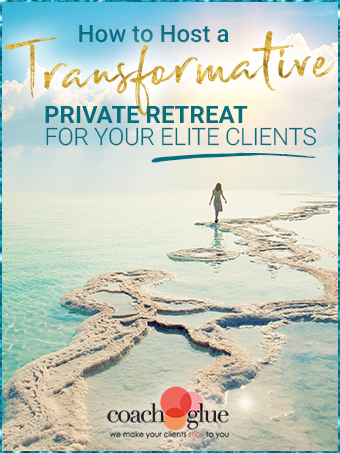 4 Training Modules (32 pages, 9144 words)

Module 1: Your Irresistible, Essential Retreat
Module 2: Location, Location, Location
Module 3: Work Hard, Play Hard
Module 4: Treat Your Clients Like the VIPs They Are

4 Fast Action Plan Worksheets & Exercises (28 pages)
4 Program Accelerator Checklists (19 pages)
4 Sets of PowerPoint Slides to Create Your Inspiring Webinars or Videos (78 slides)
4 Emails to Promote Both Your Live Webinar and the Replay of Your Webinar

Live Webinar Email Promo #1: It's Time to Raise Your Rates…are you ready? (330 words)
Live Webinar Email Promo #2: What Does Your Online Image Say About You? (308 words)
Program Email Promo #1: Attract Premium Clients with Private Retreats (274 words)
Program Email Promo #2: Are You Ready to Cater to High-End Clients? (331 words)

10 Social Media Posts to Promote Your Program on Facebook, Twitter, Google+, etc.
5 Blog Posts / Newsletter Articles to Promote Your Program

3 Ways a Professional Photographer Can Improve Your Branding (523 words)
3 Questions to Ask Before You Hire a Ghostwriter (579 words)
Create Your Ideal Client Avatar in 3 Easy Steps (558 words)
5 Ways to Find the Perfect Speakers for Your Live Event (596 words)
Words of Advice for First Time Event Planners (596 words)

Webinar Registration Copy that includes a description and bullet points for your webinar you can copy + paste to your own sign up page.
Webinar Script: 5 Ways to Attract and Serve High-End Clients Who Will Happily Pay Premium Rates (20 pages)
Webinar PowerPoint Slides (41 slides)
Handout to Give Your Webinar Guests: "5 Ways to Attract and Serve High-End Clients Who Will Happily Pay Premium Rates" (5 pages)
Sales Page Copy to Help You Sell Your Workshop