We have created a done-for-you course for coaches called "Digital Nomad Lifestyle!"
The fact is this. A lot of our customers WANT to become digital nomads, but they don't feel they should purchase our DFY Digital Nomad course and teach "Digital Nomad Lifestyle" because ethically they aren't experts.
What if you could teach it – and still be totally in integrity?
Here are three ways for you to share your passion of the Digital Nomad Life – even if you don't have a passport yet.
I hear you. Here are three options for you regarding the Digital Nomad Lifestyle Course, if you can't teach the material yet. Choose one of these things…
1. Start a podcast or host a summit.
Be Oprah. Interview people who are digital nomads. Don't claim to be the expert. Be the person fascinated by others who have more experience than you do.
How absolutely YUMMY to listen to someone who is super excited about learning. I'd rather that than listen to someone who's 50 steps ahead of me talk over my head assuming I know stuff I don't know yet! ALL. DAY. LONG.
2. Sell the course. Ethically.
Tell your clients that you scored the licensing to this awesome workshop (created by people who do know) and you'll be teaching them what is included — for if and when they want to travel. Don't charge a ton. Just make it a small course, and then include bonus interviews with people who can add more value. You can always tweak the course later as you add more value and increase the price, too.
3. GO! This is your permission slip to GO!
You get this package now, and you plan a trip – in your camper, backpacking, on your bicycle, or fly off to exotic places. You go. Then you teach. 😉 Plus, you'll have some great pictures for your sales page then, too!
Here is the course.
This done-for-you course includes all of the following….
4 Course Lessons (36 pages, 14,782 words)

Lesson 1: How to Prep Your Life for Worry-free Wandering?
Lesson 2: A Nomad's Must-have Resources for Working Remotely
Lesson 3: What's YOUR Travel Personality?
Lesson 4: A Foolproof Guide to Managing Money from Afar

Course Workbook with Worksheets, Exercises, and Checklists: "How to Become Location Free in 90 Days or Less!" (37 pages)
Facebook Livestream Theme Script: "3 Do's (And One Massive Don't) For Aspiring Digital Nomads" (17 pages) that you can read word for word.
Facebook Livestream Launch Copy for your live or webinar that you can copy + paste to your own sign up page.
Sales Page Copy to Help You Sell Your Course
10 Social Media Posts to Promote Your Course on Facebook & Twitter
5 Blog Posts to Promote Your Course:

5 Ways to Earn Enough Money to Support Your Love of Traveling (630 words)
5 Ways to Build a Business While Helping Local Communities (677 words)
5 Ways to Make the World Your Kids' Classroom (722 words)
Embrace Minimalism to Subsidize Your World Traveling (634 words)
Five Fabulous Networking Tips to Help You Find Work in Your Adopted Country (719 words)

5 Email Templates to Make Promoting Your Livestream & Course a Breeze:

You'll Get these 2 Emails to Invite People to Your Free Facebook Live or Webinar Training:

Are you eager to ditch your 9-5 and travel the world? Let's chat! (211 words)
Want to be a digital nomad? Make a plan first… (252 words)

You'll Get these 2 Emails to Sell Your Course:

Ready to travel? Get my blueprint first… (271 words)
Where's your DREAM location? Does it match your personality? (330 words)

You'll Get this Email to Announce the Cart Close for Your Course:

LAST CHANCE! Doors are closing TODAY for Digital Nomad Lifestyle! (186 words)
When you're ready to teach this, here's what you do:
If you can copy & paste and add a buy button to your sales page – you can be taking orders on your new course the same day you decide to start!
Here's how:
1) We give you the sales copy to sell your course – Because who wants to spend weeks writing sales copy instead of making money? Just copy and paste this professionally written copy into your own sales page template, add your buy buttons, and CHA-CHING! You're ready to open enrollment for your course.
Literally even if you ONLY used the sales copy that we provide, it's worth it. You'd pay a lot more than $297 to have a copywriter draft a sales page for you. Trust us, we know!
2) Send an email to your clients telling them that you'll be going live on Facebook tomorrow (or heck, even tonight) to host a free training about how to become a digital nomad – even part time.
3) Open up the "3 Do's (And One Massive Don't) For Aspiring Digital Nomads" step-by-step livestream script that we give you and teach your audience the content. Then at the end of your livestream, invite them to sign up for your course and that you'll be dropping the content to them within the next few days.
(so you can start selling your course without creating any of the content first)
4) Next, send out the livestream replay email, and then schedule out the 2 promotional emails that we give you to get people signed up for your course. Then, a few hours before your offer ends, send out the cart closing email that we've written for you to use.
5) And finally, using the 4 course lessons that we give you, you can either record videos with the content and post them to the download page for your course buyers. Or, you can open up a private Facebook group and do a livestream for each of the lessons in the course. Or you can provide the lessons in pdf format as a transcript and just record an audio.
The lessons are:
Lesson 1: How to Prep Your Life for Worry-free Wandering?
Lesson 2: A Nomad's Must-have Resources for Working Remotely
Lesson 3: What's YOUR Travel Personality?
Lesson 4: A Foolproof Guide to Managing Money from Afar
That right there?
Is exactly HOW you can get your clients paying you within a couple of days!
Onward and ever upward.
Big big love.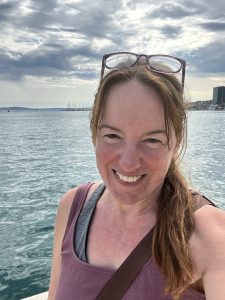 Me, Nicole Dean, in Croatia enjoying the Adriatic Sea