Ready to Take Your Clients From Disorganized, Unmotivated and Distracted, to Flying Through Their Most Important Tasks at Lightning-Speed?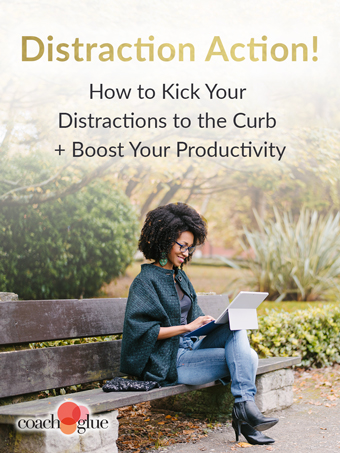 Let's set the scene: Most days, your clients plop down at their desk raring & ready to tackle the important tasks on their To Do List.
They're inspired, excited and motivated to finally create their new program content, dive deep into that book they've always wanted to write or whip up a month's worth of thought-provoking (and sales-inducing) email newsletters for their audience.
This much you know, because that's what they tell you!
But then…it happens.
Maybe they compulsively clicked over to Instagram, Facebook or Pinterest–and lost hours without even realizing it.
Maybe they just needed to Google "one thing," or "check that one email really quick" or "just reply that one DM"–only to come up for air three hours later, with their To Do List still very much untouched.
Or maybe it wasn't technology that led them astray. Maybe it was the dog having to pee (for the zillionth time), the kiddos craving (another) snack, the washer buzzing and signaling it's time to switch the clothes to the dryer (or risk moldy undies–again) or the well-meaning (but highly distracting) Amazon delivery person dropping off a package –and somehow, their entire afternoon is shot.
The outcome is always the same: They never got done what they truly wanted to get done.
Distractions are everywhere.
But the good news is — if your clients truly want to get their most meaningful work done in less time (and with less distractions pulling them away from what matters), it is possible.
All they need to do is make a few key tweaks to how, when and where they work–and they'll be able to tap into their brilliance in a snap, keep distractions at bay all day and finally get their work done.
And you can be the one to teach them how!
Using Our Done-for-You Video Script You'll Be Able to Help Your Clients Stop Getting Distracted and Start Getting Their Most Important Work Done!

 
Whether you want to record a video training as your new product, or host a livestream or webinar for your clients – this video script has been completely done-for-you!
Or, if video really isn't your thing, just use the script to record an audio!
This 17 Page (6,822 word) Step-by-Step Video Script Covers:
Step 1: Set a Rock-Solid Schedule for Your Deep Work & Slay Your Most Demanding Tasks
Step 2: Curate a Distraction-Proof Environment that Makes "Getting It Done" a Breeze
Step 3: Prep Your Space–and Your Brain–for Instant Brilliance
Step 4: Wrangle Your Inbox (and Social Media) Into Total Submission
Step 5: Nix Notifications & Tee Up the (Right) Tech to Eliminate Interruptions (and Get Way More Done!)

Who Wants to Over-Deliver to their Clients? You Do!
Which is Why You'll Get this Juicy Workbook that You Can Include with Your Video Training (Or Sell on its Own if Video isn't Your Jam)!
Because who doesn't love a good workbook?
Your clients are totally going to crush on this workbook filled with all the goodies that will help them take action.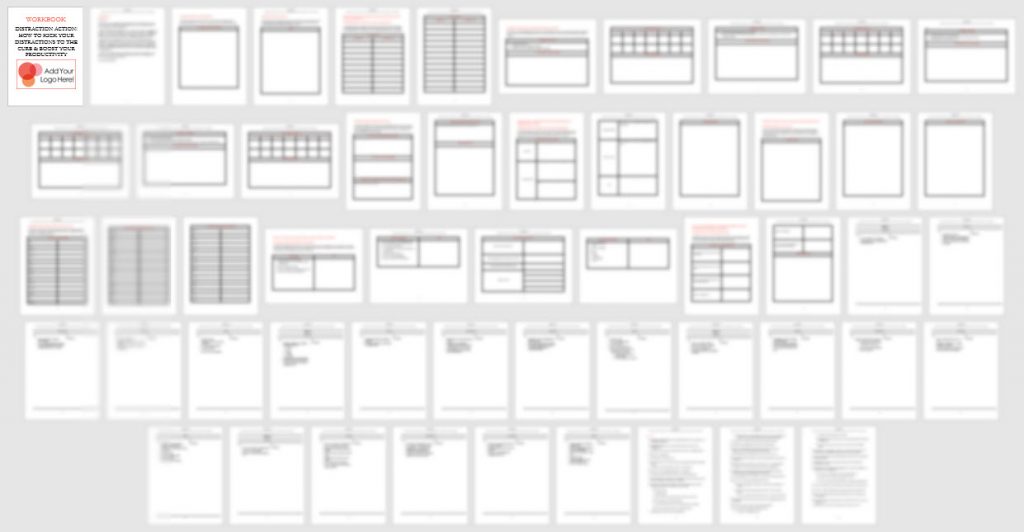 Creating Buzz for Your Offer is a Breeze with these 21 Done-for-You Facebook Posts
No more wondering what to post on social, just copy and paste these Facebook posts to help you promote your new product.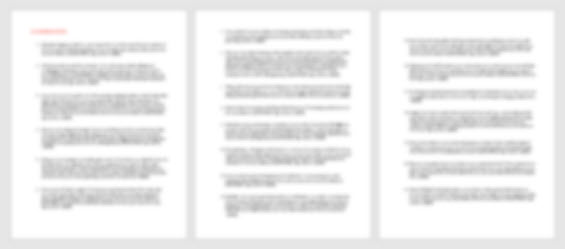 Professionally Written Sales Copy to Help You Sell Your Offer
Because who wants to spend weeks writing sales copy instead of making money. Just copy and paste this professionally written copy into your sales page template, add your buy buttons, and CHA-CHING! You're ready to sell your product.

Get this Package for Only $97!
What Can You Do with This Content?
Record a video or host a livestream/webinar using the script and then package up your training with the workbook and sell it on your website.
Sell the workbook by itself without video.
Record an audio using the script and package it up with the workbook.
Create new a product and include it as a bonus for one of your other courses.
Use the content to create new trainings for your membership program.
Create a new product and use it as an upsell or cart bump offer.
Been invited to teach at an online summit or event? Use the content to create your new training.
Use the video script as the outline for a new book.
Add the workbook to one of your other products or courses as a bonus.
Use the content to create a VIP day around the topic of this package, and give your clients a copy of the workbook.
Want to create a product or course on a similar topic from scratch? Use the sales copy from this package to help you sell your offer.