Ready to Help Your Clients Stop Hiding and FINALLY Go Big?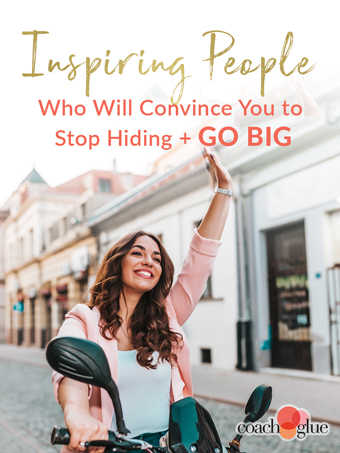 Have your clients ever:
…chickened out and didn't publish a spicy Instagram post because they didn't love the way their nose (or grey hair) looked on camera…
…turned down a guest expert spot on a webinar because they're insecure about their accent or voice (either literally or figuratively)…
…worried that someone "like them" can't make a significant impact in the world or that big success is for "other people" (read: smarter, more attractive people born into the 'right' families)…
…or kept success at bay in any way out of the fear of being seen, heard or even celebrated (yep, even that can feel crazy-uncomfortable!)…
If so, listen up because you're about to share something with your clients that can help them alt+control+delete the above scenarios from their entrepreneurial life forever.
Don't get me wrong: I get it. It can feel intimidating, vulnerable and downright scary to show up unfiltered in our businesses.
Showing up open us up to criticism, setbacks and challenges.
On the flip side? Successful entrepreneurship requires boatloads of it–especially if you're a coach, solopreneur or personal brand.
Fortunately… Your clients do not have to look, speak, act or "be" perfect to create a wildly successful business and life they adore!
In fact, some of the most wildly successful, world-changing entrepreneurs you'll ever meet didn't grow up on Easy Street.
Many of them had to overcome incredible hurdles–from mental and physical disabilities to loud-mouthed haters to crazy families-of-origin–to get where they are today.
And here's the best part: This means your clients, too, can become as successful as they desire, regardless of their current circumstances, their past or whatever they were "just born with."
And of course, you're going to be the one to show them the way!
Using Our Done-for-You Video Script You'll Be Able to Help Your Clients Go From Entrepreneurial Wallflower to Boldly Sharing Their Message! 
Whether you want to record a video training as your new product, or host a livestream or webinar for your clients – this video script has been completely done-for-you!
Or, if video really isn't your thing, just use the script to record an audio!
This 18 Page (6,146 word) Step-by-Step Video Script Covers:
8 Amazing Individuals – From Sylvester Stallone who overcame physical limitations… to Sean Stephenson who was born with a life-limiting a genetic condition … – these people will inspire your audience to stop thinking they aren't smart enough, talented enough, or attractive enough to make an impact

Who Wants to Over-Deliver to their Clients? You Do!
Which is Why You'll Get this Juicy Workbook that You Can Include with Your Video Training (Or Sell on its Own if Video isn't Your Jam)!
Because who doesn't love a good workbook?
Your clients are totally going to crush on this workbook filled with all the goodies that will help them take action.

Creating Buzz for Your Offer is a Breeze with these 21 Done-for-You Facebook Posts
No more wondering what to post on social, just copy and paste these Facebook posts to help you promote your new product.

Professionally Written Sales Copy to Help You Sell Your Offer
Because who wants to spend weeks writing sales copy instead of making money. Just copy and paste this professionally written copy into your sales page template, add your buy buttons, and CHA-CHING! You're ready to sell your product.

Get this Package for Only $97!
What Can You Do with This Content?
Record a video or host a livestream/webinar using the script and then package up your training with the workbook and sell it on your website.
Sell the workbook by itself without video.
Record an audio using the script and package it up with the workbook.
Create new a product and include it as a bonus for one of your other courses.
Use the content to create new trainings for your membership program.
Create a new product and use it as an upsell or cart bump offer.
Been invited to teach at an online summit or event? Use the content to create your new training.
Use the video script as the outline for a new book.
Add the workbook to one of your other products or courses as a bonus.
Use the content to create a VIP day around the topic of this package, and give your clients a copy of the workbook.
Want to create a product or course on a similar topic from scratch? Use the sales copy from this package to help you sell your offer.