Ready to Help Your Clients Scale Beyond Private Coaching and Turn Their Dream Revenue-and Lifestyle-Into Reality?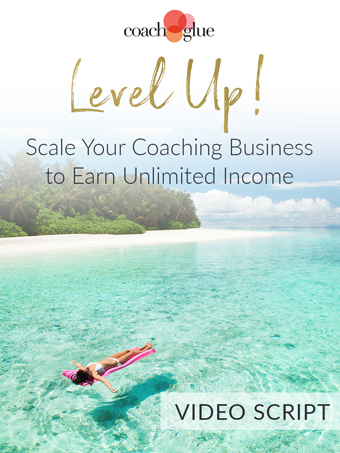 Does any of this sound like your current clients?
They're booked out with coaching clients, but definitely don't feel "financially free"
They're struggling with the oh-so-familiar "feast or famine" cycle–they're smiling all the way to the bank one month, and scrambling (read: sending frantic DMs to anyone who's ever mentioned they might be interested in their coaching) the next
They feel like they need to constantly be on the lookout for new clients–or re-signing existing clients–to keep up their desired level of cashflow
They're knee-deep in client calls every single day–and not because they want to be, but because they have to be to hit their income goals & take care of their family
They're starting to wonder why "running their freedom-based coaching business" feels more like a constant, never-ending hustle that's barely making the money they need, let alone truly desire
Sound about right?
If so… they're far from alone.
Most "online experts" suggest starting your online coaching business by offering private coaching–and they're not wrong, per se.
Getting one-on-one time and personalized attention from an expert (like your amazing clients!) is a WILDLY EASY sell.
But therein lies a sneaky little problem…
If your clients are great coaches (which I bet they are!), they're going to get booked out. And you're going to get booked out fast.

Don't get me wrong: Being "booked out" sounds GREAT on paper.
But the reality is they can't coach for 24 hours a day–and even if they could, who would want to?
The good news is there are a plethora of proven, highly-profitable ways to leverage their time and earn more income as a coach.
And more good news, you're going to show them exactly how to do that!
Using Our Done-for-You Video Script You'll Be Able to Help Your Clients Scale Their Coaching Business and Earn Unlimited Income!

 
Whether you want to record a video training as your new product, or host a livestream or webinar for your clients – this video script has been completely done-for-you!
Or, if video really isn't your thing, just use the script to record an audio!
This 22 Page (7,492 word) Step-by-Step Video Script Covers:
Step 1: Create High-Value Group Coaching Programs That Get You Paid

Step 2: Craft a Sexy & Scaleable Signature Online Course
Step 3: Create Major Money-Making Mini-Courses

Step 4: Make Lots of Extra Dollars With Low-Effort Digital Products & Printables

Step 5: Cash In While Connecting Others With a Premium Mastermind

Step 6: Bundle It All Up For Your VIPS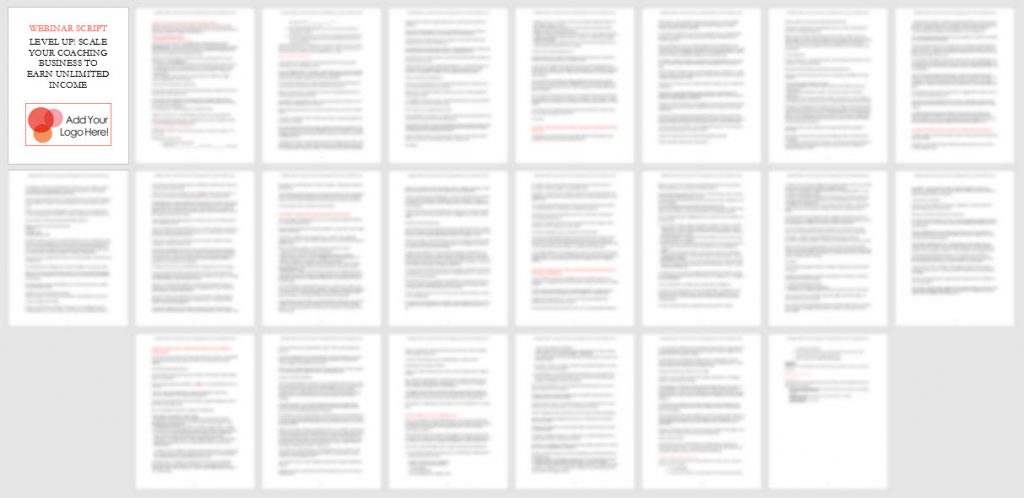 Who Wants to Over-Deliver to their Clients? You Do!
Which is Why You'll Get this Juicy Workbook that You Can Include with Your Video Training (Or Sell on its Own if Video isn't Your Jam)!
Because who doesn't love a good workbook?
Your clients are totally going to crush on this workbook filled with all the goodies that will help them take action.

Creating Buzz for Your Offer is a Breeze with these 21 Done-for-You Facebook Posts
No more wondering what to post on social, just copy and paste these Facebook posts to help you promote your new product.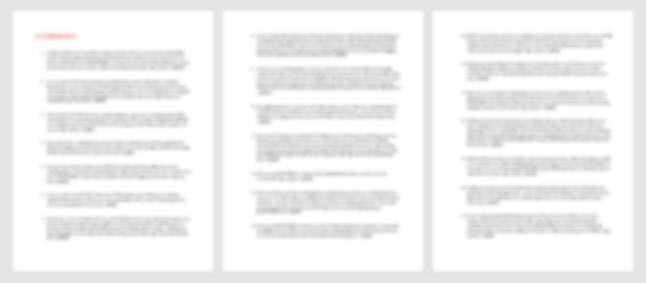 Professionally Written Sales Copy to Help You Sell Your Offer
Because who wants to spend weeks writing sales copy instead of making money. Just copy and paste this professionally written copy into your sales page template, add your buy buttons, and CHA-CHING! You're ready to sell your product.

Get this Package for Only $97!
What Can You Do with This Content?
Record a video or host a livestream/webinar using the script and then package up your training with the workbook and sell it on your website.
Sell the workbook by itself without video.
Record an audio using the script and package it up with the workbook.
Create new a product and include it as a bonus for one of your other courses.
Use the content to create new trainings for your membership program.
Create a new product and use it as an upsell or cart bump offer.
Been invited to teach at an online summit or event? Use the content to create your new training.
Use the video script as the outline for a new book.
Add the workbook to one of your other products or courses as a bonus.
Use the content to create a VIP day around the topic of this package, and give your clients a copy of the workbook.
Want to create a product or course on a similar topic from scratch? Use the sales copy from this package to help you sell your offer.