Help Your Clients Stop Trying to "Do it All" And Start Doing Only What They Love!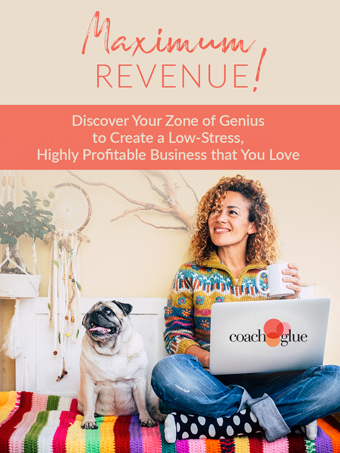 Do your clients ever feel like they spend their whole day staring at their laptop from behind their cute blue blockers, but don't actually feel fulfilled by any work they've done?
Do they pass out onto their silk pillowcase most nights feeling drained and depleted–and not-so-secretly dreading the fact that they know they have to do it all, all over again the next day?
Do they know their work-life balance sucks, but don't quite know what to do about it?
Have they ever thought, "I really didn't go into business for myself to do all of THIS!"?
Do they ever feel compelled to say "yes" to opportunities because they know they can do the work, even though in their gut they don't want to and it won't actually get them any closer to their goals & dreams?
And do they ever wonder how other coaches seem so wildly efficient, productive and (quite frankly) turned on by their work…when they're barely keeping their head above water (and their eyes peeled open) most days?
If so, they're not alone!
Using this package, you'll be able to help your clients pinpoint their unique Zone of Genius so they can make more money doing only work they love (read: make loads of cash without going crazy!)
Using Our Done-for-You Video Script You'll Be Able to Help Your Clients Radically Increase Their Productivity, Pleasure, and Profit!
Whether you want to record a video training as your new product, or host a livestream or webinar for your clients – this video script has been completely done-for-you!
Or, if video really isn't your thing, just use the script to record an audio!
This 18 Page (6486 word) Step-by-Step Video Script Covers:
Step 1: The Ultimate Secret to Doing Highly Paid Work You Love
Step 2: Figure Out What Naturally Fills You Up & Tap Into More Flow, Fun and Funds!
Step 3: Pinpoint What Isn't "Your Thing"–So You Can Finally Find What Is!
Step 4: Why You Shouldn't Just "Stick with What You're Good At" If You Want to Make MORE Cash–Without the Crash!
Step 5: Deliberately Shape Your Days for More Income & Less Overwhelm
Step 6: Delegate Like a Diva So You Can Cash in Like a CEO!

Who Wants to Over-Deliver to their Clients? You Do!
Which is Why You'll Get this Juicy Workbook that You Can Include with Your Video Training (Or Sell on its Own if Video isn't Your Jam)!
Because who doesn't love a good workbook?
Your clients are totally going to crush on this workbook filled with all the goodies that will help them take action.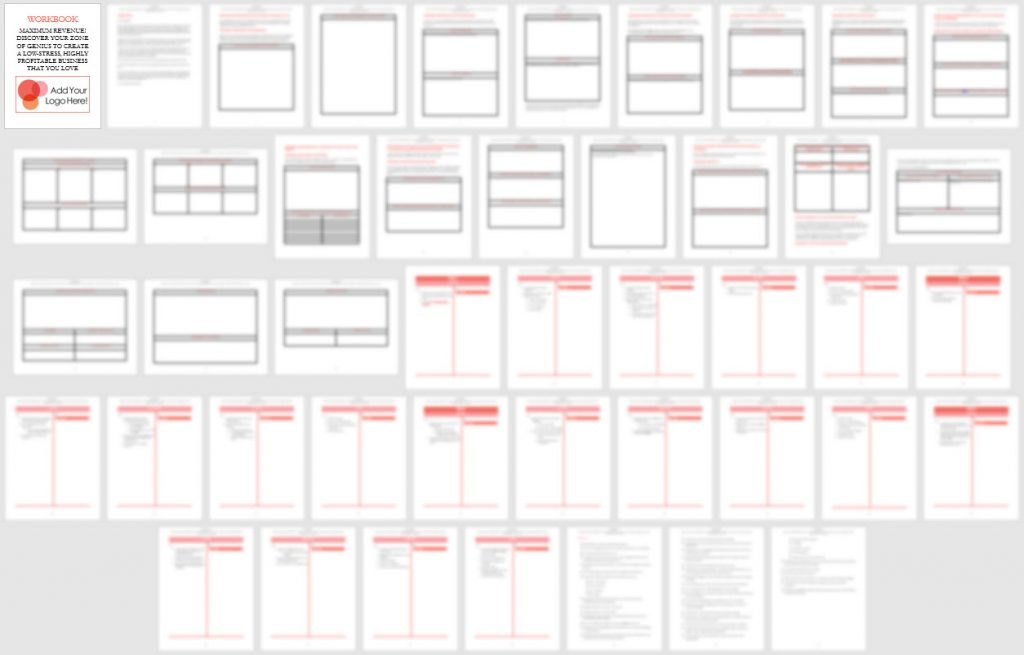 Creating Buzz for Your Offer is a Breeze with these 21 Done-for-You Facebook Posts
No more wondering what to post on social, just copy and paste these Facebook posts to help you promote your new product.

Professionally Written Sales Copy to Help You Sell Your Offer
Because who wants to spend weeks writing sales copy instead of making money. Just copy and paste this professionally written copy into your sales page template, add your buy buttons, and CHA-CHING! You're ready to sell your product.

Get this Package for Only $97!
What Can You Do with This Content?
Record a video or host a livestream/webinar using the script and then package up your training with the workbook and sell it on your website.
Sell the workbook by itself without video.
Record an audio using the script and package it up with the workbook.
Create new a product and include it as a bonus for one of your other courses.
Use the content to create new trainings for your membership program.
Create a new product and use it as an upsell or cart bump offer.
Been invited to teach at an online summit or event? Use the content to create your new training.
Use the video script as the outline for a new book.
Add the workbook to one of your other products or courses as a bonus.
Use the content to create a VIP day around the topic of this package, and give your clients a copy of the workbook.
Want to create a product or course on a similar topic from scratch? Use the sales copy from this package to help you sell your offer.