Ready to Help Your Clients Create Predictable Income & Impact More People–Without Working More?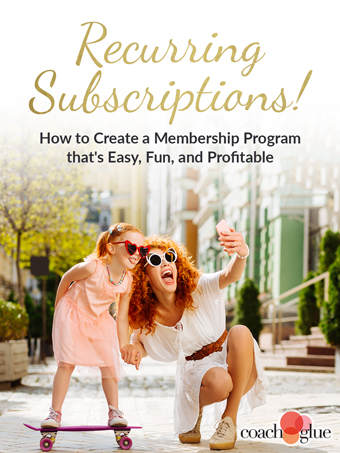 Here's what you know about your clients: They're wildly passionate about what they do, but the truth is they're tired.
Maybe they're maxed out with private clients and can't seem to figure out how they'd squeeze in yet another one-to-one appointment each week…
…or they're over living client-to-client (or worse, launch to exhausting launch) and dealing with major ups and downs in their income…
…or they're tapped out and so done creating mountains of quality content that seems to disappear–or literally does *ahem, IG Stories*–in 24 hours…
…or they're frustrated that their income is capped by the number of people they can work with at one time…
Either way, one thing's for sure: Something's gotta give.
They created their business for freedom. For fun. For ease.
But instead?
They're chained to their iMac 15 hours a day, feel crazy-resentful since they don't have a wink of free time to spend with their family and friends–and to add insult to injury, they're not even making the cash (or impact) they desire.
Um, ouch.
The good news?
You know there's a better way to run a business.
In fact, there's an income stream your clients can start implementing TODAY that will allow them to stop worrying about where their next dollar's coming from, hop off that wild income rollercoaster & help them positively impact more lives–while having more fun!–than they ever thought possible.
And you're going to show them how!
Using Our Done-for-You Video Script You'll Be Able to Help Your Clients Create Predictable Income & Impact More People–Without Working More!

 
Whether you want to record a video training as your new product, or host a livestream or webinar for your clients – this video script has been completely done-for-you!
Or, if video really isn't your thing, just use the script to record an audio!
This 19 Page (6,742 word) Step-by-Step Video Script Covers:
Step 1: Get Crystal-Clear on Why You Want Recurring Revenue
Step 2: Pick a Ridiculously Profitable Niche & Target Market
Step 3: Choose a Fun, Freedom-Based Membership Model
Step 4: Offer Over-the-Top Value Every Month
Step 5: Create Crazy-High-Quality Content that Keeps Members Coming Back for More
Step 6: Deliver the Creme de la Creme of Customer Service (and Make it Easy for Your Members to Stick Around!)
Step 7: Set An Ultra-Attractive Membership Price Point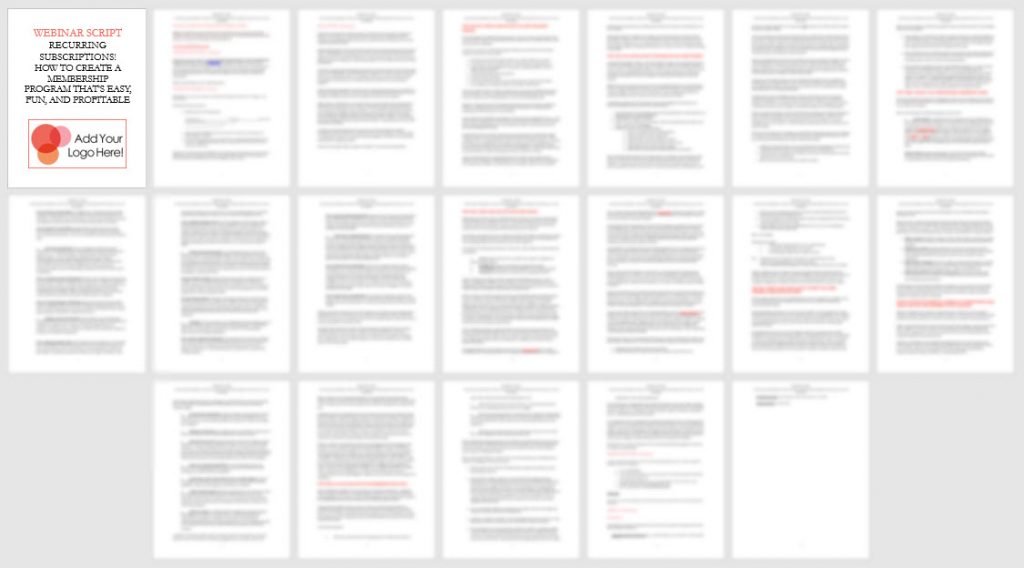 Who Wants to Over-Deliver to their Clients? You Do!
Which is Why You'll Get this Juicy Workbook that You Can Include with Your Video Training (Or Sell on its Own if Video isn't Your Jam)!
Because who doesn't love a good workbook?
Your clients are totally going to crush on this workbook filled with all the goodies that will help them take action.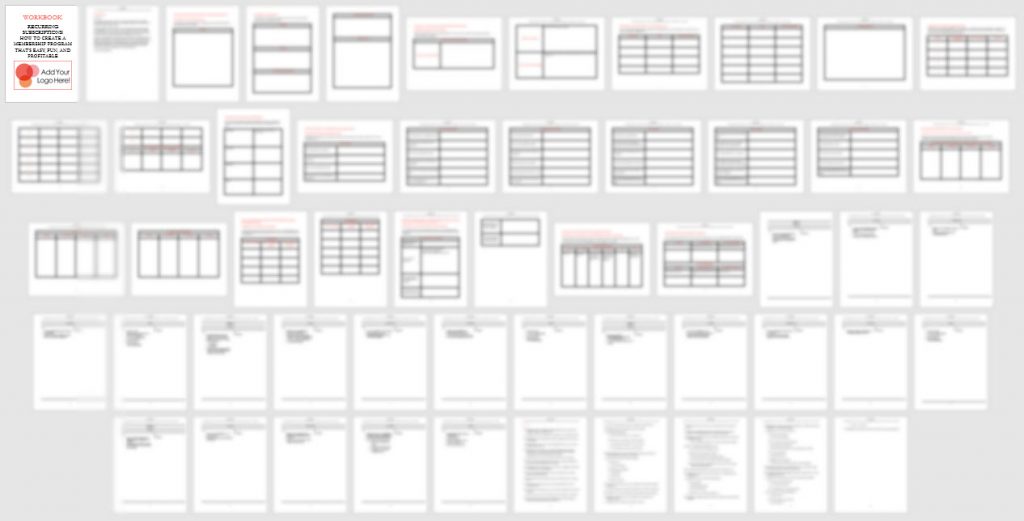 Creating Buzz for Your Offer is a Breeze with these 21 Done-for-You Facebook Posts
No more wondering what to post on social, just copy and paste these Facebook posts to help you promote your new product.

Professionally Written Sales Copy to Help You Sell Your Offer
Because who wants to spend weeks writing sales copy instead of making money. Just copy and paste this professionally written copy into your sales page template, add your buy buttons, and CHA-CHING! You're ready to sell your product.

Get this Package for Only $97!
What Can You Do with This Content?
Record a video or host a livestream/webinar using the script and then package up your training with the workbook and sell it on your website.
Sell the workbook by itself without video.
Record an audio using the script and package it up with the workbook.
Create new a product and include it as a bonus for one of your other courses.
Use the content to create new trainings for your membership program.
Create a new product and use it as an upsell or cart bump offer.
Been invited to teach at an online summit or event? Use the content to create your new training.
Use the video script as the outline for a new book.
Add the workbook to one of your other products or courses as a bonus.
Use the content to create a VIP day around the topic of this package, and give your clients a copy of the workbook.
Want to create a product or course on a similar topic from scratch? Use the sales copy from this package to help you sell your offer.