Ready to Help Your Clients Discover What They're Truly Here to Do–and Get Paid Gorgeously for It?  
Here's what your clients already know: They were destined for more.
They tell you they don't just want to survive, to get by, or to "do okay" in their business and life.
They want to wake up every single day over-the-moon excited to connect with their clients, crank out new content & offers and peek at their ever-growing bank balance.
They want to play and have fun and leave their days of "hustling and grinding" behind, for good.
And yet…something's way off.
Tell me if this sounds like your clients:
They got into business doing something they're good at, but they (not-so) deep down know it's not their true calling (and it hurts to continue to pretend)
Their day is packed with To Dos and tasks they "should" or "need" to do, and next-to-nothing they want to do
They're slowly growing resentful of their clients, hate almost everything they offer and literally cringe when they get a new inquiry or Discovery call booking
They procrastinate on #allthethings, from emailing their list to following-up with even the hottest leads
They're making a little money–or even a LOT of money–but it seems like no amount of dollar signs is actually enough to make their work feel worth it
They don't want to scale, to "grow" or to "hit their next level"– because they don't even want to be doing what they're doing right now!
And maybe worst of all, they know there are lots of other coaches and creatives out there living out their purposes, but they sometimes doubt that it's even possible for them
(Okay, and actually worst of all, they've even contemplated going back to a regular old J-O-B. Eek.)

Real talk:
If your clients are stuck in a business that feels uninspiring and stagnant…
If they know they're meant for bigger things and yet they're burning out instead of glowing up (or at least growing their business)…
And they know their soul is calling them to a deeper purpose, but they just can't see how they can go from here to there…
There's good news.
Whether they're deep-in-their-bones-sure of their purpose or have an inkling but just can't convey it out loud, they CAN get into alignment with their purpose, step into their true calling and start making more money with incredible ease, starting…right now.
And you're going to be the one to help them!
Using Our Done-for-You Video Script You'll Be Able to Help Your Clients Go From "Making a Living" to Living Out Their Soul's True Purpose – And Make Bank Doing It!

 
Whether you want to record a video training as your new product, or host a livestream or webinar for your clients – this video script has been completely done-for-you!
Or, if video really isn't your thing, just use the script to record an audio!
This 17 Page (6,533 word) Step-by-Step Video Script Covers:
Step 1: Get Radically Honest About What Your Soul is Screaming to Share
Step 2: Deep-Dive to Define (and Ditch) What Doesn't Align with Your Unique Path
Step 3: Get Clear On What You're Divinely Designed to Create
Step 4: Challenge Your Old Beliefs So You Can Stop Stalling & Step Boldly Forward
Step 5: Make Small, Soul-Aligned Shifts & Experience Major Fulfillment
Step 6: Realign on the Regular to Keep the Passion Alive (And Your Soul Wildly Satisfied)

Who Wants to Over-Deliver to their Clients? You Do!
Which is Why You'll Get this Juicy Workbook that You Can Include with Your Video Training (Or Sell on its Own if Video isn't Your Jam)!
Because who doesn't love a good workbook?
Your clients are totally going to crush on this workbook filled with all the goodies that will help them take action.
Creating Buzz for Your Offer is a Breeze with these 21 Done-for-You Facebook Posts
No more wondering what to post on social, just copy and paste these Facebook posts to help you promote your new product.

Professionally Written Sales Copy to Help You Sell Your Offer
Because who wants to spend weeks writing sales copy instead of making money. Just copy and paste this professionally written copy into your sales page template, add your buy buttons, and CHA-CHING! You're ready to sell your product.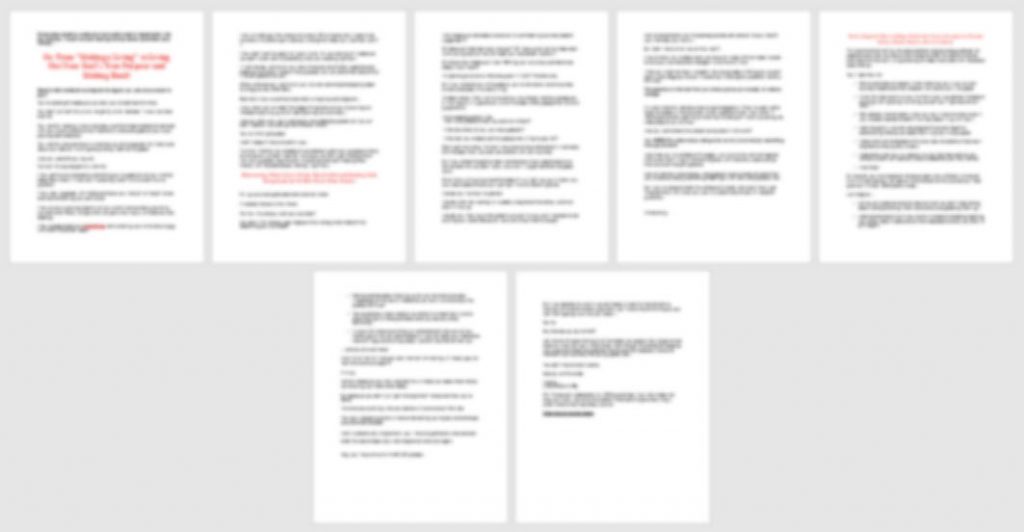 Get this Package for Only $97!
What Can You Do with This Content?
Record a video or host a livestream/webinar using the script and then package up your training with the workbook and sell it on your website.
Sell the workbook by itself without video.
Record an audio using the script and package it up with the workbook.
Create new a product and include it as a bonus for one of your other courses.
Use the content to create new trainings for your membership program.
Create a new product and use it as an upsell or cart bump offer.
Been invited to teach at an online summit or event? Use the content to create your new training.
Use the video script as the outline for a new book.
Add the workbook to one of your other products or courses as a bonus.
Use the content to create a VIP day around the topic of this package, and give your clients a copy of the workbook.
Want to create a product or course on a similar topic from scratch? Use the sales copy from this package to help you sell your offer.