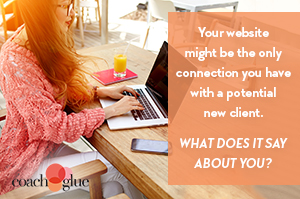 Fifteen seconds.
That's the amount of time most new visitors are spending on your website. That's not even enough time to read a blog post, let alone browse your products, click through to your about page, or read your testimonials.
Here's what you can say in 15 seconds though.
Who You Are
Beyond your name and headshot—although these are important—readers want to know what kind of person you are, so they can know if working with you will meet their needs:
Are you fun and energetic, or professional and objective?
Are you calm and capable, or freethinking and imaginative?
Are you firm, confident and unwavering, or open-minded and creative?
It doesn't matter what your personality type is, but when your ideal client lands on your site and sees that who you are perfectly resonates with her needs and personality, she'll be an instant fan.
Who You Work With
This isn't as straightforward as it might seem. You might see a tagline or message that says something like "Does your 7-figure business need online strategy help?" which clearly states who Carrie Wilkerson works with and what she does. But more often than not, we rely on language and other more subtle clues.
You can make sure your website is speaking to the right audience by:
Using the words and phrases they use.
Addressing the pain points they feel.
Offering a solution to their issues.
Readers who recognize themselves in your website copy will instantly know they're in the right place, and they'll be much more likely to spend more than 15 seconds checking out your site and how you can help.
What You Do
Are you a health coach? A branding specialist? Do you coach speakers? Authors? Other coaches? While you might know exactly what you do, if your website visitor isn't sure, she's going to hit the back button and move on to the next result in the search page.
This one is probably so obvious to you that it seems impossible for others not to know, but take a look at your site through the eyes of a new visitor. Can she see at first glance if you're the coach she's looking for? If not, you may want to rethink your tagline and home page copy to make it clear.
Is Your Website Sending the Right Message?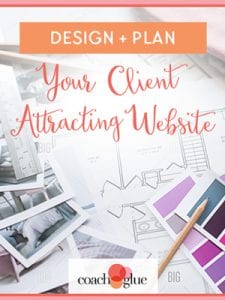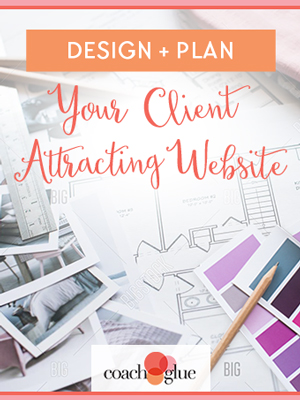 There's more to a great website than beautiful branding and typography. If your ideal clients aren't clear about your message and service offerings, then it's time for a makeover.
Not sure where to begin? Grab a copy of our workbook, "Design & Plan Your Client Attracting Website" and discover how easy it can be to create a website that shares your story and your passions with just the right market.
Click Here to Get More Details.