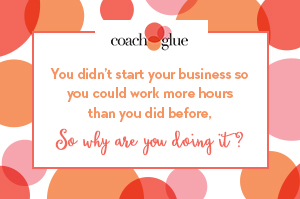 It's the catch-22 of entrepreneurialism that few people talk about. As solo-preneurs, we often spend more time working than if we had a more traditional job.
You may have started your coaching business out of a passion to help others and with an eye toward the freedom that only self-employment can offer, but if you're not careful, you find yourself:
Working 7 days a week
Missing out on family time
Skipping vacations
It's enough to make you resent the coaching business you used to love!
So what's the solution?
1. Delegate More
You might proudly wear the solo-preneur title, but that doesn't mean you have to be responsible for every single task. In fact, being the chief cook and bottle washer means you'll wind up spending more time on administrative jobs such as invoicing and website maintenance than you do working with clients.
In fact, to be totally honest, you should NOT be doing all of the tasks yourself. Focus on the things that make the most use of your time. And, if you're not sure why this is important, then use this free time calculator to find out.
The answer? Hand off those tasks you don't love or that you're not great at to a trusted team member. Take the time to train them well, and your business will run even more smoothly than it does with you as the only staff. Not only that, but you'll have more time for clients and your family, too!
2. Automate and Systematize
You already automate your sales through a shopping cart, and your email management through your autoresponder, so you know how much time you can save when you have the right tools in place. But did you know you can also automate things like:
Social media marketing
Product research
Support desk management
Client onboarding
With tools such as Hootsuite, IFTTT, Zendesk and others, your business runs even when you're not working. How cool is that?
3. Get More From Your Efforts
Are you blogging and recording videos and creating opt-in gifts? If you're not repurposing these and other pieces of content, then you're not making the most of your efforts. You can get more mileage from your content by:
Compiling blog post series into ebooks
Transcribing videos and audios as blog content
Creating opt-in gifts from blog posts and interviews
Turning eBooks into training courses and memberships
You can even use your email as a source of repurposed content by turning responses to client questions into blog posts, short reports, webinar topics, social media posts and more.
For every piece of content you create, ask yourself, "Where else can I use this?" and "Who else needs to see this?" You might just be surprised how many ways you can benefit from a single blog post or email message.