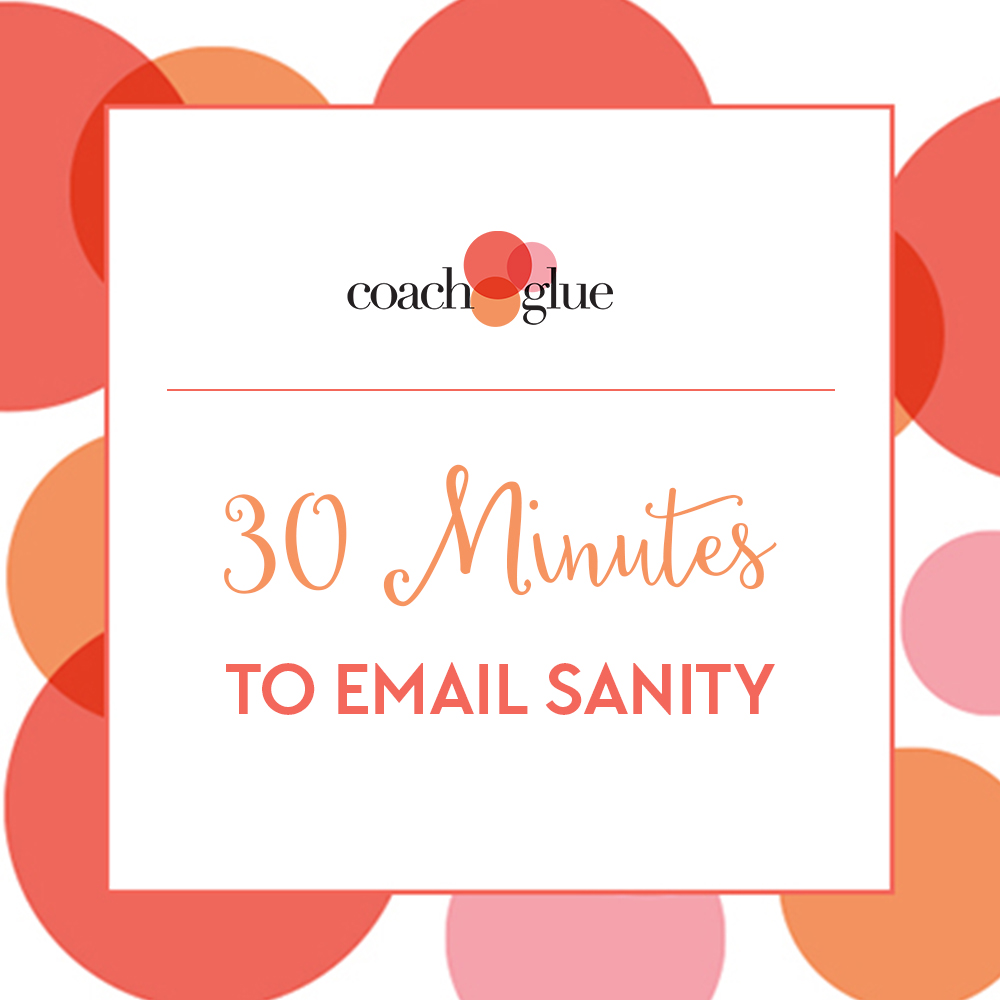 It happens to everyone eventually. The number of unread emails in your inbox slowly creeps up…from 30, to 50, to 100, to 1,000, or even 10,000 or more.
Eventually, it becomes so bad, you can't even bear to open your email to see. Worse, you know there are important messages sitting there.
Clients who want to hire you.
Questions from your staff that need answers.
Invitations to profitable JV partnerships.
Requests for Interviews.
But your inbox is so cluttered you can't even begin to find the important items. It's costing you time, money and sanity.
If that sounds familiar, rest assured you're not alone. With some studies declaring the average business user receives nearly 100 emails every day, it's easy to see why email overwhelm is such a huge problem for everyone.
Here's where to begin.
1. Clean out the Old
Keeping a clean inbox is much less stressful than wading through hundreds or thousands of messages just to find the one you need, but getting there can be a challenge. Where to begin? By ruthlessly tossing the old and outdated.
This is easy—but it might make you sweat a little. Simply do a search for anything more than 30 days old, and click "delete." (Or "archive" if you're a Gmail user.)
Here's the reason: Anything you haven't answered in more than 30 days is either no longer relevant (like an invitation to a party that happened last week) or the sender has reminded you of it more recently.
2. Take an Axe to the Time and Energy Wasters
Now that you've rid your inbox of anything over 30 days old, you can easily scroll through and archive or delete the truly irrelevant:
Automated notifications from Facebook. If you log in daily, you probably don't need to get the notifications cluttering up your email.
Other notifications from your website (updates), your help desk, etc.
Sale notifications. Yes, it's fun seeing the "You've made money" notices come through. But after you've seen them, then they can be deleted, too.
Emails you've already answered or that you don't plan to answer. After all you don't have to answer every email that comes to you. There's no law that says you have to.
Feeling better yet? You should have plenty of breathing room in your inbox by now, but don't stop yet.
3. Newsletters are Meant to Be Read on Your Schedule
First let's tackle the newsletters you're not going to read. Unsubscribe from them and then delete the old ones. You can always join their lists again if you miss them.
For those that you love, you can set up a filter so that they skip your inbox and go to a folder called "Newsletters" to read when you have the time.  You can also create a "to read" folder in your email client (or tag in Gmail) and move those emails, or send them to your Evernote account, then archive the original.
That will ensure that you won't have the emails cluttering up your inbox. You can certainly pop over to your Newsletters folder every day to keep up on what's happening in your industry, but you can do it once your important emails are answered and you're ready for a break.
4. Receipts and Orders
Just like your favorite newsletters, do the same with receipts. Did you order some toner from Amazon? A new paleo mayonnaise? Filter those emails to a separate folder, in case you need to find them later. That will keep them out of your inbox, but you'll easily be able to find the tracking numbers later, if necessary.
5. Remember that Your Inbox Is Not Your To-Do List
Here's where a lot of email users get into trouble. They try to keep action items in the inbox, with the misguided thinking that an email will remind them of an open task or project.
What productivity experts will tell you, though, is that you're far better off to move these items into a dedicated task manager and get them out of your inbox.
So scroll through what's left in your inbox and identify any action items. Make a note of them in your task manager, Evernote, or on a piece of paper, then hit that archive button.
6. Look at What's Left
Emails to reply to, information you want to read/consume later, and things you need to keep, such as receipts.
Finally, answer those few emails that require a response.
And that's it! Your email is empty—or at least a lot closer—and you didn't have to spend all day to get there! But you do have to work to maintain it, and that's a whole new learning process.
Living Inbox Zero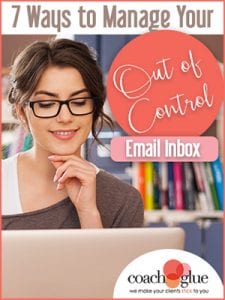 If you struggle to keep your email under control—or if your clients do—then we want to invite you to check out our brand new training program, "7 Ways to Manage Your Out of Control Email Inbox."
Inside, you'll find everything you need to Teach Your Tribe how to better manage email, including a webinar script, slide deck, checklists and more. It's ideal for hosting a free or paid webinar, for adding to a membership site, or for helping private coaching clients become more efficient. And it will help you along the way!
Warmly,
Nicole and Melissa
PS. What's your biggest struggle with email? Or your favorite solution? We would love to hear about it!