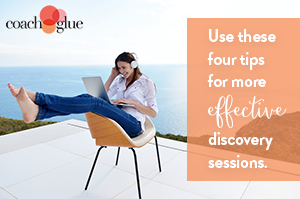 Discovery sessions are the workhorse of your coaching business. You use them to get to know new clients better, identify their needs, and hopefully foster long-term coaching relationships.
But they can also be a drain on your resources. If you're not careful, you can find yourself spending more time on discovery calls then you do with paying clients, and that's not helpful for anyone.
Here's how to rock your discovery sessions and make more sales.
1. Pre-Qualify Your Leads
Your time is valuable, and so is that of your prospective clients. It makes no sense for either of you to waste 20 or even 30 minutes on someone who is not a good fit. The solution? Pre-qualify your leads with a short application.
This can be as simple as a contact form on your website that asks questions designed to identify your ideal client. You can ask about business models, current income, whether or not they've worked with a coach in the past, and what they hop to get out of a coaching relationship.
Once you have the information, it's much easier to make the decision whether or not to book the call.
2. Keep Your Goal in Mind
A discovery session is just that: discovery. It's not for coaching. Your job is to determine if you can help, and if you genuinely like one another and want to work together. It is not to offer actionable solutions to her issues. That's what coaching is for.
3. Diagnose the Problem
Before you can turn your free discovery call into a paying client, you have to know what her root issues are. She may already know—but she may not. In fact, she may come to you thinking she has trouble finding clients, when in fact the root cause is that she's uncomfortable talking about money.
Once you know the real issue, it's much easier to…
4. Ask for the Sale
It's a rare client who will say, "How do I pay you?" You must make the first move, so it's time to get comfortable with asking for the sale. You don't have to be pushy, but you do have to be clear. Simply say, "Yours is the type of issue I've had great results with. My clients have [results they realized] and I believe you could, too. I have space available in my 3-month and 6-month programs. Which one do you think would be best for you?"
This type of statement is perfect for closing the sale, because it clarifies the issue, demonstrates real results, and gives the client a choice of coaching options. It does not give the client the option to say "no."
Are your clients using discovery sessions?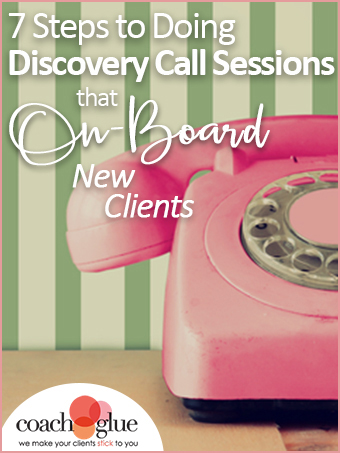 Our new Teach Your Tribe Kit, 7 Steps to Doing Discovery Call Sessions that On-Board New Clients, walks them through the process of setting up and managing discovery sessions to maximize business growth.
Our 7 step plan gives you the best practices and what's working right now with coaches in all niches. Because it includes a webinar script, slide deck and handout, it's ideal for adding to your group coaching site, or to use as a lead gen for your own business.
Click here to grab a copy today.