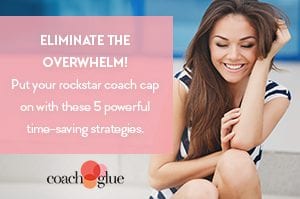 At its heart, coaching is a service-based business. Ultimately, you're trading your time and expertise for money, and the fact is, there are a limited number of hours in a day. And of course, you don't want to spend all of those hours working.
There's also family, friends, volunteer work and plain old down time to consider.
All that means that working more efficiently is critical to your continued growth—and positive cash flow.
Here are 5 things top-earning coaches do differently.
1. Automate Your Client Acquisition Process
Got a shopping cart? Great! That's a step in the right direction. It allows you to let your clients pay without the need for manual invoicing, but what else can you automate?
Send out intake forms automatically upon successful payment.
Funnel clients automatically from a low-priced program to a higher-priced program via email engagement.
Follow-up on coaching calls with a check-in request prior to the next call.
All of these steps can be fully automated with your shopping cart and autoresponder system, saving you time for one-on-one client work.
Do you need coaching intake forms?
Get them free here. 
2. Create Standard Responses to Frequently Asked Questions
"Can you help with…?"
"Do you work with…?"
"What can you tell me about…?"
If you're a coach, your email is likely full of questions from prospective clients. Rather than spending time each day addressing each of them individually, create a few "standard responses" you can copy and paste instead. And for those questions that truly are frequently asked, create a FAQ page on your site where you can direct people.
3. Pre-Qualify Discovery Sessions
The 20- or 30-minute discovery call is a pretty standard practice for coaches in all niches. After all, you want to get to know your prospect (and she wants to get to know you) before you commit to a long-term relationship.
But before you even invest that 20 minutes, it pays to ensure your potential client is:
Committed to growth
Willing and able to pay you
Fits your "ideal client" avatar
You can do that easily by adding a questionnaire before the sign up form, then funnel any respondents either to your calendar-booking app or to another program based on her responses.
4. Serve More People with Group Coaching Programs
Working one-on-one with clients might be your ultimate goal, but it limits the number of people you can serve. Consider creating group or self-study programs to not only free up your time, but also to serve a larger audience (and earn more, too).
Want to start a group coaching program with a fraction of the work? 
Check this out. 
5. Outsource It!
Let's face it, much of the work you do in your business does not require your input at all. Posting to your blog, creating graphics, setting up your sales funnels, customer support, and all kinds of admin tasks are…well, we don't want to say they're a waste of time, but they're definitely not the best use of your time.
Get that type of work off your plate as soon as possible, and you'll find yourself with plenty of extra hours each week that you can dedicate to working with clients or marketing your business.
We all have the same 168 hours in a week. It's how you use them that will make all the difference in your income, your stress levels, and your ultimate success as a coach. After all, you can't be a rockstar coach if you're so overwhelmed with work that you wind up burned out and exhausted. Practice better time-saving strategies and watch your business grow.
Bonus Tip: Don't Reinvent the Wheel
How much time do you spend creating your coaching programs, workshops, and marketing materials? Even though those tasks are important, that's time you're not serving your market and your clients.
Rather than starting from scratch for each new program, let someone else handle the research, content creation, slide decks and other production tasks. Our coaching workshops offer everything you need to host webinars, create a multi-module course, and market it to your list. All you need to add is your voice and logo.
Click here to learn more about how our done-for-you content can help you save time and energy in your business.