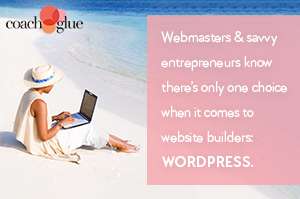 In business? You need a website. There's simply no other option in today's marketplace, and that goes for coaches and service providers as well as offline, brick and mortar stores.
Building a website has never been easier, either. Gone are the days of hand-coded HTML painstakingly uploaded via an FTP connection. Today you have your choice of drag-and-drop website builders offering a rich variety of designs—all you have to do is add your own content.
But even though there are dozens of easy ways you can create a website in a few hours, only one has a continually growing and rabidly loyal following: WordPress. It's the platform we use and love, and although we've tried many different builders (including that old hand-coded HTML) we can't think of any we like better—or that we recommend more—than WordPress.
WordPress is easier to use. We know a lot of people talk about the learning curve, and how complex WordPress is, but the reality is this: All website builders have a learning curve. The benefit of building with WordPress is that with millions of users and a helpful community, you can quickly find an answer to any question you have. Google, YouTube, and the WordPress.org forums offer an infinite list of answers to even your most difficult questions. You can't say that about other, less well-known platforms.
WordPress is portable. Nearly every hosting provider supports WordPress installations, so if you decide you need to scale up, or need better service than you're getting, it's easy to pick your site up and move it. The same cannot be said for other platforms. Build your site on Wix or Weebly, and that's where you'll stay. There is no way to easily move away from those and other platforms.
WordPress is built for SEO. With years of development behind it, the WordPress core is designed with SEO in mind. You'll rank easier and enjoy more traffic than you would if you used some other platforms.
WordPress is flexible. Want to sell your products, create a resource directory, build a stunning photography blog, or keep a travel journal? WordPress is versatile enough to handle all of that and more. Not only that, but the endless supply of plugins let you get even more out of your website.
Your WordPress site belongs to you. When you build a site on other platforms, you're obliged to abide by their terms of service or risk losing all your hard work. With a WordPress site (self-hosted, not the dot com version) you own all your content and the only rules you have to consider are your own and those of your hosting company.
WordPress integrations are the norm. Whether you want to build a landing page with LeadPages, collect email addresses with AWeber, post a YouTube video, or even retarget your Facebook ads, integration with WordPress is easy. Most companies work directly with WordPress, and for the few who don't, plugins exist to make your life easier.
Are You Or Your Clients Building a New Website?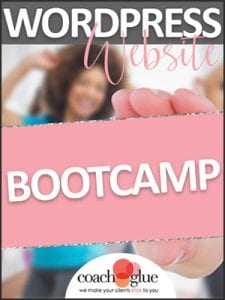 We'd urge you to consider using WordPress. We've even created a new 4-module training to help you get started. It has everything you need to develop your own workshop, including the training materials, marketing tools, webinar script, worksheets, checklists, slide decks and more. All you have to do is add your colors and logo, and you're ready to help your clients create beautiful, custom websites using today's most popular and powerful builder.
Click here to discover how easy it is to create your own training workshop today.