Help Your Clients Tap into the Unprecedented Power of Tools & Team so They Don't Have to Spend Every.Single.Second They're Awake at Their Laptop Doing Pesky Admin Tasks They Hate (or any other task they also don't love)!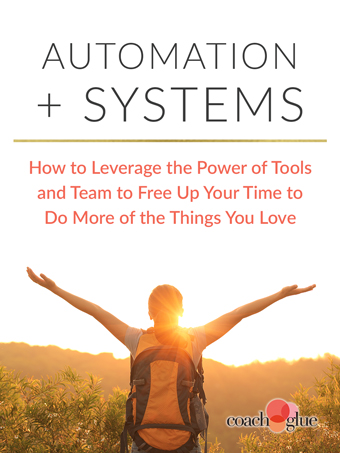 Do your clients ever wonder how in the world all those other entrepreneurs "get it all done" (and then some)?

If they've ever marveled in awe at entrepreneurs who run massive, 6-7 figure empires and yet somehow also manage to indulge in avocado toast on a gorgeous patio in the middle of a random Tuesday and wondered why they got the "Superhuman" gene and they didn't…keep reading.
They're the boss, applesauce. (They're also the bookkeeper, the social media manager, the certified coach and the copywriter, but who's counting?)
They do all the marketing, emailing, admin work and scheduling that needs to be done every day and it stops them from making progress in other areas of their business (and life!)
They spend just as much time invoicing and managing clients (or chasing down clients who don't pay their invoices) as they do actually coaching them
They always want to do things to make their clients' happier – like follow-up with the superstars they haven't heard from in a while, or make sure they send a delectable wrap-up gift to every person they work with–but they forget or put it off indefinitely
They know there are easier ways to do the things they need to do in their business each week (who has the time–or the will–to repurpose content 300 different ways and still be a killer coach?), but they simply don't know how
Using this package, you'll teach your clients exactly how to to stay in their Zone of Genius so that they have plenty of time, creativity and space to work on the goals and projects that'll move their business forward!
Using Our Done-for-You Video Script You'll Be Able to Help Your Clients Leverage the Power of Automation & Systems to Create a Streamlined, Smooth-as-Butter Business and Do Only the Work (and other activities) They Love!
Whether you want to record a video training as your new product, or host a livestream or webinar for your clients – this video script has been completely done-for-you!
Or, if video really isn't your thing, just use the script to record an audio!
This 20 Page (7,148 word) Step-by-Step Video Script Covers:
Step 1: Making The Decision: To Automate or Delegate?

Step 2: Get Leads in the Door with Ease (While You Do Other Things!)
Step 3: Master "Automatic" Marketing to Nurture New Prospects Without Working 24/7
Step 4: Simple Scheduling Systems to Make Signing New Clients a Breeze
Step 5: Process Payments and Balance Your Books–Automagically
Step 6: Keep Clients Happy with a Smooth & Seamless Client Experience
Step 7: Nurture Customers Old and New–Without Lifting a Finger!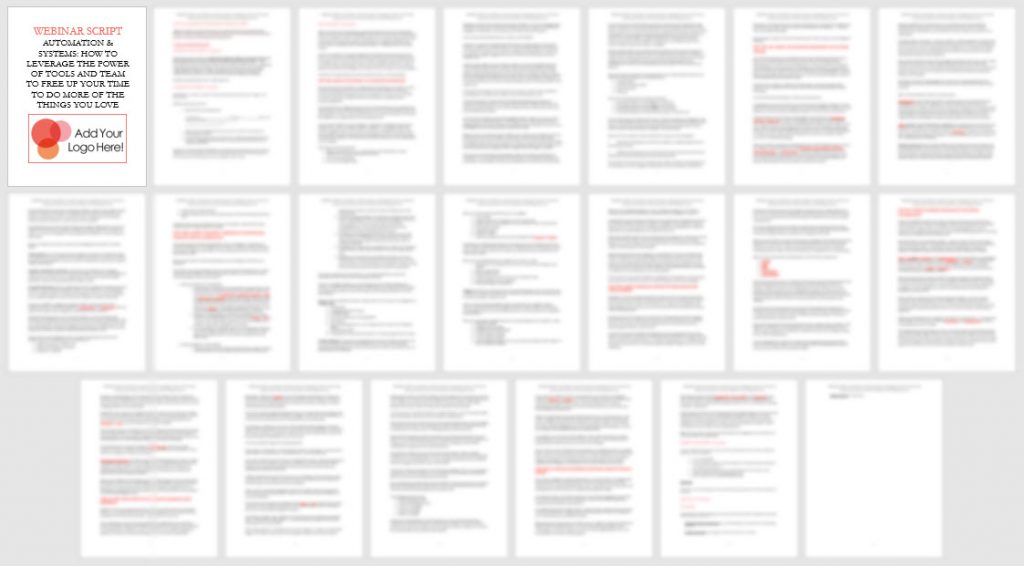 Who Wants to Over-Deliver to their Clients? You Do!
Which is Why You'll Get this Juicy Workbook that You Can Include with Your Video Training (Or Sell on its Own if Video isn't Your Jam)!
Because who doesn't love a good workbook?
Your clients are totally going to crush on this workbook filled with all the goodies that will help them take action.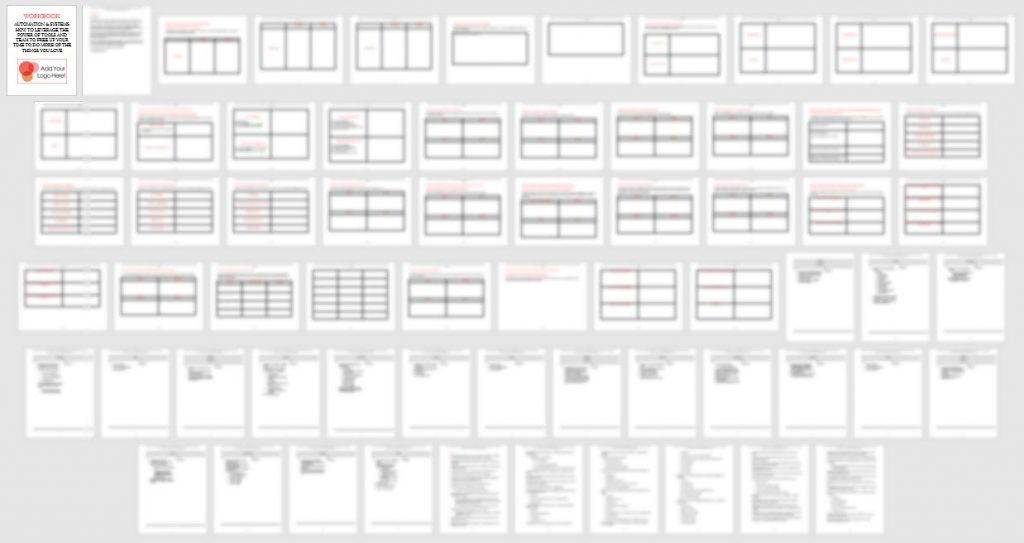 Creating Buzz for Your Offer is a Breeze with these 21 Done-for-You Facebook Posts
No more wondering what to post on social, just copy and paste these Facebook posts to help you promote your new product.

Professionally Written Sales Copy to Help You Sell Your Offer
Because who wants to spend weeks writing sales copy instead of making money. Just copy and paste this professionally written copy into your sales page template, add your buy buttons, and CHA-CHING! You're ready to sell your product.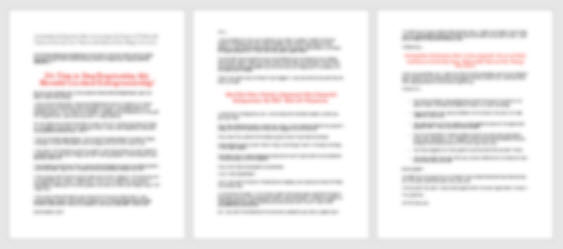 Get this Package for Only $97!
What Can You Do with This Content?
Record a video or host a livestream/webinar using the script and then package up your training with the workbook and sell it on your website.
Sell the workbook by itself without video.
Record an audio using the script and package it up with the workbook.
Create new a product and include it as a bonus for one of your other courses.
Use the content to create new trainings for your membership program.
Create a new product and use it as an upsell or cart bump offer.
Been invited to teach at an online summit or event? Use the content to create your new training.
Use the video script as the outline for a new book.
Add the workbook to one of your other products or courses as a bonus.
Use the content to create a VIP day around the topic of this package, and give your clients a copy of the workbook.
Want to create a product or course on a similar topic from scratch? Use the sales copy from this package to help you sell your offer.