Want to create professional content quickly?
We've put together a special package of 30 more done-for-you blog posts on a variety of topics that you can use to fill up your blog, newsletters, and social media accounts with scheduled content for the next year.
This package is only available for a limited-time, so make sure you grab these while they last!
These are the 30 Done-for-You Blog Posts You'll Get:
You will receive the following 30 blog posts in .doc version so that you can customize them for your own use.
Course Creation:
3 Ways Every Business Can Benefit From Passive Income
3 Ways to Turn Your Active Income into Passive Income
Debunking 4 Myths about Passive Income
Yes, You CAN Teach the World What You Know! 3 Tips for Creating a Positive Mindset
How to Build a Passive Income Empire by Hiring a Dream Team
Launching Your Course:
Leverage Your Business (and Increase Profits) by Creating Products
5 Ways to Overcome Your Fear of Selling
3 Reasons Why You Need to Hire Help During Your Product Launch
5 Ways to Actively Promote your Business Instead of Hoping for the Best
3 Ways to Repurpose Multimedia Content and Win More Customers
Goal Setting:
5 Famous People Who Set Goals and Worked Through Setbacks
5 Mistakes Business Owners Make When Setting Goals
3 Ways to Set Challenging Goals for Your Business
5 Tips for Creating a Monthly Action Plan to Reach Your Goals
5 Ways Setting Goals Can Lead to Success
Charging What You're Worth:
5 Ways to Avoid Burn Out in Your Coaching Biz
3 Reasons Why You Need to Know Your Target Market
5 Ways to Control Your Home Business Costs
5 Ways to Attract More Clients into Your Sales Funnel
3 Tips for Handling Rejection Professionally
Freelancer Success:
3 Reasons Why People Don't Chase Their Dreams
3 Ways Your Mindset Affects Your Life
3 Tiny Habits that Can Help You Shift Into a Growth Mindset
3 Pages Your Business Website Absolutely, Positively Needs
5 Ways to Start Your Business on a Budget
How to Be Fab on Facebook:
3 Ways to Use Video to Boost Your Business
5 Ways to Find Content to Share in Your Videos
4 Steps to Discovering Your Target Audience
5 Myths about Livestreaming You Shouldn't Believe
5 Reasons Why You Should Livestream Your Next Live Event
Here's a Peek at the Content You'll Get:

Get All 30 Blog Posts for Only $27
(that's only .90 cents per post!)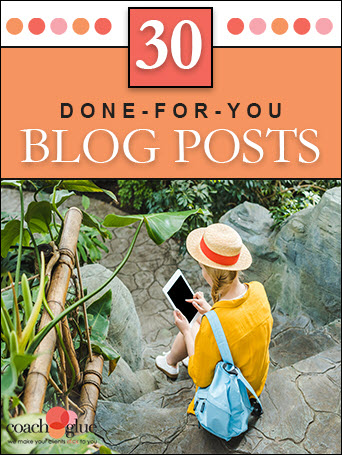 Here's what to do with these blog posts:
Step 1: Don't let them sit on your hard drive. Have your VA load them up into draft mode in your blog (or do it yourself at night over a glass of wine).
Step 2: The next time you need to write a blog post, choose one of your drafts in your blog that you will use as your starting point.
Step 3: Change the post title. (Use a keyword tool for ideas or come up with something fun on your own.)
Step 4: Infuse a little bit of YOU into the post. Add some examples, a personal story, feature a client or a colleague or a mentor.
Step 5: Add an eye-catching photo / graphic for social media. Hire this out or use an easy tool like Canva or PicMonkey to create a simple graphic with a photo in the background and text overlay.
Step 6: Include a call-to-action / monetization in the posts. Every post should have a goal. So what's the "next step" for this individual post? Hiring you? Connecting with community? An affiliate link? Buying your program?
Step 7: Publish.
Step 8: Start spreading the word on social media, tell your lists, share with anyone you featured in the post, etc.
Step 9: Repeat with another post the next week. 🙂
But you've got to have them in order to use them. Again, if you only used ONE blog post, it's still so worth the cost.
What else can you do with the blog posts in this package?
Use them in your own business to help you produce professional content quickly for your newsletter.
Load each post into a new blog post draft on your blog. The next time you don't know what to write, you'll have 30 "drafts" waiting for you to dig into.
Don't know what to talk about on social media or your next video? Use these as inspiration.
Create an autoresponder series
Use them in your weekly newsletter
Create social media posts from them
Put together 5 posts on the same topic and create a short report to grow your list
Use 5 posts on the same topic and create a video series
Give them to your JV partners to help you promote your products/programs
Use 5 posts on the same topic and create an audio series for your podcast or to share on soundcloud
Put together a bunch of the 5 posts to create an awesome report for a giveaway event