Want to create professional content quickly?
We've put together a special package of 60 more done-for-you blog posts on a variety of topics that you can use to fill up your blog, newsletters, and social media accounts with scheduled content for the next year.
This package is only available for a limited-time, so make sure you grab these while they last!
These are the 60 Done-for-You Blog Posts You'll Get in this Kit: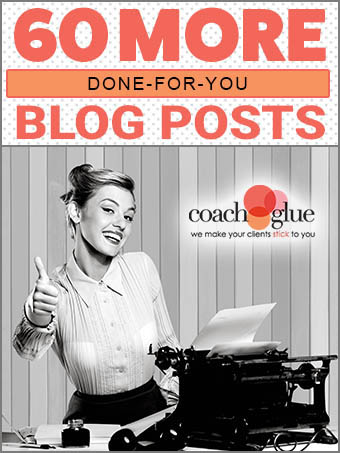 You will receive the following 60 blog posts in .doc version so that you can customize them for your own use.
Get More High End Clients:
How Well Do You Really Know Your Ideal Client?
Lessons Learned: What A Lost Client Really Tells You
Need More Clients? Think Like a Farmer
Fear-Based Decisions Are Bad for Business
Sales Tips for Reluctant Sales People
10X Your Productivity:
3 Unusual Places to Find JV Partners
Quick and Easy Website Tweaks to Automate Your Sales Funnel
Common Mistakes That Send JV Partners Running
Automated Follow-Ups Make the Next Step a No-Brainer
How to Systemize Everything
Double Your Traffic:
Get Seen, Get Traffic: Three Ways to Borrow Someone Else's Audience
Outlandish Stunts: How to Drive a Ton of Traffic with Crazy Claims (and Have Fun Doing It!)
The Art of Being Shareable
No List? No Problem! How to Build an Audience with Paid Ads
No Writing Required: Create Compelling, Shareable Content Without Writing a Word
Live Workshop Secrets:
Tips for Having a Successful Live Event
Live Event Planning: Understanding Your Audience
Finding and Hiring Help for Your In-Person Live Event
Earning Money Before, During & After Your Live Event
Attracting Sponsors for Your Live Event
Grow Your List, Grow Your Income:
Mailing List Management: You're Asking the Wrong Question
Anatomy of a Landing Page: How to Improve Your Conversion Rates With Three Simple Changes
Price vs. Power: How to Choose a Mailing List Provider
Improve Your Conversions: Split-Testing Simplified
List Engagement: What to Mail
Create Sizzling Sales Messages:
Seven Surprising Places You're Using Copywriting (And You Probably Don't Realize It)
The Art of the Soft Sell: How to Get the Click Without (Really) Asking for It
Email Subject Lines That Increase Your Open Rates
Copywriting 101: Features vs. Benefits (And How to Know the Difference)
Pain Points: What You Must Know About Your Potential Clients
Sexy Systems for Savvy Coaches:
3 Reasons We Love the "Peek Over Your Shoulder" Style of Coaching
The Hot Selling Program You Can Create In An Afternoon
How to Easily Graduate From Coach to Product Seller
How to Scale Your Coaching Business to Earn Unlimited Income
3 Easy Steps to Creating Your First Product
WordPress Websites:
The Only Website Builder You'll (Probably) Ever Need
Website Security 101: Keeping Your WordPress Site Safe from Hackers
Blogging Basics: How to Get More Eyes on Your Website
Myths vs. Facts About the World's Most Used Website Builder
6 Places to Use Keywords to Make Your Content More Visible
Create Your Dream Life:
Beyond SMART: Goal Setting for Entrepreneurs
More Important Than Money: Understanding Why You Really Do What You Do
Stop Being Your Own Worst Client
Making the Most of Your Time: 5 Productivity Tips Top Coaches Live By
How to Turn a Dream Into a Workable Plan
Making the Most of Live Video:
3 Tips for Better Live Videos
How to Get Over Your Live Video Nervousness
Video: Does It Matter? Yes!
Get More Mileage From Live Video With These Quick Tips
4 Ways to Get More Eyes on Your Live Videos
Self-Publishing Systems for Coaches:
The Power of the Published Author
How to Blog a Book
Book Launch Basics
How to Write a Book When You Have No Time to Write
Book Marketing Made Easy
Leave Your 9 to 5 Job:
Mindset Tricks of Successful Entrepreneurs
Build a Business, Not Another Job
3 Surefire Ways to Create In-Demand Products and Services
How to Have a Stress-Free Business Launch
3 Proven Ways to Market Your New Business
What is the value of getting new clients on autopilot from this package? At just $47, we know you'll thank us later.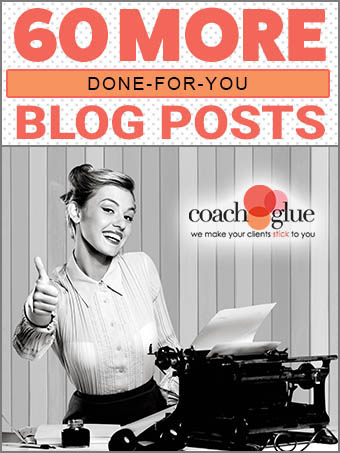 Get All 60 Blog Posts for Only $47!
(that's only .78 cents per post!)

What can you do with the blog posts in this kit?
Use them in your own business to help you produce professional content quickly for your newsletter.
Load each post into a new blog post draft on your blog. The next time you don't know what to write, you'll have 60 "drafts" waiting for you to dig into.
Don't know what to talk about on social media or your next video? Use these as inspiration.
Create an autoresponder series
Use them in your weekly newsletter
Create social media posts from them
Put together 5 posts on the same topic and create a short report to grow your list
Use 5 posts on the same topic and create a video series
Give them to your JV partners to help you promote your products/programs
Use 5 posts on the same topic and create an audio series for your podcast or to share on soundcloud
Put together a bunch of the 5 posts to create an awesome report for a giveaway event