Want to create professional content quickly?
We've put together a special package of 60 more done-for-you blog posts on a variety of topics that you can use to fill up your blog, newsletters, and social media accounts with scheduled content for the next year.
This package is only available for a limited-time, so make sure you grab these while they last!
These are the 60 More Done-for-You Blog Posts You'll Get in this Kit: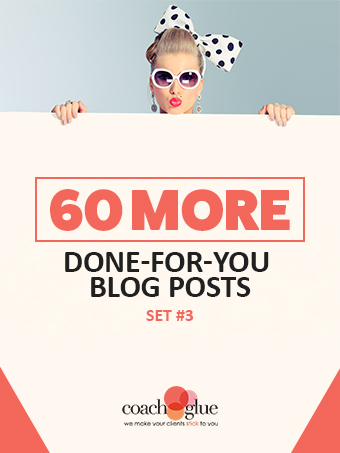 You will receive the following 60 blog posts in .doc version so that you can customize them for your own use.
Your Marketing Calendar:
3 Things Your Business Plan Must Have
When Do Coaches Need Coaches?
3 Reasons Why Coaches Need to Hire a Support Team
Implement These 3 Productivity Hacks Today
5 Money-Making Action Tasks to Grow Your Business
Business Branding for Coaches:
3 Key Questions to Ask Your Graphic Designer
Want to Do Your Own Company Branding? Understand the Color Wheel First
4 Places Your Brand Identity should be Consistent
Being Authentic: Buzzword or Accurate Advice?
5 Tips to Working with a Photographer to Enhance Your Business Photos
Business Management:
4 Automated Systems to Scale Your Business
How Many Hats Are You Wearing?
Stay in Your Own Lane
How to Build a Team of "A" Players
Efficiency is the Key to a Stress-Free Business
Ecourse Creation:
9 Ways to Find Killer Ideas for Your Next eCourse
Single Problem, Single Solution: The Benefits of Keeping It Simple
How to Choose the Right Course Format for Your New eCourse
eCourse Pricing Strategies That Work
How to Create an eCourse in a Day
Ecourse Launch:
3 Tactics to Implement While Your List is Still Small
7 Ways to Make Sales… No List Required
Turn Tiny Lists Into Big Sales
Autopilot Profits (Even With a Tiny List)
3 Mistakes You're Making With Your Tiny List
Selling Low-End Products:
5 Reasons You Need a Passive Income Stream
Creating Products Your Clients Will Actually Buy
Answering Your Questions About Sales Funnels and Why Coaches Need One
How Consistent Product Branding Can Lead to Increased Sales
Don't Be a Copycat; Create Your Own Path
Get Free Publicity for Your Business:
How to Prepare for a PR Expert
How to Catch a Shooting Star
Start Small, Aim Big
The Media Outlets No One Talks About
Subtle Clues That Show Off Your Expertise
Money Mindset:
3 Money Mistakes That Keep Your Business Broke
Self-Sabotaging Behaviors That Keep You From Earning What You're Worth
How Negative Self-Talk Can Destroy Your Financial Future
What's Your Why?
3 Smart Business Investments You're Probably Not Making
Passive Income:
3 Ways to Repurpose Your Content to Attract More Clients
Turn Your Content into Cash with a Three-Part Sales Funnel
Is Passive Income Really Passive?
3 Ways to Clear the Clutter for Improved Productivity
3 Ways to Find Out What Your Clients Want From You
Relationship Marketing:
How Often Does Your Audience REALLY Want to Hear from You?
Why You Need Relationship Marketing in Your Marketing Plan
Three Tips for Building Relationships Offline
Does Your Brand Live Up to Expectations?
Three Tips to Building Successful Business Relationships
Social Media Marketing:
Build Trust by Being Consistent with Your Marketing
Is Your Social Media Plan Working For You?
3 Ways to Show Off Your Personality on Social Media
Put the Social Back in Your Social Media Plans
3 Social Media Myths Busted…
Vision Board:
Business Planning is Fun Again
What's Really Holding You Back?
5 Ways to Use a Vision Board
The Most Fun You'll Ever Have In Your Office
Getting Clear on Your Business and Life Goals
What is the value of getting new clients on autopilot from this package? At just $47, we know you'll thank us later.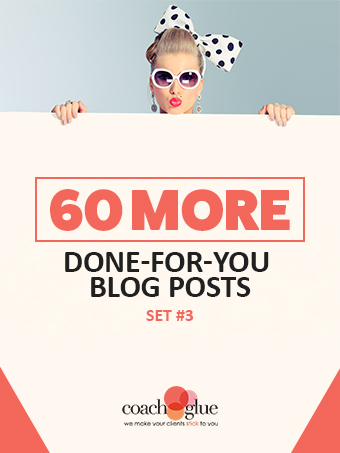 Get All 60 Blog Posts for Only $47
(that's only .78 cents per post!)

What can you do with the blog posts in this kit?
Use them in your own business to help you produce professional content quickly for your newsletter.
Load each post into a new blog post draft on your blog. The next time you don't know what to write, you'll have 60 "drafts" waiting for you to dig into.
Don't know what to talk about on social media or your next video? Use these as inspiration.
Create an autoresponder series
Use them in your weekly newsletter
Create social media posts from them
Put together 5 posts on the same topic and create a short report to grow your list
Use 5 posts on the same topic and create a video series
Give them to your JV partners to help you promote your products/programs
Use 5 posts on the same topic and create an audio series for your podcast or to share on soundcloud
Put together a bunch of the 5 posts to create an awesome report for a giveaway event