Want to create professional content quickly?
We've put together a special package of 65 more done-for-you blog posts on a variety of topics that you can use to fill up your blog, newsletters, and social media accounts with scheduled content for the next year.
This package is only available for a limited-time, so make sure you grab these while they last!
These are the 65 More Done-for-You Blog Posts You'll Get in this Kit: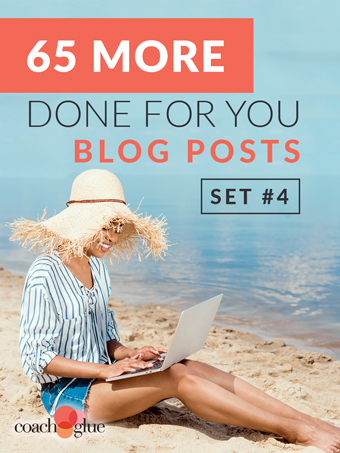 You will receive the following 65 blog posts in .doc version so that you can customize them for your own use.
How to Hire and Manage a Team:
3 Tips for Gaining More Time in Your Day
3 Top Notch Customer Service Tips for Solopreneurs
5 Strategies for Combatting Procrastination
3 Secrets for Keeping Your Business Running While on Vacation
Ask Yourself These 3 Questions Before Hiring an Assistant
Business Planning:
Is Business Stress Ruining Your Life?
Are You Jane-of-all-Trades?
Don't Fall Victim to Money Woes…Aim for Your Financial Sweet Spot
3 Magical Words that will Alleviate Business Stress
It's Time to Make Changes to Your Business Practices When…
Physical, Emotional, and Spiritual Self-Care for Entrepreneurs:
Are You on the Verge of Business Burnout? Look for these Signs…
Are You Building a Business or Longing for Someone Else's Success?
A Healthy Diet Leads to a Growing Business
Are Your Clients Sucking the Joy Out of Your Business?
Combat that Negative Self-Talk!
Turn Your Book into an Online Course:
Ignore the Negative Self-Talk and Embrace Your Expertise
Stop Analysis Paralysis and Take Action
Your Tribe WANTS to Hear from You So Give Them What They Want
Multiple Streams of Income Yield Big Results
Give Up the Excuses; You Really CAN Teach an Online Course
Supercharge Your Marketing:
Four Weeks to Supercharging Your Marketing to Increase Profits
How to Promote Products You're Proud of without Being Sleazy
Planning in Advance Supercharges Your Chances for Marketing Success
Ramp up Your Exposure: Get Expert Status Fast
Using Email to Get Better Marketing Results
Content Repurposing:
Is Your Email List Your Friend or Foe?
Is Using Private Label Rights Content the Same as Plagiarizing?
Learn to Love the P Word…Planning
3 Ways to Avoid Plagiarizing When Repurposing Content
4 Distinct Ways to Get Content to Your Audience
Hosting Private Client Retreats:
3 Ways a Professional Photographer Can Improve Your Branding
3 Questions to Ask Before You Hire a Ghostwriter
Create Your Ideal Client Avatar in 3 Easy Steps
5 Ways to Find the Perfect Speakers for Your Live Event
Words of Advice for First Time Event Planners
Creating a Personalized Client Experience:
Add VIP Days Into Your Schedule for Quick Results
Keep Your Business Organized with a CRM Program
Spread Kindness to Ensure Loyalty…From Team Members to Clients
Are Your Clients Happy? How to Measure Client Satisfaction
5 Tips for Being a Better Listener for Your Coaching Clients
6-Figure Coaching:
Attracting Your Dream Client
Developing Your Coaching Funnel
Today's Most In-Demand Coaching Program Formats
Creating High-Value, Big-Profit VIP Days
You Don't Have to be an Expert in Everything to be a Great Coach
Mindset Reset:
Outsource Your Way to Happiness
Get Creative with Your Journaling!
Define Your Happiness with a Vision Board
Authenticity Check: Are You Delivering What You Promise or Just Pretending To?
Don't Fall Victim to Toxic Clients
Smash Through Writer's Block & Get Back to Creating:
Become Inspired by Your Hobbies
Embrace Your Artistic Side with Creative Journaling Techniques
How Journaling and the Law of Attraction Work Together
Having Trouble Creating Products for Your Business? Take a Multimedia Approach…
Try This Writing Exercise for Your Next Blog Post
Stress-Free Wealth Building for Entrepreneurs:
Be Creative with these 5 Tips to Mix up Your Vision Board
Bookkeeping 101: For Entrepreneurs Who are Scared of Numbers
When Does a Coach Need a Coach?
Are You Losing Money on Business Tools You're Not Using?
5 Tips to Successful Outsourcing
Storytelling for Entrepreneurs:
Turn Your Story into Leads and Potential Customers
Do You Have an Offline Marketing Plan?
Why Spying on Your Competitors is Necessary in Business
7 Tips for Crafting Your Story
If Your WHY Doesn't Make You Cry, It's Not Big Enough
What is the value of getting new clients on autopilot from this package? At just $47 $10, we know you'll thank us later.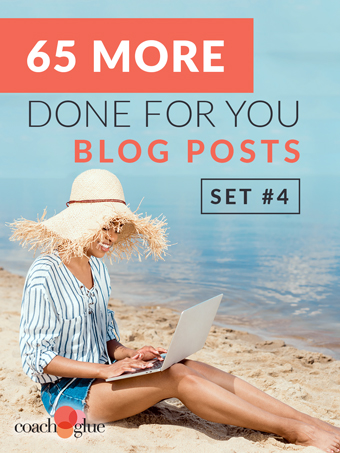 Get All 65 Blog Posts for Only $47 $10
(that's only .15 cents per post!)

Here's what to do with these blog posts:
Step 1: Don't let them sit on your hard drive. Have your VA load them up into draft mode in your blog (or do it yourself at night over a glass of wine).
Step 2: The next time you need to write a blog post, choose one of your drafts in your blog that you will use as your starting point.
Step 3: Change the post title. (Use a keyword tool for ideas or come up with something fun on your own.)
Step 4: Infuse a little bit of YOU into the post. Add some examples, a personal story, feature a client or a colleague or a mentor.
Step 5: Add an eye-catching photo / graphic for social media. Hire this out or use an easy tool like Canva or PicMonkey to create a simple graphic with a photo in the background and text overlay.
Step 6: Include a call-to-action / monetization in the posts. Every post should have a goal. So what's the "next step" for this individual post? Hiring you? Connecting with community? An affiliate link? Buying your program?
Step 7: Publish.
Step 8: Start spreading the word on social media, tell your lists, share with anyone you featured in the post, etc.
Step 9: Repeat with another post the next week. 🙂
But you've got to have them in order to use them. Again, if you only used ONE blog post, it's still so worth the cost.
What else can you do with the blog posts in this kit?
Use them in your own business to help you produce professional content quickly for your newsletter.
Load each post into a new blog post draft on your blog. The next time you don't know what to write, you'll have 60 "drafts" waiting for you to dig into.
Don't know what to talk about on social media or your next video? Use these as inspiration.
Create an autoresponder series
Use them in your weekly newsletter
Create social media posts from them
Put together 5 posts on the same topic and create a short report to grow your list
Use 5 posts on the same topic and create a video series
Give them to your JV partners to help you promote your products/programs
Use 5 posts on the same topic and create an audio series for your podcast or to share on soundcloud
Put together a bunch of the 5 posts to create an awesome report for a giveaway event