Want to create professional content quickly that attracts new clients?
Of course you do! Content that…
Shows off your amazing expertise
Empowers your readers
Engages your site visitors
And (most importantly) starts a conversation
Of course, for a busy coach, finding the time to actually write content that hits all those critical points can feel pretty overwhelming.
That's why we've put together a special package of 10 professionally written done-for-you blog posts about using LinkedIn to get more clients. These posts arrive ready to copy and paste into your blog, newsletter, or anywhere else you need compelling content that demonstrates the value of coaching.
Use these done-for-you posts on Facebook, Twitter, LinkedIn and other networks to promote your blog posts. Add them to your Meet Edgar schedule for hands free promotion that works for you 24/7!
Instantly Get These 10 Done-for-You Blog Posts:
5 Things to Know About Finding Clients on LinkedIn
If you think blasting LinkedIn users with connection requests is the way to go, put the brakes on your plans and rethink your strategy.
Networking Tips: How to Find Leads on LinkedIn Naturally
Tips for networking naturally on LinkedIn so you don't develop that pushy "used car salesman" reputation that make people want to run away.
5 Things You Won't See Me Do on LinkedIn
There are several LinkedIn "sins" which can haunt you and affect your credibility and reputation.
5 Ways to Increase Your Credibility on LinkedIn and Attract Potential Leads
You need to make every aspect of this platform work to your advantage in order to both attract prospective clients and then convince them that you are the expert they've been searching for.
5 Tips for Publishing the Right Content on LinkedIn
An editorial calendar is helpful when it comes to planning your social media posts.
5 Ways to Make the Right First Impression on LinkedIn
While relationship marketing requires effort on your part, you can also encourage others to network with you by putting forth a professional image.
4 Tips to Make the Right Connections on LinkedIn
Making the right connections on LinkedIn (or on any networking platform) should never be hit or miss.
What to Do on a Daily Basis to Attract New Clients on LinkedIn
A daily action plan will help you remember everything but it also saves time.
How to Still Get Results from LinkedIn, Even When They Say "No"
Even after doing all your target market analysis and creating your client avatar, some people will still say NO to your products and services.
6 Small but Powerful Ways to Get Noticed by Prospects on LinkedIn
Whether you want to get noticed on LinkedIn by hiring recruiters or by business prospects, LinkedIn is THE place to be seen.
What is the value of getting new clients on autopilot from this package? At just $27, we know you'll thank us later.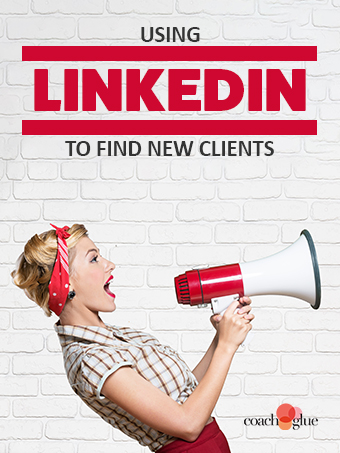 Get All 10 Blog Posts for Only $27!
(that's only $2.70 per post!)