Do You Want to Help Your Clients Transform Their Habits and Start Stepping Into Their Dream Life–In Just Three Weeks? Of Course You Do!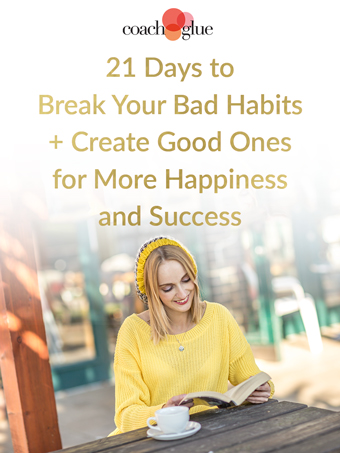 Here's the honest-to-goodness truth: We all have "bad habits."
(Yep, even those IG influencers who claim they wake up at 5am every morning and jog 6 miles, journal for 20 minutes and read 100 pages before the kids even open their eyes.)
Let me ask you? Are your clients struggling with any of the following "bad habits"?
They want to build exercise and healthier meals into their day, but they just can't seem to "stick to it"
They procrastinate like it's their job and put off work or client tasks until the last minute (and then deeply regret it)
"Retail therapy" is their go-to coping mechanism–and while it feels fabulous in the moment, it feels terrible when they get the crazy-high credit card statements
Social media sucks up their time & energy–and as much as they've tried to stop checking it in bed (and every other spare minute they have during the day), they just can't seem to quit
If so, they are NOT alone.
The thing, though? Habits themselves aren't inherently good or bad.
Habits are simply learned behaviors. And they actually can have lots of positive benefits, like freeing up brain space so we can think about (and accomplish) other things.
However…
If your clients' habits aren't helping them get closer to their dream life, well, odds are they're harming them instead.
Bluntly: Their habits are the reason they're not hitting their goals or feeling like their "best self."
Luckily, you're going to walk them through the entire process of transforming bad habits into good ones in a simple, easy-to-follow way!
Using Our Done-for-You Video Script You'll Be Able to Help Your Clients Give Up Their Bad Habits and Replace Them With Healthier Alternatives…In Just 21 Days! 
Whether you want to record a video training as your new product, or host a livestream or webinar for your clients – this video script has been completely done-for-you!
Or, if video really isn't your thing, just use the script to record an audio!
This 19 Page (6,835 word) Step-by-Step Video Script Covers:
Step 1: Understanding How Habits Work
Step 2: Identifying Bad Habits That Are Keeping You Stuck
Step 3: Using Your Mindset to Break Bad Habits
Step 4: Establishing Mini Habits in Your Life
Step 5: Understanding How Good Sleep Plays a Part in Productivity
Step 6: Using Rewards as Motivation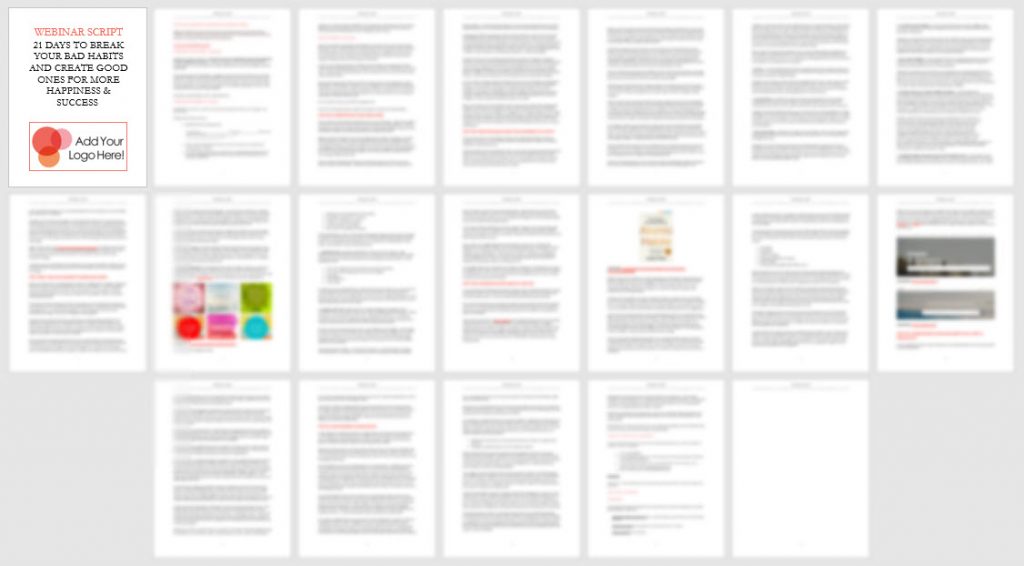 Who Wants to Over-Deliver to their Clients? You Do!
Which is Why You'll Get this Juicy Workbook that You Can Include with Your Video Training (Or Sell on its Own if Video isn't Your Jam)!
Because who doesn't love a good workbook?
Your clients are totally going to crush on this workbook filled with all the goodies that will help them take action.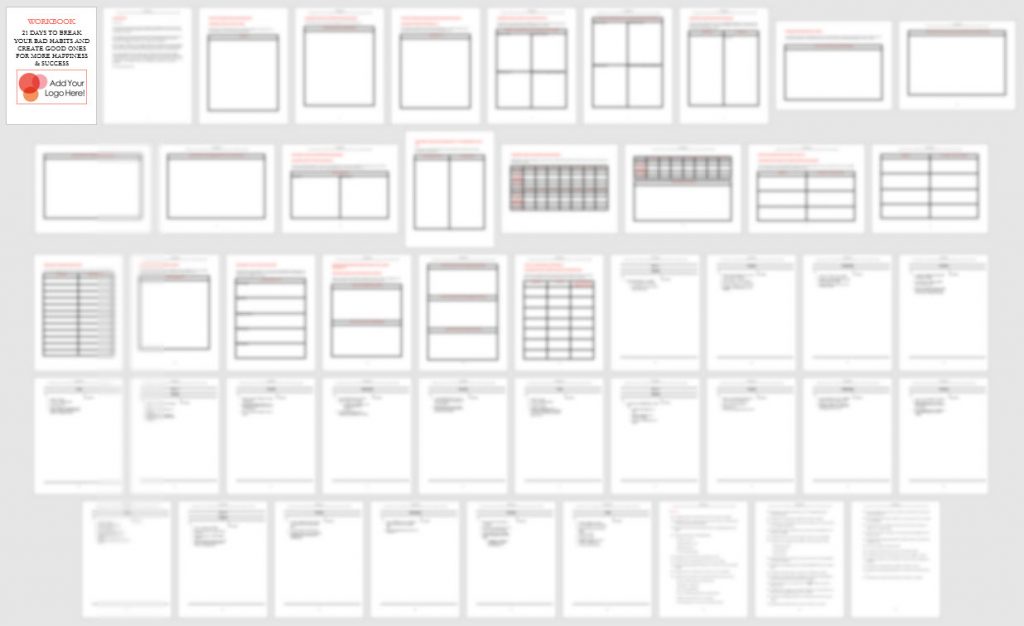 Creating Buzz for Your Offer is a Breeze with these 21 Done-for-You Facebook Posts
No more wondering what to post on social, just copy and paste these Facebook posts to help you promote your new product.

Professionally Written Sales Copy to Help You Sell Your Offer
Because who wants to spend weeks writing sales copy instead of making money. Just copy and paste this professionally written copy into your sales page template, add your buy buttons, and CHA-CHING! You're ready to sell your product.

Get this Package for Only $97!
What Can You Do with This Content?
Record a video or host a livestream/webinar using the script and then package up your training with the workbook and sell it on your website.
Sell the workbook by itself without video.
Record an audio using the script and package it up with the workbook.
Create new a product and include it as a bonus for one of your other courses.
Use the content to create new trainings for your membership program.
Create a new product and use it as an upsell or cart bump offer.
Been invited to teach at an online summit or event? Use the content to create your new training.
Use the video script as the outline for a new book.
Add the workbook to one of your other products or courses as a bonus.
Use the content to create a VIP day around the topic of this package, and give your clients a copy of the workbook.
Want to create a product or course on a similar topic from scratch? Use the sales copy from this package to help you sell your offer.