Want to create professional content quickly?
Of course you do! Content that…
Shows off your amazing expertise
Attracts your ideal client
Empowers your readers
Engages your site visitors
And (most importantly) starts a conversation
…is the key to onboarding new clients.
Of course, for a busy coach, finding the time to actually write content that hits all those critical points can feel pretty overwhelming.
That's why we've put together a special package of 10 done-for-you client getting blog posts on a variety of topics. Use them to fill up your blog, newsletters, and social media accounts with scheduled content for the next year, and watch your client list grow!
But this package is only available for a limited-time, so make sure you grab these while they last!
Get These 10 Done-for-You Client-Getting Blog Posts:
You will receive the following 10 blog posts in .doc version so that you can customize them for your own use.
3 Places you're Leaving Money on the Table (and How to Fix Them Today)
Perfect for helping your clients boost their bottom line… and who doesn't need that?
You Don't Know What You Don't Know
Sometimes your potential clients simply don't understand the value of coaching. This blog post will help.
How Much Time Have You Got?
You really can learn anything simply with trial and error… but who wants to spend that much time? This post shows your potential clients why this kind of thinking will keep them stuck for a long time to come.
5 Coaches You Don't Have (But Should)
If you're a specialty coach, it can feel like a struggle to land clients. This blog post shares the many benefits of hiring a truly niche coach.
Productivity is More Than Getting Things Done
It's also getting the right things done. This post demonstrates how a coach can help boost productivity and efficiency, and add dollars to your clients' bottom line.
5 Business-Killing Mistakes You're Making Every Day
No one wants to think their mistakes are holding them back. Show your potential clients how not hiring you is hurting their business.
Which Do You Value More: Your Money or Your Time?
Potential clients who question the cost of coaching often can't see the return on their investment. This post can help.
Do You Have a Business or a Hobby?
What sets real businesses apart from the "wannabes"? Real business owners understand the value of a mentor, and this post will show your readers how you can help.
Knowing What to Do is Not Enough
Accountability is one of the biggest benefits of hiring a coach. Make sure your potential clients understand this aspect of the coaching relationship.
The Secret Weapon of High-Achievers
We all want to think there is some secret to success, but the truth is, a strong coach can make all the difference. This post helps you share the benefits of coaching with your audience.
Get All 10 Blog Posts for Only $27!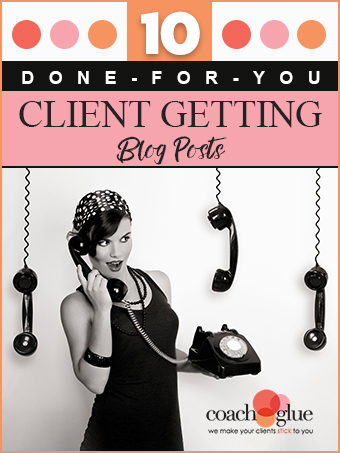 Take a Peek at the Fabulous Content You'll Get:
Blog Posts: Professionally written and designed specifically for coaches, these done-for-you posts arrive ready to copy and paste into your blog, email funnel, or anywhere else you need compelling content that demonstrates the value of coaching.

Social Media Posts: Use these done-for-you posts on Facebook, Twitter, LinkedIn and other networks to promote your blog posts. Add them to your Meet Edgar schedule for hands free promotion that works for you 24/7!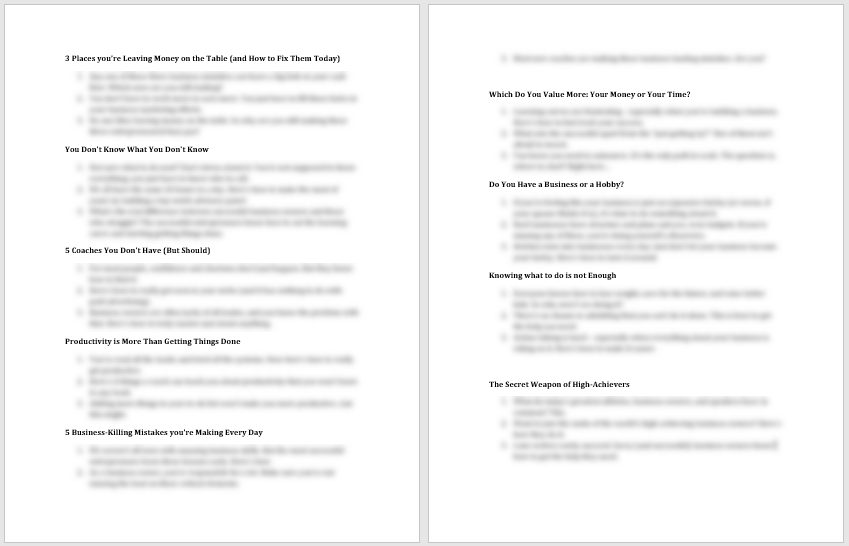 What can you do with the blog posts in this kit?
Load each post into a new blog post draft on your blog. The next time you don't know what to write, you'll have 10 "drafts" waiting for you to dig into.
Don't know what to talk about on social media or your next video? Use these as inspiration.
Create a "nurture sequence" for new subscribers to your email list.
Load up your social media calendar and never again ask "What should I post about on Facebook today?"
Bundle them together as a PDF giveaway to grow your list.
Get All 10 Blog Posts for Only $27!