Help Your Clients Create a Winning Facebook Webinar Funnel!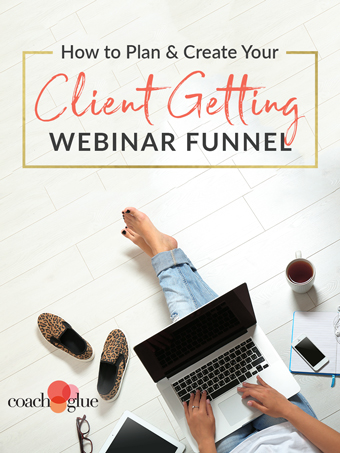 Do your clients want to run a webinar, but all the "tech stuff" keeps tripping them up?
Or maybe they put together a webinar once or twice, but felt super embarrassed when only one or two people showed up live? (Insert ALL the cringe faces.)
Or maybe they've avoided trying webinars altogether–despite watching other people in their industry totally rock them out–because it felt like way too many moving parts?
And let's face it, Facebook ads–can feel intimidating for your clients:
How do they choose the right topic?
How they you make sure people sign up?
What do they say in their ads?
Who do they even advertise to?
How do they make sure people who sign up actually show up–and soak up the value they're providing?
And–if and when they do show up–how can they make sure they actually pick up their credit cards to plunk down cash on whatever is it they're selling?
It's exhausting for your clients to even think about.
The questions seem endless. (And so do the variety of answers, as a quick Google search on the subject will show.)
But there IS a silver lining.
Using this package, you'll be able to teach your clients exactly how to attract the right people to their value-packed webinar AND have their attendees chomping at the bit to find out how to work with them & give them their money!
Using Our Done-for-You Video Script You'll Be Able to Show Your Clients Exactly How to Get Their First Facebook-ad-Fueled Webinar Up, Running & Bringing in Revenue by Attracting the Right Clients – Fast!
Whether you want to record a video training as your new product, or host a livestream or webinar for your clients – this video script has been completely done-for-you!
Or, if video really isn't your thing, just use the script to record an audio!
This 18 Page (6559 word) Step-by-Step Video Script Covers:
Step 1: Plan to Profit…Choose a Compelling Webinar Topic, Title & Call to Action

Step 2: The Keys to Getting The Right People Signing Up–and Showing Up Live!
Step 3: The Secrets to Eye-Catching, Mind-Blowing, Finger-Clicking Facebook Ads  
Step 4: Set the Right Campaign Audience & Budget–and Watch Your Webinar Registration Numbers Rise!
Step 5: Craft Crazy-Good Webinar Content & Finish with a Compelling CTA for the Highest ROI
Step 6: Send Follow-Up Emails that Get New Clients Flowing In

Who Wants to Over-Deliver to their Clients? You Do!
Which is Why You'll Get this Juicy Workbook that You Can Include with Your Video Training (Or Sell on its Own if Video isn't Your Jam)!
Because who doesn't love a good workbook?
Your clients are totally going to crush on this workbook filled with all the goodies that will help them take action.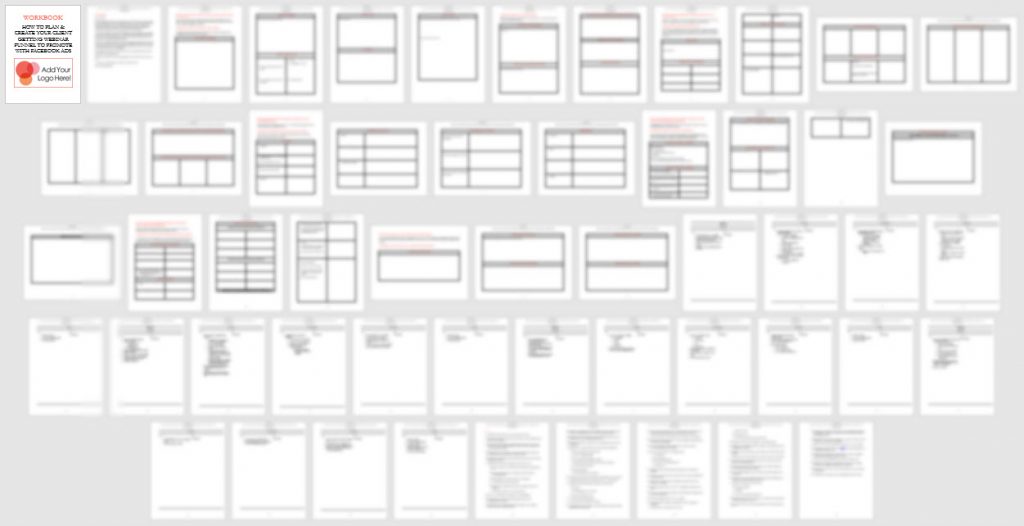 Creating Buzz for Your Offer is a Breeze with these 21 Done-for-You Facebook Posts
No more wondering what to post on social, just copy and paste these Facebook posts to help you promote your new product.

Professionally Written Sales Copy to Help You Sell Your Offer
Because who wants to spend weeks writing sales copy instead of making money. Just copy and paste this professionally written copy into your sales page template, add your buy buttons, and CHA-CHING! You're ready to sell your product.

Get this Package for Only $97!
What Can You Do with This Content?
Record a video or host a livestream/webinar using the script and then package up your training with the workbook and sell it on your website.
Sell the workbook by itself without video.
Record an audio using the script and package it up with the workbook.
Create new a product and include it as a bonus for one of your other courses.
Use the content to create new trainings for your membership program.
Create a new product and use it as an upsell or cart bump offer.
Been invited to teach at an online summit or event? Use the content to create your new training.
Use the video script as the outline for a new book.
Add the workbook to one of your other products or courses as a bonus.
Use the content to create a VIP day around the topic of this package, and give your clients a copy of the workbook.
Want to create a product or course on a similar topic from scratch? Use the sales copy from this package to help you sell your offer.