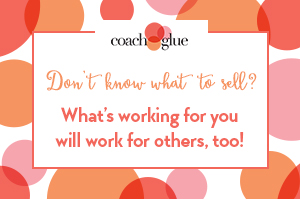 We've been in the information marketing business for a long, long time, and over the years we've learned a thing or two about what sells. We've also learned (through lots and lots of trial and error) how to create products and programs as easily as possible, without sacrificing quality.
We've talked about outsourcing, repurposing, and of course done-for-you-content, but here's the one thing that works every time, and it's super easy to do:
Turn Your Own Business Systems into a Product
You know those checklists and worksheets and standard operating procedures you use every day in your business? Those documents are incredibly valuable to your business. They help you:
Work faster (so you can get out of your office)
Train better (so your team can be successful)
Be more efficient (no one wants to have to do the work over again)
Make more money (yeah!)
And if they're doing all of that for you, just imagine what they could do for your clients!
The fact is, your market wants and needs this stuff. By sharing your proven systems, you'll save them time and energy so they can get back to what's really important, growing their business.
What's even better is that putting your new product together is super fast and easy, too. After all, you already have the documentation, all that's needed is to repackage it into a well-formatted and organized step-by-step plan, and you'll have an instant winner.
Selling Your Systems
I don't know of anyone who doesn't love a done-for-you system. Someone else has already done all the testing and tweaking and documenting, so all that's left is for the buyer to take action. What could be easier?
Then there's the "look over your shoulder" aspect. We humans are kind of nosey. We want to know what other people are doing and how we shape up in comparison, and a peek inside the business systems of other coaches is an easy way to get the inside scoop.
Both of these together make selling your repackaged systems a breeze.
Are your clients packaging their systems into hot-selling programs yet?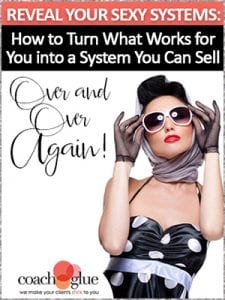 If not, here's how you can bring them up to speed: Grab our new program, "Reveal Your Sexy Systems: How to Turn What Works for You into a System You Can Sell Over and Over Again!" and use it to create a webinar (we've included the slide deck for you) and a brand new workshop you can sell. It's a complete, done-for-you package that includes the product, the marketing tools, and even blog posts and email promos, so all you have to do is add your expertise.