We're always on the run as entrepreneurs, with never ending tasks mixed in between our client calls; and certainly there's never enough time in our days. Add in the networking opportunities that we can't miss out on and you've got a recipe for burn out and exhaustion.
No one can successfully run on this type of frenetic energy very long without things falling through the cracks, so before you get to this point it's important to your physical and mental well-being to take some time every day to just relax and be quiet. I know, that sounds counter-intuitive when you have so much to do but your psyche and your spirit will thank you.
Calm that mind, forget about your work, and think about everything that is good in your life. Believe it or not, we're not talking about setting aside hours out of your day; start with only 5-10 minutes a day. You might just surprise yourself how different you feel.
Journaling during your quiet time is a popular way to harness your energy and focus it on your dreams and business goals. Adding a list of what you're grateful for in life also does wonders for calming your mind because you're forced to focus on the good instead of all the things that are going wrong.
Robert Emmons, PhD is a leading researcher on the benefits of gratitude journaling. Here is just a sampling of how daily gratitude journaling can change your mindset and your business.
Gratitude increases self-esteem, which in turn improves your optimism and social behaviors which make it easier to network. Networking, of course, leads to new clients or new referrals.
Gratitude improves your decision making and your desire to reach goals, which can both significantly increase your business clientele and your profits.
Gratitude improves your sleep quality and duration, which in turn positively affects your energy level, which can lead to a more optimistic outlook and desire to reach your goals.
Gratitude can make you feel more connected to others – such as your target audience – and you can have a better understanding of how to help them solve their problems.
Gratitude can give you a better appreciation for your health which will increase the amount you exercise, which also affects your optimism. Adapting a positive attitude about life gives you more energy to try new things in your business, reach out to new people, or be able to "not sweat the small stuff" when problems arise.
No need to get a fancy journal (unless you want one). A simple spiral notebook will do the job just fine. Just commit to using it! Try carrying a smaller notebook in your car so when inspiration strikes, you don't have to wait until you get home to journal. Also make a point of reviewing your past entries on a regular basis so you can see just how far you've come and how your goals or dreams may have changed over time.
Delve Deeper into the Mindset Reset Philosophy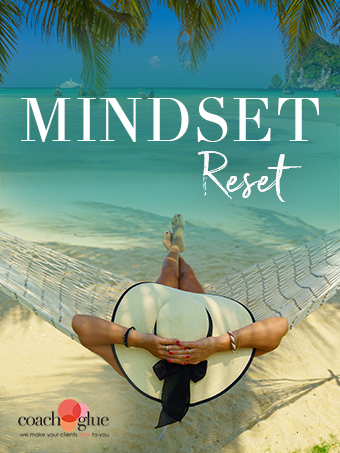 Check out our latest workshop all about Mindset Reset. You will receive 4 home study lessons that dive deeper into this subject, including how to set boundaries; other ways to count your blessings; how to stay authentic; and how to build a business you love. You'll receive Action Plans with each lesson so you can customize a plan that works best for you. Check out more details here. Check out the workshop here