Use Our Content to Create a List Building Freebie, Blog Posts, or Add to a Training Library for Your Members and Clients
This package contains a report and checklist that you have permission to edit, put your business logo and name on, and sell or give away to your clients/customers/members.
We've even included social media post ideas to help you drive traffic to it!
Ready to save a ton of time + money and grow your business?
Here is What You Get with "50 Ways to Crush the Things that are Keeping You from Happiness and Success":
Entrepreneurs are different from everyone else because they get to make the rules they live by.
Trouble is, many still live by rules that others made—ones that don't work well and actually keep you from happiness and success. You need to stretch your envelope and change habits that no longer work for you. Use these fifty mind-hacks to replace them instead with a whole new way of thinking geared to propel you towards not only your goals but a happier, successful life.
What This Package Includes:
50 Ways to Crush the Things that are Keeping You from Happiness and Success (14-pages)
5-page checklist to help your clients stay on track with your training
50 social media posts for Facebook and Twitter
You get all the content in .doc format so you can customize it as much (or as little) as you would like.
Get this Package Today for Only $27!


Take a Peek at the Fabulous Content You'll Get in this Package:
Workbook:

Checklists

Social Media Posts

Get this Package Today for Only $27!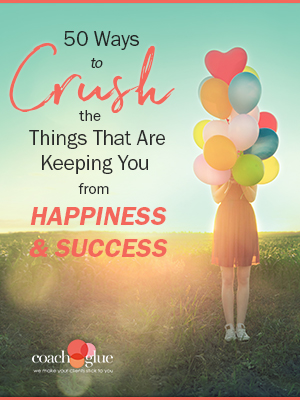 Remember, you get this in .doc format and you can add to the content, edit it, remove or replace portions, customize it, monetize it, feature your own programs or your favorite products, or just use it as it is.
What can you do with this? Here are just a few ideas: 
Take sections of the report and turn them into an awesome series of blog posts.
Turn each of the 50 things into its own blog post.
Record each of the 50 things as a FB live video, adding your own thoughts to them.
Choose 30 of these ideas and do a 30 day happiness challenge.
Create a 30 or 50 day happiness series by simply copying and pasting these into your autoresponder.
Turn this entire report into an optin on your blog as a content upgrade.
Include it as a fast-action bonus when people sign up for your other courses.
Turn the 50 social media blurbs into graphics to increase engagement and/or to drive traffic to any or all of the above.
We can't wait to see what YOU do with the material.