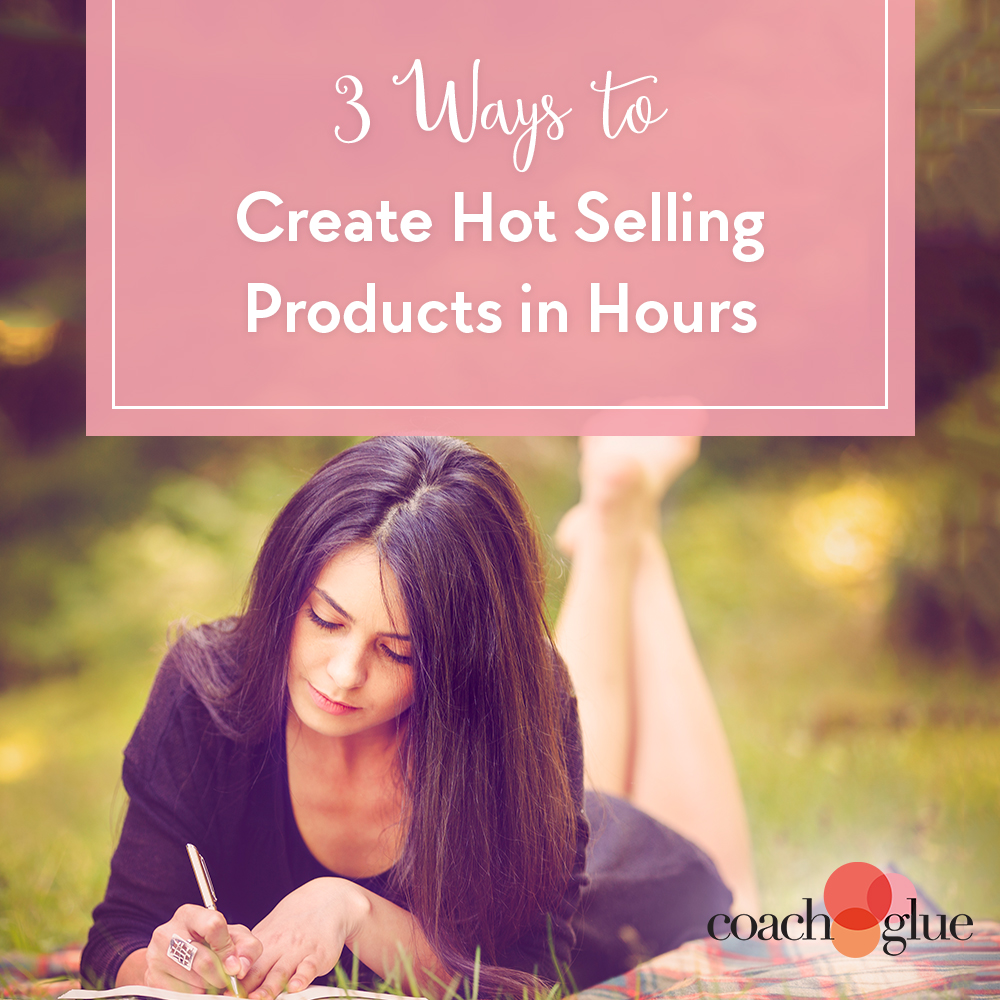 Every successful online business owner knows the key to financial freedom is to fill your funnel with a wide variety of products. Sure, you earn an influx of cash when you land a new one-on-one client, but you put a lot of work into that sale, too. Wouldn't it be nice to have a few products in your funnel, too?
Here are 3 ideas for creating your own hot-selling products fast:
1) Look to Your Own Systems First
Your business systems are in demand! If you've developed a great way to find new clients, run profitable Facebook ads, or create lead-generating webinars, then your clients and customers want to know – and they'll gladly pay for the knowledge.
And since, like the savvy coach you are, you've documented your processes, it's easy to gather all your information and package it up for sale quickly. Add your branding, include instructions and advanced strategies, and you can be promoting your new product in hours.
2) Checklists and Worksheets Are Always Popular
Here's where a lot of people get stuck. They simply don't know what to do next (or even first). If you can give them an easy-to-follow blueprint to guide them through a process, they will happily buy again and again.
They're easy to create, too. In fact, nearly everything you do can be broken down into a checklist or worksheet of some kind, and there is a buyer for every one of them.
– Creating a business budget? An Excel spreadsheet with fill-in-the-blank prompts makes the job so much easier.
– Designing a website for a client? A design discovery form for clients to fill in gets all the details on paper before the work starts.
– Writing a book? A brainstorming worksheet and step-by-step chapter planner takes all the guesswork out of it and makes writing a breeze.
As you can see, no matter what the business (or life) task, a checklist or worksheet can save loads of time and frustration, and your clients will love you for providing it for them. Best of all, they're fast and easy to create.
3) Resource Guides Save Time and Frustration
Here's another in-demand item you can create quickly, using just the knowledge you have: resource guides. If you've tried (and ultimately rejected) more shopping carts and autoresponders and webinar systems than most people have ever heard of, that's valuable information. Don't keep it to yourself. Instead, put it out there as a paid or even free product so your clients can benefit from your research.
Just because a product is easy to create doesn't mean it lacks value. While your systems and hard-earned knowledge might feel like second nature to you, to others they're huge time-savers they will gladly pay for.
But what if you don't have any of those things?
Just Use Our Systems and Checklists!
If you don't really have anything on hand that you can quickly create a product out of, start with our done-for-you content.
We've done all the research, created all the checklists, designed all the slides and proofed all the writing. All that's left for you is to add your branding and voice, and what might have once taken days or weeks to complete can now be done in hours.
Whether your audience wants to market on Instagram, publish a book, or they're hosting a webinar, you can provide exactly what they need, and without spending all your time researching and writing.