Have you heard of the terms "manifesting" or "law of attraction"? Maybe you've heard of a popular movie called The Secret, which explained the principles of the Law of Attraction. While some people think manifesting is a bunch of magic or woo woo garbage, those who believe in manifesting are using the process to increase their incomes and business profits.
What Does Manifesting Mean?
Manifesting is more than just wishing you had something and then expecting it to appear in your lap. The real process begins with claiming a goal – new house, 10 new clients, or $80,000 in product sales – and then recognizing the signs and opportunities that appear which can lead you to reaching that said goal.
Consider this example: you want to buy a new house. One day on your way home from errands you drive down a street you've never seen before. You find a house with a For Sale sign and talk to the owners, who are willing to sell the house to you for a price within your budget. Some would say this house "fell into your lap" while others would say you recognized the signs of opportunity which led you to finding and purchasing this house.
Manifesting Still Requires Action
Lack of action can stall any goal and manifesting wealth will also stall unless you take daily action. You can certainly write a wish list of things you want to attract but you can't just nap until these things appear. They certainly will NOT appear unless you work your business and look for opportunities to reach those goals.
Would you expect to win a marathon if you didn't train for it? Certainly not. In order to win you'd have to train for months at a time.
Would you expect to top an affiliate marketing leaderboard if you don't send out any emails to your list? Nope. Your list won't know about offers unless you write that email.
Taking action of any kind is what leads to long term success. Nobody shoots to the top of their game without action, whether that's practicing their sport at a professional level or marketing their business at a beginner level.
7 Ways to Manifest More Money Teach Your Tribe Kit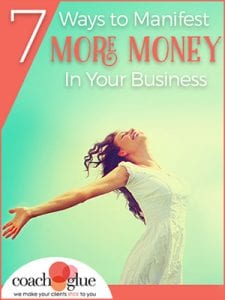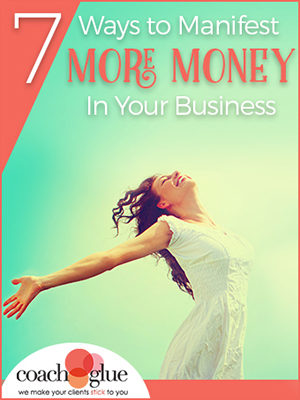 If you're intrigued by the idea of manifesting money into your life and into your business and you want to create a group coaching program around this topic, then you'll love our Teach Your Tribe Done-For-You Kit. You'll get more in-depth lessons about what manifestation really means and how to align manifesting with the goals of your business.
You can edit the kit any way you want, adding your own story or case studies to the material and you can turn the kit into a group coaching program, webinar, teleclass, or mini workshop. We've done the hard work for you so you can spend more time teaching!