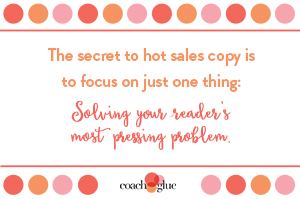 Long form, short form, video, squeeze page…the types and styles of sales copy you write can seem endless. And if you're like most coaches, they're all pretty frustrating to write—especially if you feel like you're not getting the sales your awesome program deserves.
Sound familiar?
If you're still struggling with things like features versus benefits and clever calls to action, then chances are you're missing the bigger picture—the one thing that will make all the other aspects of your sales copy fall into place:
Offer the solution to her most pressing problem.
That's it. When your sales copy clearly shows that you not only have a deep understanding of the issues, but that you also have a proven solution, your reader will be primed to click that buy button.
Not only that, but those elusive benefits will become crystal clear, not only to your buyer but to you, allowing you to craft a better sales page—regardless of the format it takes.
Paul Evans is a perfect example. In the first paragraph on this page he says, "I help you get from where you are to where you want to be." His ideal client isn't achieving their goals. Paul can help. In fact, he even has a subheadline on his site that simply states, "The Solution." It doesn't get any more clear than that.
Melissa's Freedom Builder Academy lays out a common trouble spot for online entrepreneurs right in the headline: inconsistent, disorganized marketing. The solution? Done for you marketing to-do lists delivered each month. For those who struggle with marketing, this is a life-saving idea that has them scrolling for the buy button without reading another word.
Whether you're writing a long-form sales letter or a simple opt-in page, focusing on your reader's problem and the solution you're offering eliminates the need to "sell" anything. No yellow highlighted, red-letter headlines needed.
And those features and benefits copywriters are always talking about? Super easy when you know your solution. Simply ask yourself, "How will my client's life and business improve when she works with me?" That's the benefit she cares about, and the one that will make all your sales copy more compelling.
Are Your Clients Struggling to Write Compelling Sales Copy?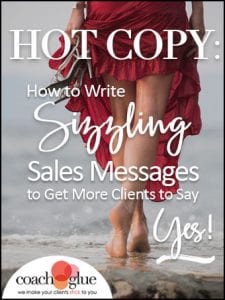 If more sales are on your clients' wishlist (and who doesn't want more sales?) then we have the perfect opportunity for you to be the answer they're searching for. Our step-by-step, done-for-you workshop, "Hot Copy: How to Write Sizzling Sales Messages to Get More Clients to Say YES!" gives you everything you need to help your clients craft better sales copy.
You'll get the complete done-for-you workshop, exercises, webinar script, sales copy and more.