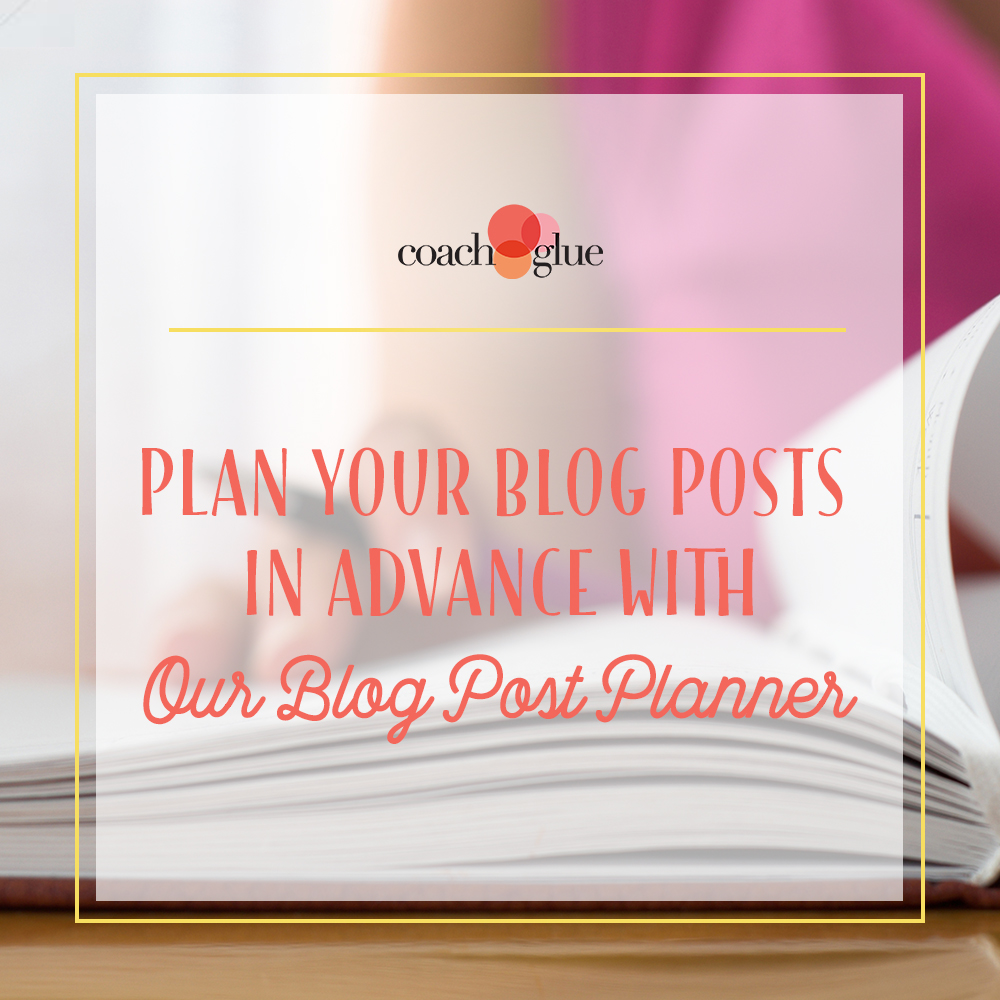 What happened the last time you sat down at your computer to write a blog post? Did it come easily to you, with the words flowing effortlessly through your fingertips? Or did you stare at the screen for several minutes with your blood pressure rising, not knowing where to begin?
You're not alone. Writing isn't everyone's strength and the stress of writing a blog post is compounded when you don't know what to write about or don't know what your audience needs to hear about. I'm also guessing that you spend so much time with your clients – giving them the support they need – that you don't have time for the backend of your business. Am I right?
Use Your Blog as a Client Magnet
Every coach needs a place to showcase their expertise and develop their credibility so think of your blog as your portfolio of sorts, where potential clients will go to read more about your thoughts, beliefs, and your coaching style.
Secondly, as your client magnet, you always want to be enticing new and current clients with your offerings because, let's face it, we can't ever predict when a client (or two!) will end their services and if you aren't engaging people on a regular basis by supplying new content to them, you'll be starting from square one trying to find new clients. Talk about stressful!
Thirdly, by monetizing your blog posts, you can earn some passive income to supplement your coaching business. Using affiliate links for recommending your favorite books or business tools will yield you a small monthly commission and if you have your own products, you can sell those, too.
However, updating your blog regularly with new, unique, and valuable information for your audience is where many coaches run into problems.
What to Share on Your Blog
Think about your ideal client and their pain points. What are their biggest struggles or fears? What questions do you hear on a daily or weekly basis from your social media followers? Do you have an extraordinary case study in which a client reached certain milestones in a unique way?
These are all topics that you can easily share in a blog post. Some more detailed subjects you can turn into a series of blog posts or, to mix it up a bit for your readers, you can record some videos on these topics and post them on your blog. Using video is an easy way to connect with your target audience and allows them to put a face and voice with a name.
Now that you have lots of great ideas, you need to get them organized.
Blog Post Planner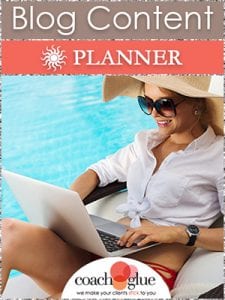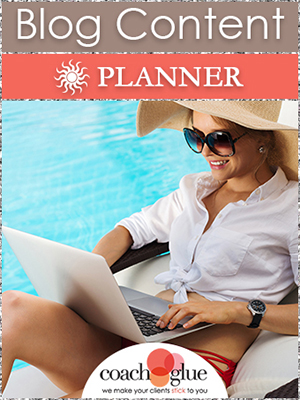 Unless you're a prolific writer who oozes creativity and can punch out a blog post in 15 minutes flat, planning your blog posts takes some time and organization. With our Blog Post Planner you can take one hour out of your day and plan months of blog posts. Spend one more hour to decide what products you'll promote in each blog post and you'll attract clients and earn some passive income all at once.
Using our Blog Post Planner also allows you to coordinate your blog post themes with seasonal events or holidays, live conference events, local book signings, or your latest product launch. You don't have any more excuses for forgetting significant events or putting out a less-than-stellar blog post because you were in a hurry.