Ready to Help Your Clients Make Their Next Course
Their Best-Selling Course Yet?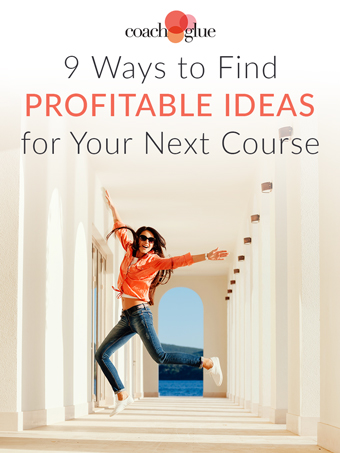 Are your clients currently…
Struggling to nail down their next course idea because they feel like it's all been done before?
Worried that the online course market is too saturated and there aren't 'any good ideas left'?
Scared to pour too much time, money or resources (new ring light and membership site software?!) into a course that flops or doesn't make sales?
Or maybe they're unsure how to find out what their audience really wants (or how in the world to use that information once they have it)?
If so, you're in the right place.
Let's just say it: Your clients are not wrong if it feels like everybody and their business bestie has an online course. They likely do–or at least want to!
And the hype is totally understandable!
Online courses are a highly effective way for your clients to package up their expertise, help and teach others who can't afford their higher-end offers, as well as leverage their time and resources–all while scaling their business and increasing their income.
Who wouldn't want that, right?
The problem is that creating an online course isn't just a snap-your-fingers-and-it-sells kinda offer. (But wouldn't that be nice?)
Here's the thing… If your clients want to ensure their course actually sells…before they spend weeks, months or years putting it together (and doling out cash on that fancy ring light)….it's important to figure out what their ideal clients actually want to learn, first and foremost.
And you're going to show them exactly how to do that!
Using Our Done-for-You Video Script You'll Be Able to Help Your Clients Make Major Sales, By Giving Their Audience What They Really Want!

 
Whether you want to record a video training as your new product, or host a livestream or webinar for your clients – this video script has been completely done-for-you!
Or, if video really isn't your thing, just use the script to record an audio!
This 20 Page (7,074 word) Step-by-Step Video Script Covers:
Step 1: Turn Your Site Analytics Into Cold Hard Cash
Step 2: Survey Your Audience So Your Course Practically Sells Itself
Step 3: Creep On The Competition & Create a Course That Fills The Gap
Step 4: Study Your Social Media To Choose a Crazy-High Converting Course Topic
Step 5: Smooth Out Your Signature Process And Transform Problems Into Profit
Step 6: Find Your Personal Passion-Meets-Profit "Sweet Spot"
Step 7: Double Down On What's Working & Create a Course Guaranteed To Sell 
Step 8: Mine Amazon's Best-Sellers For Brilliance And Bring In The Bucks
Step 9: Step Outside Traditional Social Media to Find Irresistibly Sticky (And Sellable) Ideas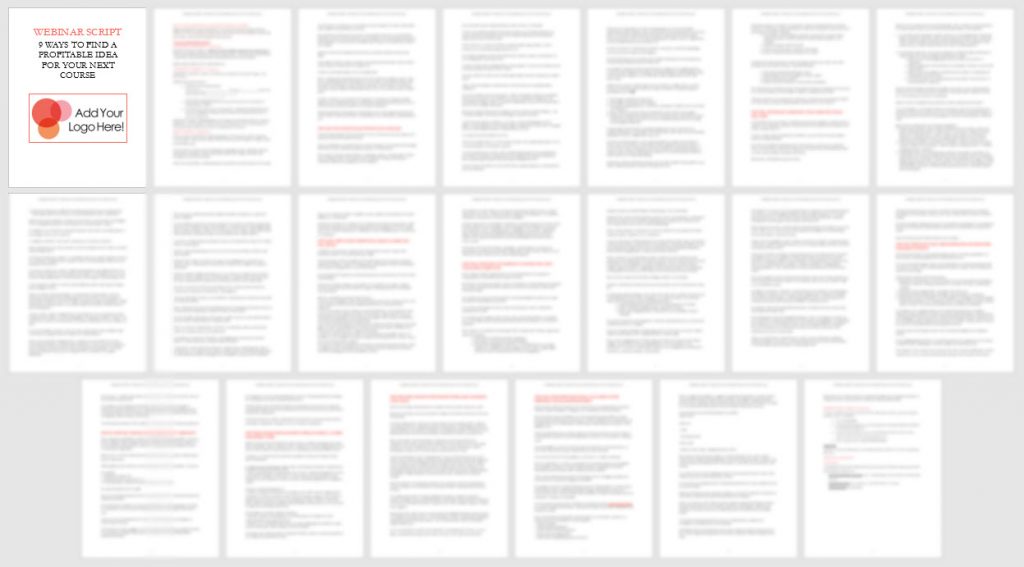 Who Wants to Over-Deliver? You Do!
Which is Why You'll Get this Juicy Workbook that You Can Include with Your Video Training
(Or Sell on its Own if Video Isn't Your Thing)!
Because who doesn't love a good workbook?
Your clients are totally going to crush on this workbook filled with all the goodies that will help them take action.

Creating Buzz for Your Offer is a Breeze with these
21 Done-for-You Facebook Posts
No more wondering what to post on social, just copy and paste these Facebook posts to help you promote your new product.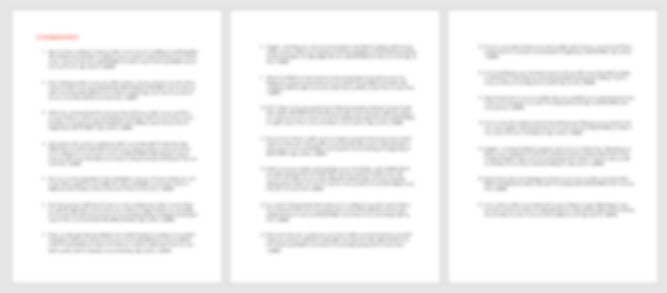 Professionally Written Sales Copy
to Help You Sell Your Offer
Who wants to spend weeks writing sales copy instead of making money? Not you! Just copy and paste this professionally written copy into your sales page template, add your buy buttons, and CHA-CHING! You're ready to sell your product.

Get this Package for Only $97!
What Else Can You Do with This Content?
Record a video or host a livestream/webinar using the script and then package up your training with the workbook and sell it on your website.
Sell the workbook by itself without video.
Record an audio using the script and package it up with the workbook.
Create new a product and include it as a bonus for one of your other courses.
Use the content to create new trainings for your membership program.
Create a new product and use it as an upsell or cart bump offer.
Been invited to teach at an online summit or event? Use the content to create your new training.
Use the video script as the outline for a new book.
Add the workbook to one of your other products or courses as a bonus.
Use the content to create a VIP day around the topic of this package, and give your clients a copy of the workbook.
Want to create a product or course on a similar topic from scratch? Use the sales copy from this package to help you sell your offer.