Do You Want to Help Your Clients Create Social Media Content that Establishes Their Expertise & Increases Engagement 24/7–While They Live Their Best Life?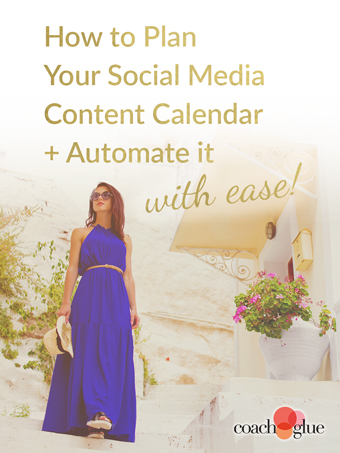 Do your clients relate to any–or all–of the below?
They're constantly trying to come up with social media content on the fly and wind up "posting just to post" (although it's clear from their lack of results it's not working)
They'd give anything to spend less time on social media and more time doing the work they love (and living their life), but feel like they have to show up every.single.day. or they'll lose the traction they have
They resist the idea of scheduling, planning or automating their social media because–hello!–they're creative. Can't they just post when they're inspired and let that be enough?
They know they create scroll-stopping content, but the truth is nobody's actually seeing it
They struggle to find the right balance of educational and promotional content and worry they're turning off their audience before they ever get a chance to click "Buy"
Sound familiar?
We get it.
Social media can easily start to feel like it's own full-time job. First, you have to create content that's actually good. Then, you have to post the content and hope & pray people actually see it. Then, you have to somehow ensure those posts provide enough value to help turn casual readers into clients and customers.
And repeat–from now until forever.
It's a lot!
Real talk: Social media can be overwhelming for anyone. But it can be even more overwhelming for your clients if they feel like they're reinventing the wheel every month.
The good news?
They can turn their social media anxiety into social media ease with just a few simple tweaks to what they're already doing.
That's right. Creating compelling content and automating their social media doesn't have to be complicated at all! And you're going to help them!
Using Our Done-for-You Video Script You'll Be Able to Help Your Clients Create a Social Media Content Calendar AND Automate it With Ease!

 
Whether you want to record a video training as your new product, or host a livestream or webinar for your clients – this video script has been completely done-for-you!
Or, if video really isn't your thing, just use the script to record an audio!
This 17 Page (5,837 word) Step-by-Step Video Script Covers:
Step 1: Craft a Scintillating Social Media Calendar While Keeping Your Goals (and Clients-to-Be) in Mind
Step 2: Create & Curate the Right Content to Establish Expertise, Increase Engagement & Build a Magnetic Brand
Step 3: Determine What, When and How Often to Post to Defy Any Algorithm
Step 4: Choose an Effective Automation Tool So You Can Set It, Forget It & Still Stand Out
Step 5: Schedule Your Content & Watch It Break the Internet Without Breaking a Sweat (or Fingernail)

44-Page Workbook
(include it with your training or sell on its own)
This workbook is packed with worksheets and checklists that will help your clients get results by taking on action on what they learn from your training.
But! It also makes an incredibly valuable stand-alone offer that you can sell as a low-end digital product. Tweak it, brand it, convert it to a PDF (canva is great for this) and it's ready for you to sell on your website.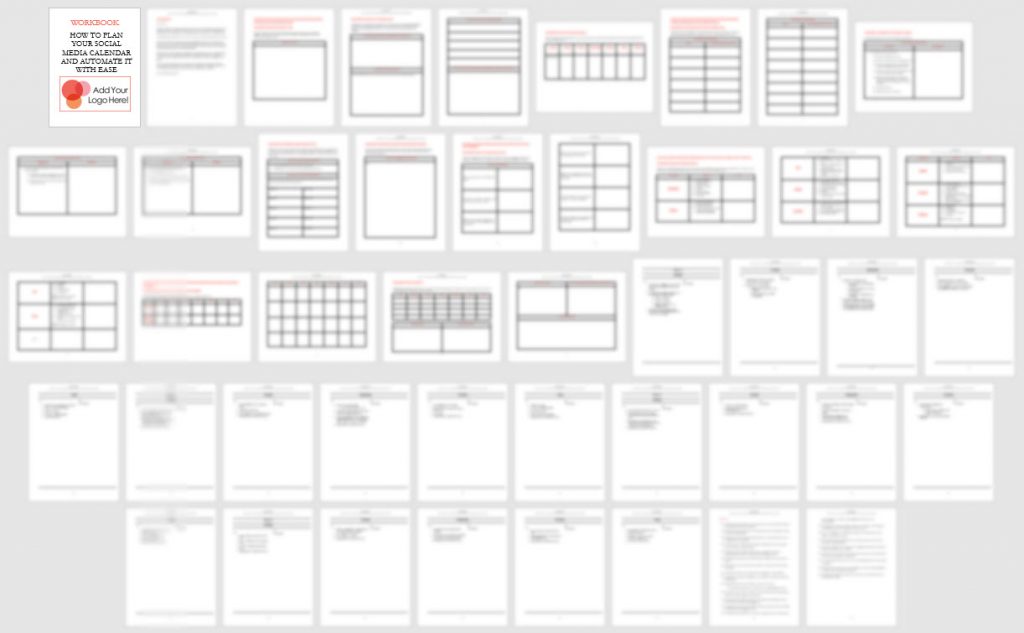 21 Social Media Posts Done-for-You
We want to make it easy for you market your offer, so we've included 21 pieces of content that you can use on Facebook, Instagram, and more. Use the templates as captions or reels or tiktok videos.

Your Sales Page Written for You
We know that writing a sales page can be one of the hardest parts of selling your offer. Which is why we pay our copywriter to write the sales page for you. Use it as is or tweak as much or as little as you'd like.
Simply open up the sales page document we give you and add the copy to your website. Then simply add your buy buttons, and you'll be ready to take sales.

Get this Package for Only $97!
What Can You Do with This Content?
Record a video or host a livestream/webinar using the script and then package up your training with the workbook and sell it on your website.
Sell the workbook by itself without video.
Record an audio using the script and package it up with the workbook.
Create new a product and include it as a bonus for one of your other courses.
Use the content to create new trainings for your membership program.
Create a new product and use it as an upsell or cart bump offer.
Been invited to teach at an online summit or event? Use the content to create your new training.
Use the video script as the outline for a new book.
Add the workbook to one of your other products or courses as a bonus.
Use the content to create a VIP day around the topic of this package, and give your clients a copy of the workbook.
Want to create a product or course on a similar topic from scratch? Use the sales copy from this package to help you sell your offer.