Oftentimes, I see friends and coaching clients playing small. They envision small goals and that's big enough for them… or so they think.
One of the exercises that I do with these people is to play "What if…"
What is your monthly income goal?

What IF we quadrupled that? Let's think about some of the things that would have to happen to do that.

You'd probably have lots of products out there, possibly have written a book or be speaking and doing webinars or teleseminars in addition to a group coaching program and maybe even a high end mastermind or a fun destination retreat somewhere fun. Where would you love to travel? ok. Great. Let's imagine you running a mastermind retreat there in (insert some awesome place like Costa Rica or Italy).

Let's say that you do ALL or at least most of those things. What ELSE will happen as you market them all?

You'll have a bigger list, a larger customer base, a bigger network of movers and shakers in your community, better JV partners, and probably a lot more leverage and exposure, right?

Those are all good things, but what ELSE would you have if you did all of those things?

Power.

Not necessarily power in a Marvel Superhero way, but power for when you need it. You will have power so that you are not totally helpless when you need to make an impact – when something happens that's hugely important that REALLY matters.

A friend's house burns down? Guess what? You'll have money to help, resources to tap to fund-raise, and a network to connect you to the right people to make things happen.
A family member gets cancer? You're still going to feel terrible and feel helpless, but you at least have a reach now to raise funds, get connections, maybe make and sell special t-shirts that people all over the world can wear to support your loved one.
You find an organization that you want to support? You can. You have REACH.
Bad and sucky things happen. That's part of life. So, if you are letting fears keep you from reaching your goals, perhaps you'll bust through them if you think about things this way.
If you're feeling stuck in your business, and your life feels messy and out of whack, all it really takes to get back into alignment is tiny action steps.
Your business' potential impact is so much bigger than you know. Yes, you're helping your customers move ahead and your clients get results and that's great. That's impact right there. But the potential impact of your business once you double your income and more? It grows very quickly.
So the next time fear has you paralyzed, I want to ask you the big question "What would Awesome You do in that moment to move your business ahead so that you can have greater income, greater influence and greater impact?"
And go do that.
Need some guidance in a safe, loving way?
I would love to invite you to join me in the Awesomization Nation – a group of Entrepreneurs that are Awesomizing their Businesses, their Lives and the World proudly by doing small awesome acts every single day. Let me celebrate you as you become even awesomer than you are right now.
Click Here to Join the Awesomization Nation
Have an awesome day!
Warmly,
Nicole Dean
PS. A few weeks back, Melissa and I jumped on the phone and recorded a conversation about getting stuck, and what we've done to get out of a rut and go on to create massive transformations by taking tiny action steps in our biz + life. And how those little steps can lead to a movement that's changing the world.
If you missed our earlier conversation, you can listen to that now: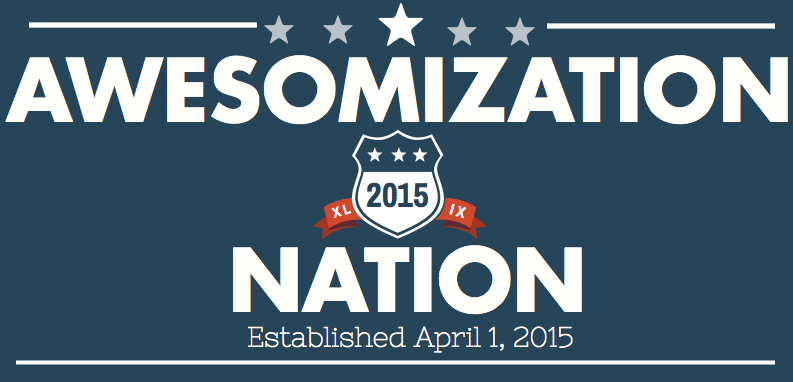 Click Here to Learn More about Awesomization Nation
PS. If you enjoyed this note from me, please click the "Share" buttons and spread the love. Thanks!