In order to keep more of the money you make and multiply it you have to know what's coming in and where it's coming from… AND what's going out and where it's going. That's just basic business.
When we GUESS where the money is coming from and where it's going, we may or may not guess right. However, when we KNOW, then it becomes easy to focus on what is working the best and drop what's not giving us the results we need.
Where is my income coming from?
Coaching (one-on-one)
Group Coaching
Retreats
Live Events
Speaking
Book sales
Program sales
Training
JVs and Affiliate promos
etc.
Where is my money going?
Outsourcing? (if so, where and for what exactly?)
Tools, software, etc.
Coaching, learning
Travel
Other
Most coaches struggle with this and who can blame them? It can be a huge pain to figure out all by yourself. That is exactly why we've created a set of worksheets and checklists for you – to make it easy peasy.
Use these yourself and/or hand them to your assistant to help you with this and he or she can just provide you with the monthly reports. You'll have the knowledge to navigate and make tweaks to immediately profit based on what is ACTUALLY working, instead of guessing.
Grab this kit and immediately start gathering the information you need to tweak your own business for greater profit.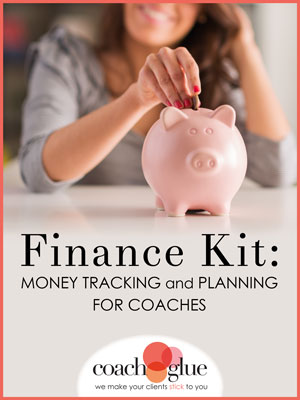 The Included 14 Checklists and Forms Are:
Business Basics Checklist – to ensure you have all of the documentation, systems and procedures in place to manage your business finances.
Contractor Information Form – to manage your contractors' contact and other information
Monthly Expense Checklist – to track your business expenses each month
Partnership Checklist – This doc will help you to protect yourself if you're considering a Joint Venture project.
Charitable Donations Workbook (excel)
Expense Budget Workbook (excel)
Expense Calendar Workbook (excel)
Income Snapshot Workbook (excel)
Month-to-Month Trending Workbook (excel)
Travel Expense Workbook (excel)
Profit and Loss Workbook (excel)
Ad Tracker (excel)
2 Different Affiliate Income Tracking Workbooks (excel)
The Planning Cheats Are:
Emergency Savings Fund Plan
Monthly Budget Plan
Monthly Income Plan
Quarterly Tax Plan
Zero Sum Business Budgeting Plan
If you want to be smart with your money tracking so that you can multiply it, then you'll definitely want to grab this very affordable package.
Warmly,
Nicole Dean