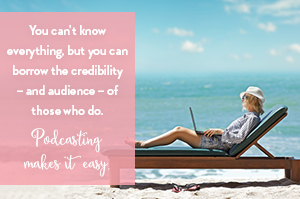 We've talked before about the importance of list building for coaches, and there are lots of methods you can use to do that. Your list is the key to continued business growth, bigger and better JV opportunities, and—lets face it—more profits. It's something you should be focusing on every single day as you build your business.
Here's the thing though, no matter what list building strategy you're using, you have to continually strive to reach new audiences. After all, you can't grow your list if you're always talking to the same people.
One super fun way to get in front of a new audience is to interview other experts on a podcast, not only in your niche but also in related fields. If your clients need help with branding, they'll very likely also be interested in legal issues, copywriting, marketing strategies, social media and a range of other topics.
Why Your Audience Loves Podcasts
I don't know about you, but I can think of few things that are more intimate than a podcast. It's as if you're having a personal conversation with each and every one of your listeners.
Even better, your subscribers can (and will) listen to your podcast while they're doing other things, making more time for you. You can't say that about a blog post or a YouTube video, both of which require focus and concentration. A podcast is different. People will find more time to listen simply because they can do so while driving to the store, washing dishes, dusting the living room, preparing dinner, and plenty of other activities that take them away from the computer.
Why Coaches Love Podcasts
Well first, because we love to talk! But seriously, podcasts are super easy and fun to produce. And interview-based shows are even easier. There's no need for lots of research (you're just having a conversation), and if you struggle with blogging, you'll very likely find talking to be much less stress inducing.
Here's an even bigger reason, though: Expert interviews offer your fans and followers the critical information they need. It gives you instant credibility as the go-to coach in your niche, and you don't have to spend all your time studying new marketing methods and technical strategies. All you have to do is line up the conversations, and let the experts share the knowledge your market is already looking for.
Worried about the tech? You may have heard that podcasting requires lots of expensive equipment and plenty of technical skills, but that's simply not true. Nicole has hosted an interview-style podcast for years with nothing more than her cell phone, so don't let that myth hold you back.
Just pick up your phone and get started. Your market is waiting!
Are Your Clients Ready to Reach a Larger Audience?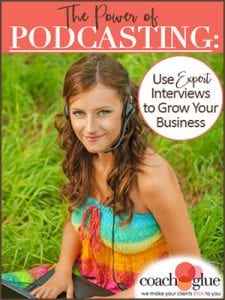 If podcasting is among their future plans (and it really should be!) then we'd like to invite you to check out our Teach Your Tribe kit, "The Power of Podcasting: Use Expert Interviews to Grow Your Business."
It's a complete done-for-you webinar training with handouts and slide deck that you can use to educate your clients. Use it in your monthly group coaching program or as a stand-alone event to generate more sales. It's totally rebrandable and flexible enough to fit your unique business.