Today my friend, Christine Cobb, sent out an email to her list to share our latest course "Income Tweaks: More Money, More Time, More Freedom" and she ended the email with this:
So if you need some marketing muscle in your business, check it out.
That line made me smile. So, Christine, you are the inspiration for today's blog post.
7 Things that Prove that Marketing is a Muscle.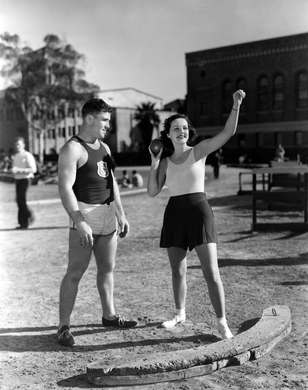 It Gets Stronger with Practice.
You feel like a weakling when you first start running or going to the gym. But before you know it, you can do 45 minutes on the elliptical instead of just 10 minutes. You are getting stronger and you don't even realize it. The same is true with your marketing. At first you flop around like a fish out of water, but then in the blink of an eye, you are actually DOING webinars or sending emails to your list without having to do deep breathing and without getting totally covered in sweat.
You Use It … or You Lose It.
Just like with exercise, if you stop for awhile, you lose your strength, your skills and your stamina. However, you'll find that with just a little attention, you can get back to premium fitness with a little love.
Consistency Matters.
You can't just exercise it once a month and expect great things to happen. You have to work on it consistently. Your business is the same. If you try to market your business once a month and take the rest off to chat with friends on Facebook and research, you won't move ahead. We like to do at least a few money making tasks nearly every day of the workweek when we are working. And, if WE aren't working, our team is marketing for us. Either way, it's getting done every day.
The Tools are Intimidating – at First.
People are afraid of the tools that go with exercise. Have you ever seen someone doing their orientation at a gym for the first time? They look at the equipment like it's going to bite them. In marketing, it's the same way. Autoresponder? Shopping cart? These things can make people run away.
If you'd like to see the tools that run our business, check out this page: Tools Coaches Love
But Then you Get Used to Using Them.
Once you start using the equipment though, you become an old pro. After a few weeks of going to the gym consistently, you get comfortable and it becomes habit. Just like in your marketing. Once you've been using WordPress for while, you don't have to think when you're writing a blog post like this, you just let the words flow.
Technique Matters but You Eventually Have to Pick up a Ball.
If you plan to shoot hoops with LeBron James, you probably need to have some seriously good technique. However, if you just want to play basketball and get in shape, all that matters is that you start. Reading books about basketball won't make you strong and won't get you in shape. DOING makes you strong. And yes, it's the same with marketing. Some technique is important but the #1 most important thing to know? You can't win if you don't take action. You can always tweak along the way.
You Want to Have the Best Trainers.
Are you going to grab the slowest runner of the bunch to train you to run your first marathon? Of course not. That's silly. You want to have someone lead you who has been there and done that WELL. It's the same in your business. You want to work with and learn from those that have been successful in growing a business the way that you want to grow yours. In our case, with efficiency, value, quality and integrity.
So, if you want to learn from us, I recommend you jump into our Income Tweaks program to learn how to quickly and effectively exercise your marketing muscles the right way.
Warmly,
Nicole Dean
PS. If you enjoyed this note from me, please click the "Share" buttons and spread the love. Thanks!